A good way to see what is on the mind of a team's fan base is to tune into the local sports radio station. Lately, a topic that continues to dominate conversation, on Buffalo sports radio, has been on what the franchise should do with Mikhail Grigorenko. While many fans might be ready to cut ties with the youngster there are many reason why it is not time to over react.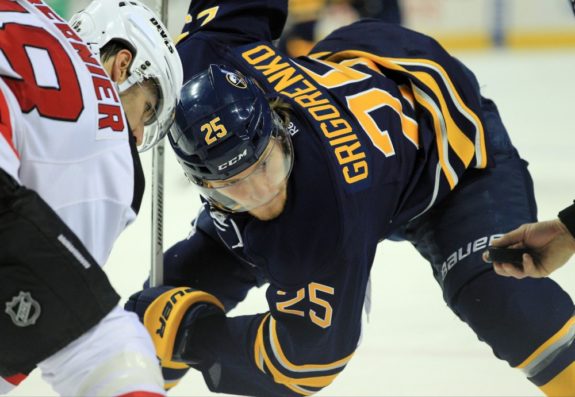 The Timeline
Grigorenko was originally ranked very high on amateur scouts' draft boards the season before the 2012 NHL draft. He was even being compared to the eventual number one overall pick Nail Yakupov. However, as the season progressed, Grigorenko's stocked slipped and he eventually fell to the Sabres at 12th overall. Yet, for the Sabres, he was exactly the type of player they needed: a big, skilled centre.
With the lockout in 2012, Grigorenko began the season by returning to the Quebec Major Junior Hockey League with the Quebec Remparts. He continued to excel at that level and when the lockout ended he was called to Sabres training camp.
He did enough to impress at camp and stayed with the team to begin the season. He even stayed on the team passed the rookie deadline, which meant he burnt the first year of his entry-level contract. However, he struggled to find ice time and was eventually sent back to Quebec right before the end of the junior season.
To begin the 2013-14 season, Grigorenko got a second opportunity with the Sabres, who were fully embracing a rebuild. Once again, he struggled to get ice time. On Nov. 13, the Sabres made a change firing coach Ron Rolston along with General Manager Darcy Regier and replaced them with Pat LaFontaine, as President of Hockey Operations, and Ted Nolan as Head Coach, with a search for a new general manager underway. Lafontaine tried to send Grigorenko to the American Hockey League for a "conditioning stint" but the league blocked the move because Grigorenko still had junior eligibility.
A break came for both the Sabres and Grigorenko when the IIHF World Juniors came around and the team sent him to the tournament. When he returned to the Sabres, a new general manager had been named in Tim Murray. One of Murray's first moves was to send Grigorenko back to junior, again.
At first, Grigorenko said he would not report, posting it via his Facebook page.  A day later he changed his mind and accepted the assignment.
The entire story had many fans upset with Grigorenko and suggestions were even made to part ways with the player, but would that really be a good idea? No and here is why.
Age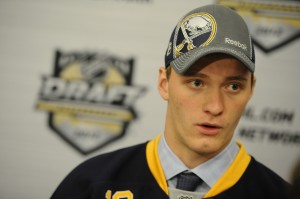 For some reason we seem to think that all first round picks should immediately jump into the NHL and be a star. Well, unfortunately that is not the case. The fact is that when players are drafted they are not fully developed mentally or physically. In a way, they are still kids stepping onto the ice for the first time against men. Even though Grigorenko had the size (6'3, 200-lbs), he is still only 19-years-old and not fully developed. Just because he isn't ready to jump into a top role right now doesn't mean he is a bust.
Mismanagement
Part of the problem with the entire Grigorenko situation has nothing to do with him, but rather the people who made decisions for the franchise. Grigorenko got the opportunity to start last season with the Sabres and, maybe it was the rookie rule of only five games in the shortened season as opposed to the regular nine, but then they panicked and held onto him. With the team not looking very strong, they should have just sent him down and not wasted a year on his deal but after that, things snowballed and it became tougher to do what was best for the player. They finally did but it gave the impression that he was closer to being NHL ready than he was.
This season was no different, maybe it was because of the lack of talent up front that decision makers thought he would eventually fill the need and they kept him around. Again, the better decision would have been to recognize where he was in his progression and send him back. Finally, It looks like under the current management, what's best for the player has finally been established. It is too bad the team has spent nearly $3.5 million to come to that conclusion.
Unfair Comparisons
Another issue that has hurt Grigorenko is the fact that he is constantly being compared to fellow 2012 first round draft pick Zemgus Girgensons, who was taken just two spots after. Yet what most fans seem to forget is that Girgensons is almost an entire year older than Grigorenko, which may not seem like much but at that age one more year of experience can be huge.
The second thing that most people don't realize is that since Girgensons was drafted out of the USHL, he was allowed to go to the AHL where he played 61 games in 2012-13. That experience alone is more professional games then Grigorenko has played. Once Grigorenko is past his junior eligibility and can go to the AHL it will be the best thing for him in taking the next step in his development. He simply needs the same opportunity that Girgensons had before the two can be compared.
Stats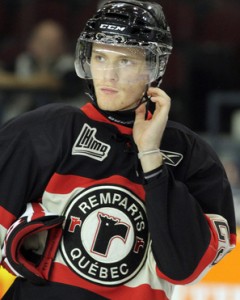 One more reason to not give up on Grigorenko is the fact that when he has played against his own age group, he has been dominant.  In 93 QMJHL games, Grigorenko has 142 points.  Not to mention he had eight points in seven games at the recent World Juniors, while helping Russia capture the bronze medal. He also helped the team capture bronze in 2013 and silver in 2012, so he has shown he can be part of successful teams.
While many still seem to question him and things like his work ethic, the fact is that there are so many reasons not to call it a day with Grigorenko. If given the proper tools to develop, along with proper coaching, there is no reason to think that he cannot be a very effective player for the Sabres in the future. For now, everyone just needs to be patient with him.