With the 9th overall pick, the Montreal Canadiens selected Russian defenseman Mikhail Sergachev, who had a great rookie season in the OHL with the Windsor Spitfires. In this translated interview, originally appearing on the Russian website Sport-Express, Habs prospect Mikhail Sergachev discussed the draft ceremony, and talked about last season and next year plans.
* If you can read Russian, please enjoy the original Sport Express interview by Alexei Shevchenko.*
Alexei Shevchenko – Mikhail, before the draft you were in the top 10 in pretty much all the rankings. Did this put you in the right mood for the draft?
Mikhail Sergachev – Well, it was more my father who followed these things. It didn't matter too much to me, it's just people's opinion.
AS – Is that true? One agency had you as 14th pick, didn't you want to show you that you were better than that?
MS – In any case the important thing is not the rankings, but the draft itself. [Before the draft] I met people from the Montreal Canadiens and Buffalo Sabres, and I understood that they wanted to draft me.
AS – You have a good size, 189 cm, 100 kg.
MS – Everyone says that I'm 189 cm, but I'm 190. I am not sure why they had this mistake. In my family all the men are quite big, and it looks like I am too.
AS – 100 kg sounds like it's a lot.
MS – I feel great on ice. I've been measured and tested, and my fat percentage is what you should expect from an athlete. I'm in great shape.
AS – Do you think you'll grow further?
MS – Hardly I will, except if I'll start playing volleyball (laughs).
AS – In Russia many journalists were confused to consider you a product of what team.
MS – I am an alumni of Nizhekamsk Neftekhimik.
AS – In [Ak Bars] Kazan they consider you their player.
MS – I played there only one season. Then they didn't want to take me and I left for North America.
AS – Traditional question: you don't look forward a return to Russia, right?
MS – Now I have a goal in my life. Right now I'm focused on that.
AS – Where will you play next season?
MS – Simple: I can't play in the AHL yet, therefore it's either OHL or Montreal. Maybe I'll skate in the Canadiens training camp, but I can't say that right now. I already met with the Canadiens GM, we discussed my summer plans, and we'll take a decision in the next few days. I'll definitely skate in the summer development camp of the team.
AS – Maybe you want to get back to junior hockey?
MS – Well, next year we'll host the Memorial Cup, and we have a very good team.
AS – Maybe it's hard to understand and describe what happens within a young player during the first round of the draft. Can you help us shed some light into it?
MS – At first it's truly worrying, but I can say that it's the same for anyone, you can't avoid that. But when they called my name, it's like all around me exploded. Then everything happened pretty fast. The ceremony started, interviews, autographs, photographies, a chat with the team's GM. Then I finally could relax and follow the rest of the draft, and I also watched the second day, I went through all the six remaining rounds.
AS – Now the Canadiens will have even more Russian players.
MS – Yeah. I don't personally know neither Andrei Markov nor Alexei Emelin, but Nikita Scherbak, who was picked two years ago in the first round too, called me and congratulated.
AS – Montreal is always thought to be a contender. And you're now considered one of the top young defensemen in the world.
MS – You shouldn't give too much attention to what other people say. I can say that I want to get to Montreal and help the team winning titles. It would be stupid to say that after they picked me the Canadiens are a much better team. It's not like that. I want to become part of this great team, which has such a rich history, and to reach the top with it.
AS – Last year they missed the playoffs.
MS – It happens, we just need to forget about it.
AS – You had great stats in the OHL. 17 goals and 40 assists. It looks like your coaches did not give you any limitations.
MS – It's impossible to say that. Of course I had a role on ice, and you need to play according the game plan.
AS – Neftekhimik Nizhmekamsk's former hockey academi director Rail Yakubov told that it wasn't easy to understand if you were a defenseman or a forward.
MS – It was kids hockey. Of course in those times I was allowed to do a lot of things. I was playing like 30 or 40 minutes a game.
AS – How important was getting picked in the first round? We understand that it can be good to be part of history, and probably the team will initially give you more attention, but is there a true difference if you were picked in the first or in the third round?
MS – I think that the guys picked in the second round aren't worse than first-round picks. But a pick in the first round shows how much the team was really interested in you. Every first-round pick is very important for Montreal. The team sees potential in these guys.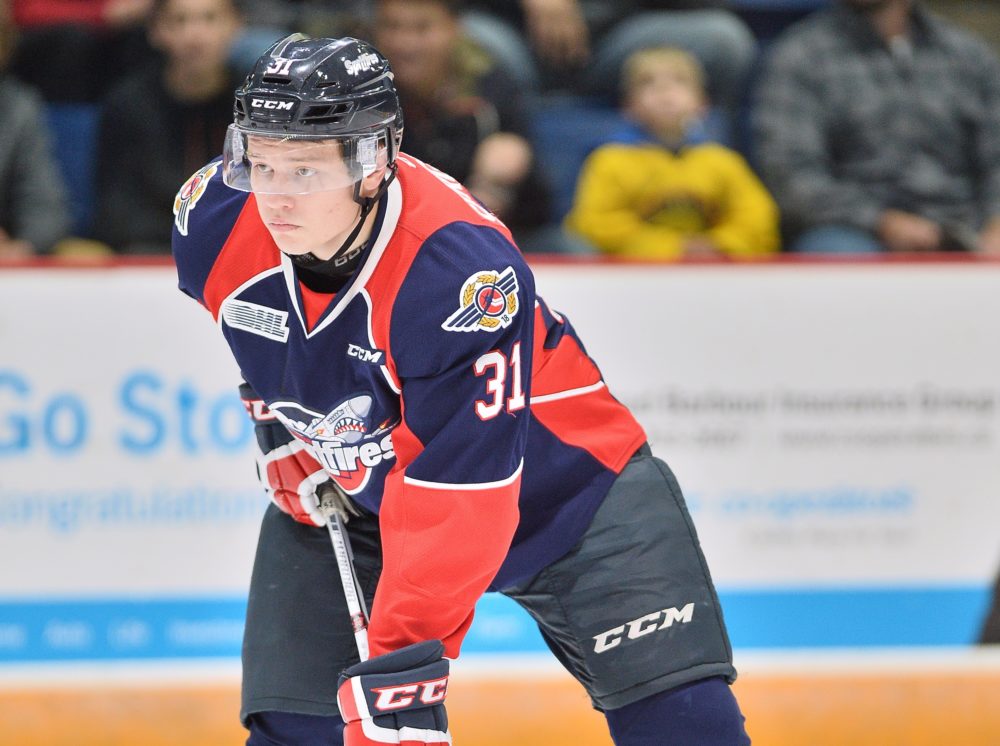 AS – So the first round is just a number?
MS – Well, it's not like that. Have a look at the first five picked players this year. All these guys are very good and can play at any level right now. But then teams pick the ones in which they see the most potential.
AS – Do you know French language?
MS – "Merci", "Bonjour". I can also say "oui". (laughs.)