Milan Lucic plays big. He talks big. At 6'3″ and 223 pounds, he is big. Taking everything into consideration, he was one of the biggest names to change uniforms this offseason, courtesy of a pre-draft trade with the Boston Bruins.
But will he be signing a big contract to remain in Los Angeles after this season?
Lucic played with the Bruins for eight years
After being selected in the second round (#50) of the 2006 NHL draft and spending one more year with the Vancouver Giants of the WHL (leading his team with 30 goals and 68 points), Lucic made the Bruins' squad in 2007. Averaging 12:07 of ice time his rookie year, he put up 8 goals and 19 assists, finishing in a tie for 12th in the Calder voting.
By his fourth year in the league, he was a major force, notching his first 30 goal season, amassing 121 penalty minutes and sitting at the top of Boston forwards in iCorsi. He was also involved in seven regular season fights.
The following season also saw Lucic surpass 60 points (61) and set a career high in penalty minutes with 135. He cemented his reputation as a hard-nosed, chirping, battering ram-styled player, the kind you love to hate — unless, of course, he's on your team:
https://twitter.com/mattjrosenberg/status/182216911747166209
By the time his career with the Bruins was over, Lucic had scored 127 goals, dished out 186 assists, and had been whistled for 718 penalty minutes, sporting a career +/- of +84. He had also won the Stanley Cup in 2011.
Dean Lombardi worked his magic once more
Fresh off their disappointing 2014-15 campaign, the Kings knew they had to upgrade an offense that finished a mediocre 18th overall in goals scored. With the decline of Dustin Brown confirmed, they needed a big body in the top six to play the role Brown once excelled at: a forward not afraid to do the dirty work while a threat to score 20+ goals. Complicating matters, general manager Dean Lombardi had to figure out a way to maneuver around the team's tight salary cap situation.
Lombardi picked up the phone, and ultimately, a deal was reached with Boston. Backup goaltender Martin Jones, the Kings' first round pick in the 2015 draft (#13 overall) and prospect Colin Miller would be sent to the Bruins in trade for Lucic, with Boston agreeing to pay $2.75 million of his 2015-16 salary. After this season, the three-year, $18 million contract extension Lucic signed in September, 2012 expires.
Lucic has fit like a glove in Los Angeles
In spite of his sucker punch of Kevin Connauton and subsequent one-game suspension by the league, Lucic has adjusted well to life in Los Angeles. He's put up 29 points in 47 games (12 goals), on pace to surpass 20 goals and 50 points for the fifth time in his career.
Just as importantly, he's strong with respect to puck possession, which works out perfectly for the NHL's top Corsi team (CF: 56.1%). It's a formula which has helped Los Angeles win two of the last four Stanley Cups.
He wants to remain with the Kings
When a player isn't seriously interested in remaining with their current team, they typically mince words about their future. When asked where he would like to end up after this season, Lucic was remarkably candid:
I hope it's here, just because of how great everything has gone and [how] good the transition has gone. I truly, truly deep down in my heart hope that I do get to remain a King after this season (NHL.com).
Later in the same article, he was quoted as saying, "I would love nothing more than to remain a King."
Will the math work?
That, of course, is the multi-million dollar question. Author's note: the following is, at best, educated guesswork.
A lot can happen between now and when an agreement might be reached, but as it stands, Los Angeles is up against the cap, with an estimated $1.4 million of available space.
Lucic, Trevor Lewis, Luke Schenn, Christian Ehrhoff, Jamie McBain and Jhonas Enroth are the Kings' pending unrestricted free agents, while Brayden McNabb is scheduled for restricted free agency. Combined, the six unrestricted free agents carry a cap hit of just over $9 million, with McNabb's tally currently at just $650,000.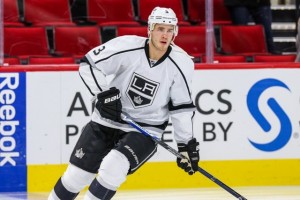 With the NHL salary cap estimated to increase modestly next year and factoring in Anze Kopitar's new deal, keeping everyone and paying Lucic an amount equal to this year's full salary (Boston retained $2.75 million as a condition of the trade) doesn't seem possible. Kopitar's new contract triggers a cap hit of $10 million starting in 2016-17, and McNabb — who has played very well — could see an increase of over $2 million.
However, there are offsets. Schenn and Ehrhoff are all but certain to be gone after this season, and McBain should be a player they can re-sign cheaply. With the plethora of backup goaltenders (Peter Budaj is playing well in Ontario) generally available, Enroth likely will find a new home, possibly at the trade deadline. Furthermore, Vinny Lecavalier's agent has announced that he will be retiring at the end of this season, slicing additional money off the books.
Adding the posited savings to the current $1.4 million of cap space and the predicted $3 million higher cap would give the Kings close to $10 million of available space. Kopitar's extension reduces that figure by $3.2 million (his current cap hit is $6.8 million), and a new McNabb contract could add another $2.0 million. Replacement players for departed free agents probably wouldn't total to more than around $3 million.
And then there's Lucic. Right now, his cap figure is just $3.25 million, but that's obviously going to go up in a new deal. The Kings should be able to squeeze him in if he's willing to sign for less than $5 million per season. That's roughly the same price as Marian Gaborik.
The chances of re-signing Lucic are good
Will the two sides come to a mutually satisfactory agreement that keeps the big left winger in Los Angeles over the long term?
There's no way to know until it happens, but based upon what the Kings gave up to get him, his solid play and public statements expressing a desire to return, the outlook is promising. If Dean Lombardi can fit all the puzzle pieces together, expect to see Lucic agitating opponents at the Staples Center for the foreseeable future.
What do you think? Can Lombardi work the numbers to keep Milan Lucic in L.A.? Leave your thoughts below, or send a message to @McLaughlinWalt.