Russian to the Top
Alex Ovechkin becomes highest scoring Russian ever this week when he potted his 484th carer goal. It came on the heels of an atypical four-game goalless stretch.
He passes 2015 Hall of Fame inductee Sergei Fedorov to claim the honor. Fedorov scored 483 goals in 1,248 game. Ovechkin now has 485 goals in just 778 games.
.@ovi8 scored his 484th career goal and passed Sergei Fedorov for most goals by a Russian-born player in NHL history pic.twitter.com/J1VlF5LuB0

— NHL Public Relations (@PR_NHL) November 20, 2015
The strangest thing about Ovechkin passing Fedorov isn't that Ovechkin and Fedorov were on the Capitals together when Fedorov passed Alexander Mogilny to set a new record. It's that Nicklas Backstrom provided an assist on Fedorov's record-setting goal and on Ovechkin's record-setting goal. Also, both goals came against the Dallas Stars. (Hat tip to the Washington Post's Isabelle Khurshudyan for that nugget.)
Alex Ovechkin passes Sergei Fedorov to become the all-time leading goal scorer (484) among Russian NHL players. pic.twitter.com/0qKxVUEDIJ

— SportsCenter (@SportsCenter) November 20, 2015
Kane Town
Patrick Kane has extended his personal best point streak to 16 games with a point on Saturday. That's the longest point streak the franchise has seen since Denis Savard had a 16-game point streak in the 1987-88 season. Kane has 10 goals and 16 points over the 16-game streak.
The longest point streak of Kane's career previously was a 14-game stretch in December of 2013. He had eight goals and 17 assists over that span.
Additionally, that streak includes Kane scoring goals in seven straight games. It's the first time someone has done that since Steve Larmer did it in 1987 when he scored eight goals and an assist over his streak.
Marleau and Me
With a couple assists on Saturday night, Patrick Marleau crossed 1,000 career points. He's the 83rd player in history to hit that milestone and the first to do it with the San Jose Sharks, spending all 18 years of his career with the team.
Marleau's Sharks have been hot as well, sweeping a six-game road trip for the first time in franchise history. The longest road sweep in team history was a four-gamer.
Great road trip from the @SanJoseSharks and Congrats to Patty on his 1000th point.

— Owen Nolan (@OwenNolan11) November 23, 2015
PERFECT ROAD TRIP. pic.twitter.com/OyC9hCb2b0

— San Jose Sharks (@SanJoseSharks) November 23, 2015
Trotz-in' to the Top
Washington Capitals coach Barry Trotz climbed the ladder this week, moving into 10th place all-time in games coached after coaching his 1,295th game. He also moved into 12th in wins after winning his 614th. In both marks he passed Jacques Martin, former coach of the Canadiens, Panthers, Senators and Blues.
Trotz is up to 1,297 games coached. It'll be a good long while before he jumps up to 9th, with Ken Hitchcock sitting there right now with 1,343 games coached. The closest non-active coach is Mike Keenan in seventh with 1,386 games coached.
After grabbing his 615th win this week as well, he's only two short of tying Jacques Lemaire and moving into 11th place.
Bon Anniversaire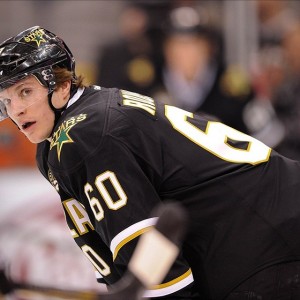 Antoine Roussel opened up the scoring for the Dallas Stars in Saturday's 3-0 win over the Buffalo Sabres. That goal would stand as the game-winner and was also the marker had him tie Sébastien Bordeleau for the most NHL goals for a French national in history. He has 37.
Roussel currently sits in third place all-time for most points by a French national NHLer with 76. He's behind Sébastien Bordeleau's 98 points in 251 games and Sébastien's father Paulin Bordeleau at 89 in 183 games. Rouser's 218 career games sit third among French players.
He's poised to become the leader in many categories for French NHLers. The closest active player from France is Philadelphia's Pierre-Édouard Bellemare, who has 13 points in 93 career games.
Saturday was also Roussel's birthday.
Stafford Solutions
The Winnipeg Jets' Drew Stafford scored his third game-winning goal of the season this week. He scored just two game winners over the last three seasons, inclusive of 192 games played.
Again-la
Jarome Iginla continues to set records and climb the all-time ranks. This week he played in his 1,412th career game, passing both Norm Ullman and Harry Howell to move into 31st all-time.
Just two games ahead of him at 1,414 is Arizona's Shane Doan.
The next player they'll both pass is Hall of Famer Al MacInnis, who played 1,416 games in his career.
Iginla also climbed the all-time points list this week, moving past Peter Stastny to 37th on the all-time point leader list.
Malkin Hay
With a big week on the Penguins power play, Evgeni Malkin became the fourth player in franchise history to hit 100 career goals on the power play. His mark follows Mario Lemeiux (236), Jaromir Jagr (110) and Kevin Stevens (110).
Sidney Crosby currently has 93 power play goals and Chris Kunitz has X.
Malkin crossed that line in a win over the Minnesota Wild, where he had two goals and two assists for his 20th career game where he's put up four or more points.
ANOTHER POWER PLAY GOAL! Malkin scores to make it 3-1 in favor of the #Pens with 11:45 left in the 2nd. pic.twitter.com/hQWZ6kzAMQ

— Pittsburgh Penguins (@penguins) November 18, 2015
Five Alive
Henrik Sedin set a career mark on Saturday when he had a goal and four assists against the Chicago Blackhawks. It was the first time in his career he put up five points.
Three of those assists came from connecting with his brother Daniel, who scored a hat trick.
The last player to score five points in a single game for the Canucks? Daniel Sedin, against the Oilers in February of 2007. He also had a hat trick that game.
The Wrong Kind of Record
Minnesota's Jason Pominville has gone 19 games without a goal, despite firing off 40 shots so far this season and seeing significant power play time. This is a career-long drought for the 32-year-old three-time 30-goal scorer, who had previously never gone more than 16 games without a goal.
Pominville on 18 game drought: "
It's been extremely frustrating, frustrating to even talk about it." #mnwild

— Michael Russo (@RussoHockey) November 20, 2015