Oilers Break Losing Streak
The Edmonton Oilers snapped a three-game losing skid against an improbable opponent when the Anaheim Ducks came to town on Friday night. Anaheim has clinched a playoff berth and sit 3rd in the NHL, while the Oilers remain firmly in 29th place. Despite being outshot 51-23 and being generally outplayed in the game on Friday, the Oilers held on to take a 4-3 victory in overtime.
Most of the credit for this win goes to Ben Scrivens, who stole another victory for the Oilers. He stopped 48 of 51 shots, and stood tall when the Oilers took two ill-timed penalties in the overtime period and had to kill a lengthy 5-on-3. When the Ducks also took a penalty, the ice was wide open as the teams played some 3-on-3 hockey. This gave Oilers' Captain Andrew Ference all sorts of room to walk into the Ducks' zone and fire home the overtime winner.
The Oilers maybe didn't deserve this win, but they kept fighting throughout the game. In addition, two Oiler players achieved milestones against the Ducks.
Oscar Klefbom Scores His First NHL Goal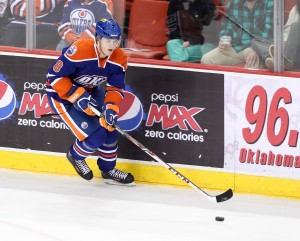 Oscar Klefbom now has nine NHL games under his belt, after spending most of the season playing for the Oilers' AHL affiliate the OKC Barons. He looked a bit overwhelmed in his first few shifts in the NHL, but has settled in well and looks to be gaining a lot of confidence. Klefbom had his first assist in his first game with the Oilers, back on March 11 against the Wild. And now, he has his first NHL goal. The Oilers are definitely excited about this 20-year-old Swede, who looks even more comfortable in the NHL than he did in the AHL. If his strong play continues, he will be a valuable asset on the Oilers blue line for years to come.
Sam Gagner Gets Goal 100
It seemed like the 100th goal might never come for Sam Gagner. He scored goal 99 against the Nashville Predators on March 18, and had to wait five games to finally bury number 100. Gagner, who missed the first part of the season with a broken jaw, has really picked up his game. He will finish the year well below his career highs in points and goals, but his play has looked more solid recently.
Ryan Smyth Still Looking for Record-Setting Power Play Goal
Not lost in the successes of other Oilers is Ryan Smyth's quest to score power play goal number 127 in an Oilers uniform. He currently holds down the franchise record, along with Glen Anderson, with 126 power play goals. Teammates and coaching staff alike are certainly giving him opportunities to bury that record-setting goal, with plenty of playing time on the first power play unit. He'll need to score it soon, as the Oilers' season is drawing to a close and there's no guarantee he'll be back in Edmonton next year.
I have gained experience writing for the sports section of The Gateway, the campus newspaper for the University of Alberta and blogging for puckrant.com. I am completing my Bachelor of Arts in Psychology, with aspirations to try my hand at sports writing for a career.