News broke this morning that Vancouver Canucks' starting goaltender Ryan Miller will be out for a minimum four to six weeks and perhaps longer after awkwardly colliding with teammate Jannik Hansen.
Benning gives no time table on Miller. Says they are prepared to go with Lack and Markstrom for weeks if that's the case. #Canucks

— Dan Murphy (@sportsnetmurph) February 23, 2015
Statistically speaking Miller hasn't been quite up to his normal standards in his first year in Vancouver. His current .913 save percentage is a smidgen lower than his career .915 mark. However, a couple of months back Miller was sporting a .906 mark so he has been playing better in recent months. Still considered one of the top goaltenders in the league, the long time Buffalo Sabre netminder leaves the Canucks in a bit of a bind. Do they ride with backup netminder Eddie Lack? The second year goalie is sporting a .917 save percentage in 15 starts but last season in 37 starts finished with a .912 mark. Recently recalled Jacob Markstrom is a monster at 6'6″ and bigger goalies are becoming more popular around the league. Pekka Rinne and Ben Bishop are a couple of larger goaltenders performing well in the league right now. The 25-year-old has posted a .932 save percentage this season down in the AHL and maybe he is just a late bloomer like the aforementioned Bishop. Perhaps the Canucks will be fully comfortable rolling the dice with these two goaltenders.
 Antti Niemi to Vancouver?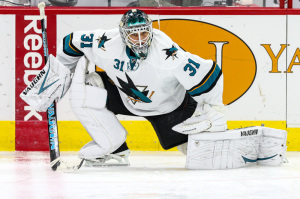 However, if the Canucks want to upgrade their goaltending for the short term with a reliable veteran presence, there are few better options than San Jose's Antti Niemi. While it may seem counter intuitive to think the Sharks would trade their No. 1 goaltender, to a division rival no less, when they are just three points behind Vancouver, it actually makes sense. Yes, San Jose is just three points behind the second place Canucks but Vancouver also has two games in hand. The Sharks are floundering, are currently on the outside looking in at the playoffs, and seem much closer to being sellers than buyers. Niemi is a pending unrestricted free agent and reports suggest the Sharks are open to dealing the Stanley Cup winner. Certainly the Sharks would prefer to move Niemi to the Eastern Conference but working to Vancouver's advantage is that there are few playoff teams in need of a rental goaltender. If there were more teams in need of goaltending, Niemi would quite possibly fetch a first round pick but at this point a second round pick is likely the best return San Jose can hope for.
Now Niemi certainly hasn't lit the league on fire in his contract year, but he does have an identical save percentage to that of Miller this season, .913. Furthermore, the Canucks would be getting a goaltender who is well accustomed to playing on an every night basis and one that does a good job staying healthy. Outside starting the 2011-12 season on the mend due to the removal of a cyst on his knee, Niemi has hardly missed any time in his four plus years with the Sharks. For a No. 1 netminder, Niemi doesn't have a high cap hit at just $3.8 million so there should be little to no worries about fitting him under the salary cap regardless of any other moves GM Jim Benning is looking to make before the deadline. Given the market price for Niemi being cheaper than the norm, it should be something the Canucks look into. From the Sharks' perspective, a second round pick would be a nice pickup as they try and regroup from an incredibly disappointing past 10 months.