Much like the New Year, a new NHL season is also a time to hope.
Minnesota Wild fans have hopes that cross and are at a crossroads this New Year: That there's a 2012-13 season to showcase the second richest free agent signings in league history, Zach Parise and Ryan Suter.
In honor of the New Year and a new season, let's look back at Wild hopes entering each campaign, starting from the beginning.
2000-01
A New Hope: Marian Gaborik
"[Gaborik] looks like Pavel Bure out there," said defenseman Andy Sutton during the Wild's inaugural training camp.  As the organization's first-ever first-round draft pick, Minnesota hoped that he would become the face of the franchise.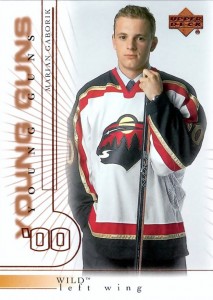 Despite an acrimonious departure and many nagging injuries, Gaborik sniped 219 goals in his Wild run, which is still the franchise standard.  Night in and night out, he was the team's best player.
2001-02
A New Hope: Manny Fernandez
"Fernandez might be one of those late-blooming goaltenders that very often become all-star performers." After winning team MVP, he earned an annual raise of over a million dollars, along with the expectation that he should be able to carry the defense-first unit as a bona fide starter.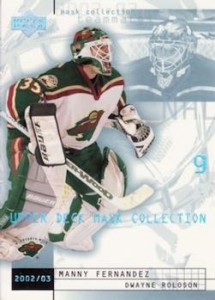 Fernandez flopped, and by season's end, was platooning with Dwayne Roloson.  A solid and sometimes spectacular performer during his long career in Minnesota, he could never establish himself as the team's undisputed starter, eventually being pushed out by Niklas Backstrom a few years later.
2002-03
A New Hope: Cliff Ronning
"I like Ronning's overachieving attitude," noted General Manager Doug Risebrough of the free agent acquisition who became the team's highest-paid player that year.  Minnesota hoped he would add creativity to a staid offensive attack.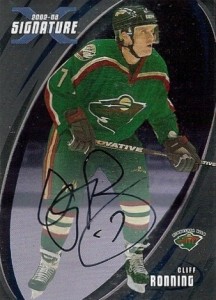 Ronning was an overachieving player for an overachieving  season, the second-leading scorer for a squad that would reach the Conference Finals.  Perhaps trying to go younger and save money, the Wild let him go after the season.
2003-04
A New Hope: "A Cult"
During the 2003 playoffs, Vancouver General Manager Brian Burke zinged his second-round foe's adherence to Coach Jacques Lemaire's system: "The Minnesota Wild isn't a hockey team. It is a cult."  Wild fans hoped that playoff success was the first step toward lasting relevance.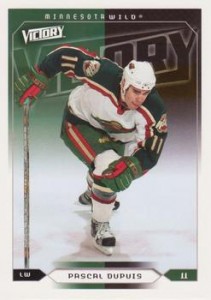 The Wild stumbled out of the gate, winning only four games in October, as the three top scorers from their first playoff berth were left unsigned (Ronning) or holding out (Gaborik and Pascal Dupuis).  Minnesota finished eight points out of the playoffs.
2005-06
A New Hope: Brian Rolston
Criticized for not improving the team enough while raking in the profits from sellout after sellout, Risebrough cited the most expensive free agent signing in Wild history up to this point, Rolston, as evidence of the organization's efforts: "But for every one of those things I do, I keep hearing about how we're not there."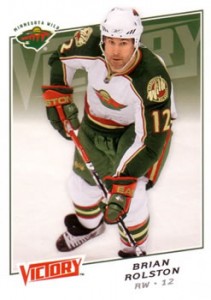 While Rolston rang up 34 goals, the team wasn't there, once again well out of the playoffs.
2006-07
A New Hope: Pavol Demitra, Mark Parrish, Keith Carney and Kim Johnsson
After trading for star playmaker Demitra at the NHL Draft, Risebrough struck again on the second day of free agency, signing Parrish, Carney, and Johnsson to multi-year contracts.  Including an extension for Gaborik, the general manager forked over $64 million in two weeks, re-igniting local excitement.  "In one dizzying summer the Wild went from spendthrifts to big spenders."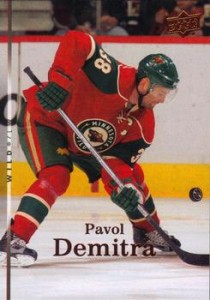 A much deeper Wild team set the franchise record with 104 points, but they were bullied in the first round by a stronger Ducks squad that was on the way to a Stanley Cup championship.  The newcomers played important roles in making the playoffs and winning a division crown next season, but ultimately, their Minnesota careers were relatively short-lived and disappointing.
2007-08
A New Hope: Niklas Backstrom
After many years of playing professionally in Finland, Backstrom surprised by topped the league in goals against and save percentage, and Minnesota rewarded him with a two-year extension and the expectation that he would be the backbone of future playoff runs.  The goaltender himself couldn't believe the year that he had: "I have to pinch myself. It's like I'm in a dream."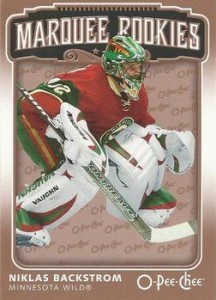 While Backstrom helped the Wild to its first division crown, his middling play in the first round contributed to them being upset by an older Avalanche squad.  Still Minnesota's starting goalie, he's trying to lead the franchise to its first playoff appearance since this loss.
2008-09
A New Hope: Pierre-Marc Bouchard
After scoring a career-high 63 points, Minnesota rewarded former first-rounder Bouchard with a lucrative five-year deal.  "Pierre-Marc is just 24 years old and the best years of his career are ahead of him," declared Risebrough.  With Demitra and Rolston departing, and having struck out trying to sign Marian Hossa, Markus Naslund, and Kristian Huselius, the Wild needed the young playmaker to step up.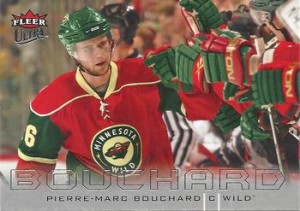 Minnesota missed the playoffs as Bouchard managed only 46 points, and he hasn't played a full season since because of lingering concussion problems.  After nine seasons, both Risebrough and Lemaire would lose their jobs and Gaborik would leave as a free agent, signaling the end of the Wild "cult."
2009-10
A New Hope: Todd Richards and Martin Havlat
A fresh Wild regime led by General Manager Chuck Fletcher and Coach Todd Richards promised more goals, signing Havlat to replace Gaborik.  Richards shoveled dirt on the Lemaire years: "Jacques and the previous staff did a great job…For me, it's coming in and giving these guys more freedom…That's the great thing they've done in the past here, they've taught guys defensive responsibility. Now add more of the offensive side of it, some creativity…"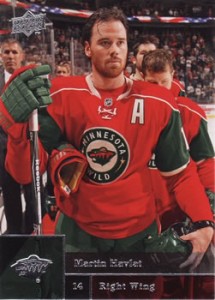 Minnesota scored exactly the same number of goals as they did the season before while giving up 46 more, finishing out of the playoffs.  Havlat looked out of place for most of his two years in Iron Range red and forest green, a shadow of Gaborik's flair and production.
2010-11
A New Hope: Guillaume Latendresse and Mikko Koivu
Acquired for first-round bust Benoit Pouliot, the hulking Latendresse broke out with 25 goals in 55 games, and was extended for two years.  After four seasons of steady improvement, former first-rounder Koivu was rewarded with a seven-year, $47.25 million dollar extension, and was anointed the face of the franchise by Fletcher.  "This is a historic day for the Wild. Mikko is the flag in the ground that we will build our team around. He is our franchise player, an excellent leader and an exceptional hockey player."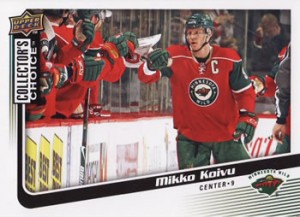 Latendresse wandered through two injury-filled seasons before being let go.  Koivu has been the squad's most consistent forward and a sterling captain, but has yet to lead the Wild into the playoffs.
2011-12
A New Hope: Dany Heatley
Still chasing the sniping magic of a Gaborik, Minnesota swapped out one disappointing, overpaid forward in Havlat for a more overpaid one, banking on Heatley to recapture the touch that averaged 44 goals a season from 2005 to 2010.  "We are excited to add Dany Heatley, one of the top goal scorers in the NHL, to our team," gushed Fletcher.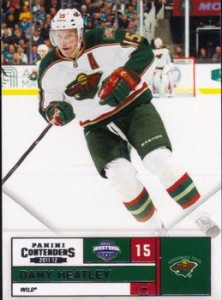 While Heatley led the team in goals, he was far from being one of the league's top scorers.  Unable to crack even 30 markers, he's taken a backseat to Parise in the Wild attack.
This New Year, will Parise and Suter step up and get enough backup from Heatley, Koivu, and Backstrom to turn around the Wild playoff drought?  Or will it be another year of wait 'til next year?