Well, the 2014-15 NHL regular season has been underway for a week now, and what a week it was, especially for Minnesota Wild fans. They took a 2-0-0 start to their year, defeating their division rival, Colorado Avalanche, both times in a home-and-home, without allowing a single goal. It was  a busy week for the Minnesota Wild, here's a recap.
Game One: Minnesota Wild 5-Colorado Avalanche 0
The Minnesota Wild put up a franchise record 48 shots on goal while allowing only 16 against. Zach Parise picked up a goal and two assists, while Ryan Suter, Jason Pominville. and Mikael Granlund all also had two points. Darcy Kuemper stopped all 16 shots he faced for his third career shutout. Nino Niederreiter and Jared Spurgeon scored the Wild's other goals, but it was the first line of Parise – Granlund – Pominville who were a force to be reckoned with all night long.
Game Two: Minnesota Wild 3-Colorado Avalanche 0
For the second time in three nights, the Minnesota Wild proved why they were deserving of the first round series win in the 2014 Playoffs. Darcy Kuemper was literally unbeatable, stopping all 30 shots he faced for his second straight shutout. This time, the second and third lines got the job done as Charlie Coyle and Jason Zucker potted their first goals of the season. Thomas Vanek also got his first point as a Minnesota Wild, setting up Zucker's one-timer goal. Zach Parise added an empty netter for his second goal in as many games.
Darcy Kuemper Starts Season With Two Straight Shutouts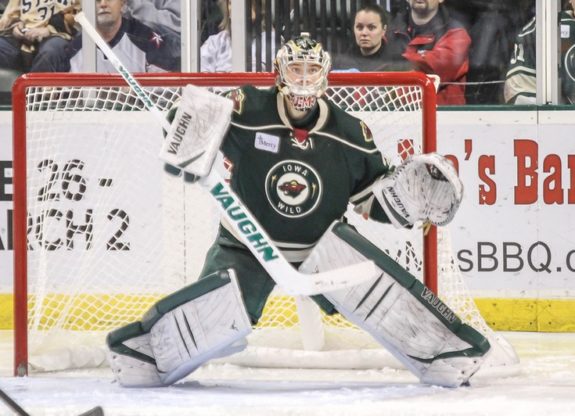 Darcy Kuemper was an RFA and missed almost all of training camp until signing a two-year contract worth $2.5 million. He was impressive in preseason and earned the opening night start. He has stopped all 46 shots he has faced so far this year, helping the Minnesota Wild to become the first team to begin the season with two shutouts since the Florida Panthers did in 2005-06. He has looked like the solution to the Wild's circus situation in the crease. Although, Mike Yeo has made it known he intends to start Niklas Backstrom soon. Kuemper was named 2nd star of the week by the NHL.
Jonas Brodin Signs a Six Year Extension
The Minnesota Wild locked up pending RFA Jonas Brodin to a 6-year extension worth $25 million. Brodin had an amazing rookie season, and a good sophomore year as well. He is expected to be a top pairing with Ryan Suter for a long time to come. However, Brodin was only one of the six pending RFA's for the Minnesota Wild come Summer of 2015. Those other five include Mikael Granlund, Charlie Coyle, Erik Haula, Marco Scandella, and Christian Folin. It's going to be tough for the Wild to keep all of these future stars.
Wild Stars Start Season Hot
After two games, the Minnesota Wild have eight goals for and zero against. While the goaltending has been unexpectedly spectacular, the stars of the Wild have also been great. So far, the first line has three goals and five assists through two games. Zach Parise and Ryan Suter have been leading this team, both offensively and defensively, as they were expected to when they were signed in July of 2012. Parise has two goals and two assists, with a +5 rating and an unprecedented 19 shots on goals in just two games. Suter has a goal and two assists with a +4 rating so far. If the leaders can lead, the depth can provide strength throughout, and Kuemper can continue to be a solid starter, it should be an exciting year for Minnesota Wild fans.
The Minnesota Wild go on a two game road trip this week, visiting the Anaheim Ducks on Thursday and the Los Angeles Kings on Sunday. Stay tuned for all the Minnesota Wild updates all year long.
Contributor for the Toronto Maple Leafs and Prospects. Scout with the Oakville Blades of the OJHL. For questions, concerns, or comments, contact me at devinslawson123@hotmail.com or on twitter @SlawsonTHW.