The Minnesota Wild took care of business on their own end Monday night, beating the Edmonton Oilers in a 3-0 shutout win. The game secured the Wild's spot in the postseason, bringing their streak to six years in a row.
Winning the game gave Minnesota win number 27 on the season at home and secured their second most points earned at the Xcel Energy Center in franchise history. Minnesota was aided by a Colorado Avalanche loss on the road against the Los Angeles Kings, 3-1.
No Ryan Suter, No Problem
Wild defenseman, Ryan Suter has a fractured ankle and will have season ending surgery. The news was even more devastating as Minnesota is already without their other best defenseman in Jared Spurgeon. The Wild made do with what they have and displayed their depth at the blue line. The unlikely hero to step up? Carson Soucy was called up from the Iowa Wild to make his NHL debut for Monday's game. In a post-game interview with goalie Devan Dubnyk, he praised the young defenseman's play.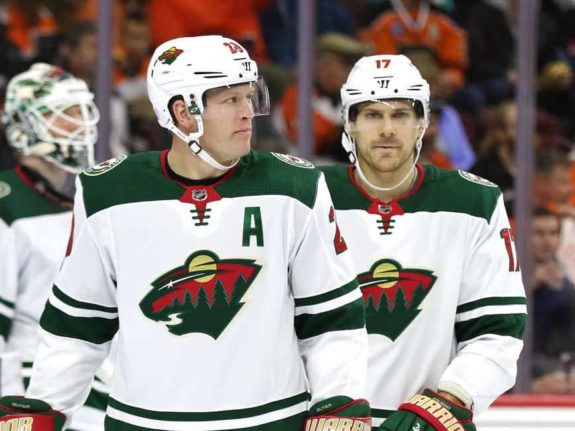 "That was about as impressive of a first game for a young defenseman as you can have from Soucy," Dubnyk said. "I don't think I saw one mistake out there. He looked like he's been in the league for five years.
After putting up three shots on goal in 23 shifts against the Oilers, Soucy had a disappointing second game. In total, he had one minute less ice time against the Anaheim Ducks on Wednesday night and finished with a plus-minus of minus-two.
Matt Dumba is on a Rampage
With injuries to both Suter and Spurgeon, the burden fell on many young players to step up and play well. However, it was also key to have defensive regulars elevate their game to the next level. Look no further than Matt Dumba, in the last five games he has averaged right around 27 minutes a game and taken 14 shots. He has scored two goals and three assists with both goals coming on the power play. In addition, he has a plus-minus of plus-three.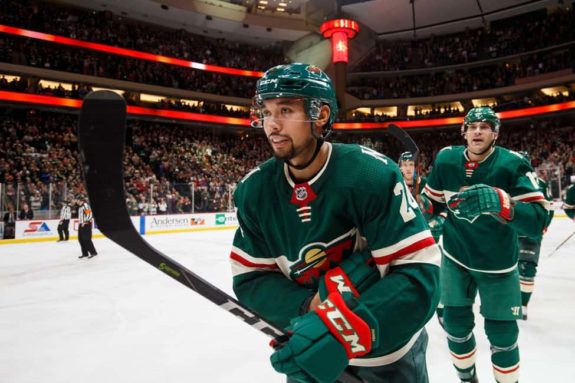 The pairing of Dumba and fellow defenseman Jonas Brodin has been exactly what Minnesota has needed to earn their shot at a postseason berth. Although you never want to get your opportunity with injured teammates especially so near to the postseason, Dumba is in a very unique position. When the 2017-18 season concludes, Dumba will become a free agent and the Wild will have to decide if they want to keep him around. His play for the remainder of the year should largely dictate what type of contract he gets.
Related: Minnesota Wild's Best Defenseman
Throughout his career, Dumba has been at times a defensive liability that has cost the Wild countless games. However, he has always had a ton of offensive upside. He currently ranks second on the Wild in points for a defenseman with 47 points and 13 goals. While Spurgeon has been good all-around, that type of scoring hasn't been around in Minnesota since Brent Burns was dished off to the San Jose Sharks years ago. This is Dumba's audition to prove his worth to Minnesota.
Missing: Wild Goal Scorers
All the injuries that the Wild have had on defense would be disastrous to almost any team, but for the Wild it isn't even their biggest problem. Nino Niederreiter was signed to a five-year, $26.25 million deal this offseason. What have the Wild gotten out of the deal? In the last six games, as the Wild have been pushing for their playoff spot, Niederreiter hasn't scored a single point and has a plus/minus of minus-three. Not only is he not scoring, but his line is costing the Wild goals. This season he has managed 18 goals and 12 assists which isn't terrible, but everyone expects more from him as he is supposed to be a goal scorer for Minnesota.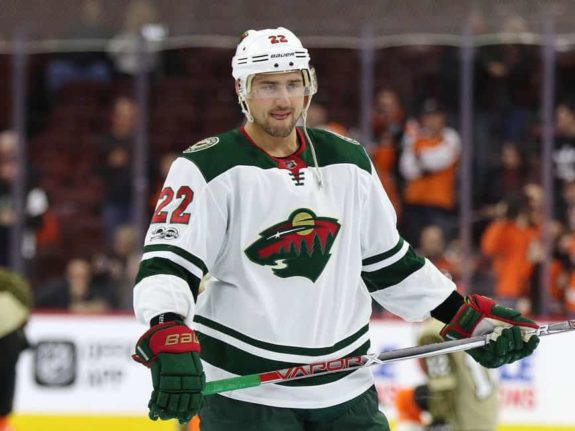 Looking further into Niederreiter's stats, 12 of his points came within the first 20 games of the season. He has only managed nine points in his last 21 games. It's crunch time and to have a player averaging over $5 million per season with those numbers is not impressive.
Tyler Ennis is another name that comes to mind, but it's hard to say he is missing when he was never productive in the first place. He has eight goals and 12 assists on the season with a plus/minus of minus-two. His last goal came over six weeks ago and he has only had three assists since. What was general manager Chuck Fletcher thinking when he traded Jason Pominville for this guy? The two make similar money, Pominville is just older and more productive.
Related: Minnesota Wild's Best Young Forward
Other players like Jason Zucker, Mikko Koivu, Eric Staal, and Mikael Granlund have all slowed down their scoring paces as well. However, they still play defense and show heart on the ice. There shouldn't be nearly as much concern with these players as they contribute in multiple ways, not just scoring.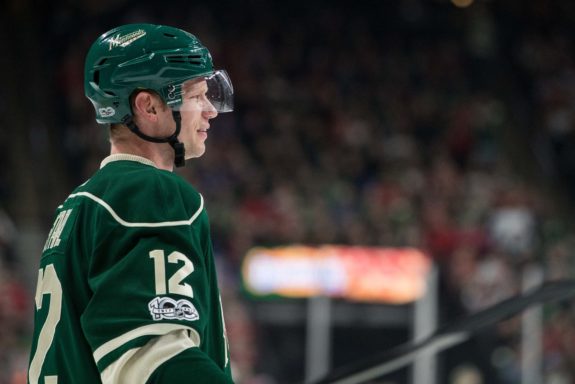 Finishing Out the Season Strong
Minnesota needs to finish out the season strong and try to wake some of their scorers up from their slumber. With injuries hurting the defense, the offensive players need to put the puck in the net with some consistency to take the pressure off the young inexperienced players. Playoff hockey is an entirely different animal and the Wild need to step their game up or it could be yet another early round exit. Six straight playoff appearances is a tremendous accomplishment, but settling for just making it gets old in a state that is in desperate need for a championship.
Related: Potential Wild Playoff Opponents