I never thought I'd be saying this at this point in the season, but the Minnesota Wild have somehow managed to push themselves back into the playoffs. February was a huge month for this team – the Wild so far have a record of 10-2-1, with one game left to play this Saturday. That's an incredible record for any team, but especially for a team like the Minnesota Wild.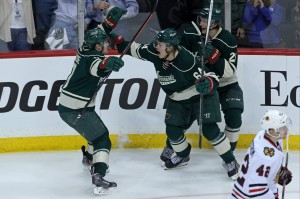 Just a few months ago, this team struggled to win four games in a month. Now they've won 14 of their past 19 games, and they're back in contention for a wild card spot. Although this playoff push has been the result of almost every player on the team stepping up, three guys in particular have made February an exceptional month for the Minnesota Wild.
1. Devan Dubnyk
This one is a no-brainer. Ever since joining the team back in January, the Wild have gone 14-3-2. Dubnyk has been in the net for each one of those games.
In the month of February alone, Dubnyk had three shutouts and was named one of the NHL's "3 Stars of the Week" two consecutive weeks in a row. Dubnyk currently has the fourth-best GAA (Goals Against Average) in the NHL and the sixth-best save percentage. For a guy that's bounced all around the NHL, those are some impressive stats. Dubnyk has turned his career around in the past month and a half, and he's changed the Minnesota Wild's season, as well. The former Coyote has given this team the confidence to play well, and they haven't looked back since trading for him a month ago.
Dubnyk has been a brick wall for this team. There's no denying he is a huge reason the Wild are back in the playoff race.
2. Zach Parise
Zach Parise has been the go-to guy for Minnesota all year, but this month in particular, he's really stepped it up. Parise has shown this team what it means to be a leader, and to put your heart and soul into every game.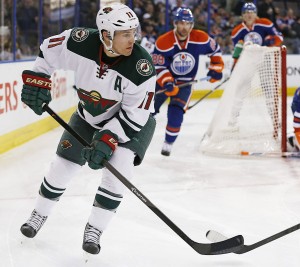 The Minnesota native scored five goals and tallied four assists over the course of the month, but Parise does so much more than put the puck in the net. He's a leader, a motivator and an all-around positive influence on this team. It's hard to imagine the Wild would be in the same spot they are now without Parise.
3. Mikko Koivu
If I had to pick just one guy to fill this third spot, I'd have to go with the captain, Mikko Koivu.
Koivu, who seemed to lack leadership earlier in the season, has found a way to get his game back over the past few weeks. Throughout February, Koivu scored three goals and contributed nine assists. Mikko has never been a huge goal scorer – what he contributes is experience, leadership and obviously, assists.
Koivu isn't flashy. He's out there quietly getting the job done and making sure his team comes away with a win.
Honestly, though, this third player was a toss-up. Every single player on this team has contributed throughout the month of February, so deciding on just one player is almost impossible. Nino Niederreiter has been scoring goals left and right; Matt Dumba has improved defensively; Thomas Vanek has finally started scoring like he used to, etc. The success the Wild have experienced this month is a result of everyone playing together and finding whatever was missing earlier in the season.
The Wild had a tremendous month and have one more left to continue their push to the playoffs. If they play anywhere close to the way they did this month, that should be a piece of cake.
Who do you think played the best for the Minnesota Wild this month? Will the Wild make it to the playoffs?