Last week, I noted that the Flyers had an impending problem on defense. Well, the time of reckoning is now because Kimmo Timonen is ready to play tomorrow in Philadelphia's rivalry match against the New York Rangers. Problem is, that gives the Flyers nine healthy defensemen, and they're already at the max roster size of 23.
#Flyers did not put Colaiacovo on waivers today. They're at 23 players. Meaning, Timonen maybe won't play tom – or another move is coming.

— Frank Seravalli (@frank_seravalli) February 27, 2015
Something's gotta give. For a variety of reasons (contract, performance), don't expect Mark Streit, Andrew MacDonald, Michael Del Zotto, or Nick Schultz to be traded. That leaves Kimmo Timonen, Braydon Coburn, Nicklas Grossmann, Luke Schenn, and Carlo Colaiacovo. It's a gut feeling, but I don't think Schenn will be moved.
Despite being four points out of the playoffs, this is not a playoff caliber team. They've lost consecutive games to the Hurricanes and Leafs, two of the worst teams in the league. So, let's look at some potential deals if the Flyers should sell:
Braydon Coburn
By far the best and most valuable of the available defensemen, Coburn will command a nice return if traded. The deals for Cody Franson and Andrej Sekera have set the price for a solid top four defenseman (a 2015 1st and prospect), and Coburn is a very similar player to those two.
Here is how they stack up:
  Coburn
Sekera
Franson
Coburn brings great size and skating ability to the table as an effective minute munching defenseman. On top of that, he is signed for another year at a very reasonable $4.5M, meaning his value is likely even higher than Franson or Sekera's.
The Deals
Philadelphia sends Braydon Coburn to Anaheim for Emerson Etem and Anaheim's 2015 1st
Philadelphia sends Braydon Coburn to Tampa Bay for Adam Erne and 2015 1st*
*Tampa Bay owns their 1st and the Rangers' pick, so it would be the lower of the two.
Both the Ducks and Lightning have had scouts attending a number of Flyers games over the past month. Both have had a number of injuries to their blueline (Vatanen and Souray in Anaheim; Carle and Gudas in Tampa), and as a result are looking for another top 4 defenseman.
They both have very strong prospect pools thanks to some savvy trades, and can tolerate losing some of that depth for a Stanley Cup push.
Kimmo Timonen
Timonen is not the stud #1 at even strength he once was, but remains very effective on both special teams units. He'll have the chance to play two games before Monday's deadline, which may be enough to entice a trading partner. If anyone on the Flyers deserves to play for a contender and win a cup, it's Timonen.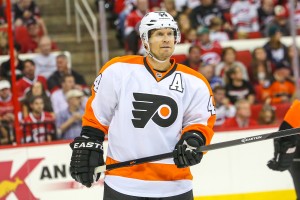 The Deals
Philadelphia sends Kimmo Timonen to Chicago for a conditional 2015 4th round pick*
Philadelphia sends Kimmo Timonen to Vancouver for a 2016 3rd round pick
*Becomes a 2nd round pick if the Blackhawks reach the Conference Finals
In Chicago, Timone would be a huge upgrade to the bottom pairing where he would play minimal ES minutes. Playing behind a very strong top four, Chicago could use him extensively on both special teams units, and get the best of Timonen's abilities.
For Vancouver, their blueline has been devastated by injuries to three of their best defensemen. Timonen would get much more playing time, and could help the Canucks remain in playoff contention.
Carlo Colaiacovo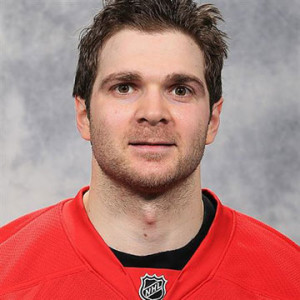 Colaiacovo has only gotten into 15 games this season, but has played well in limited action. He's nothing more than a bottom pairing option, but having depth on the blueline during the playoffs is a valuable commodity. He would serve well as a puck-moving #6 on a playoff team.
The Deal
Philadelphia sends Carlo Colaiacovo to Boston for a 2015 6th
After losing Kevan Miller to season-ending shoulder surgery, the Bruins are carrying just six healthy defensemen on their roster. They have Joe Morrow and David Warsofsky in the minors, but would likely trust Colaiacovo more in the playoffs. If someone gets hurt, he could fill in on the bottom pairing as the Bruins battle to stay in the playoffs.
Nicklas Grossmann
The big, stay-at-home Swede has been much maligned among Flyers fans this season due to his poor possession numbers and immobility. If he was an expiring contract, the Flyers would likely have no problem pawning him off for a 6th or 7th round pick to a playoff team purely as a depth move. However, Grossmann is signed for another season at $3.5M
As a result, the Flyers should take just about anything they can get for him. Even if it's a career AHLer in return, opening up a roster spot is more valuable than what Grossman currently contributes to the team.
The Deal
Philadelphia trades Nicklas Grossmann to Any Team Offering a 7th or Longshot Prospect
What trades would you want the Flyers to make? Would you be happy with the above, or would you like to see a bigger shakeup? Post your proposals in the comments!