It's one of the biggest headlines currently circulating around the hockey world. Minnesota Wild forward Zach Parise underwent successful back surgery – a microdiscectomy to repair a herniated disk, and will be out for another eight to 10 weeks. Parise has yet to play in a game yet in the 2017-18 season and the Wild have been a fairly mediocre team to this point in the year as a result, though Parise's injury is far from the only one the Wild are dealing with.
"He's been in a lot of pain," said Wild general manager Chuck Fletcher. "I give him credit. He did what he could to avoid surgery, and rehab and get back and play. But at the end of the day, I think what happened today will allow him to feel better quicker and also give him a real good chance to get back on the ice."
For the Wild, this current string of injuries, especially the one affecting Parise, has severely impacted their season already. Unfortunately for those in Minnesota, however, Parise's current injury is probably the least of their worries in regards to the veteran forward. Instead, the biggest concern regarding Parise is likely his contract – something that isn't mentioned as often as it probably should be given how damaging it could be for the Wild in the long-term. Before looking at why Parise's contract is bad, however, it's important to remember that he was once one of the best players in the entire league.
Zach Parise Was Once a Top Player in the NHL
Originally drafted 17th overall by the New Jersey Devils in 2003, Parise made his debut in 2005-06 and had a decent rookie campaign with 14 goals and 32 points in 81 games. He also added a goal and three points in nine postseason games that year.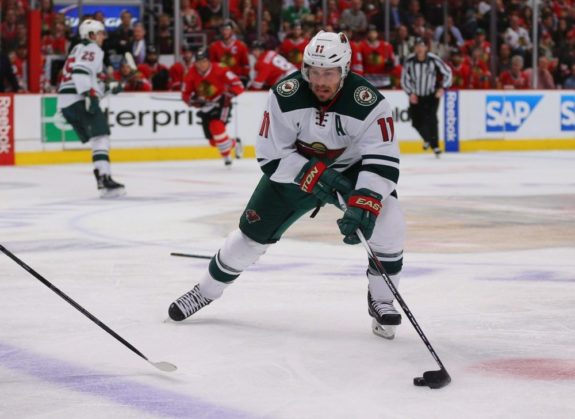 Following that season, Parise went on to become one of the very best players in the NHL for many years, scoring upwards of 30 goals and 60 points in five seasons from 2006-07 until 2011-12, not including the 2010-11 season when he played in only 13 games due to injury.
Parise's best season came in 2008-09 when he scored career-highs in goals (45), assists (49) and points (94) in 82 games. He also recorded over a point-per-game the following season with 38 goals and 82 points in 81 games. After joining the Wild and scoring 18 goals and 38 points in 48 games in the lockout-shortened 2012-13 season, Parise quickly made an impact with his new team. He went on to score 29 goals and 56 points in only 67 games the following season as well.
At the time of his contract signing, Parise was a hot commodity. Hitting the free agency ahead of his age-28 season, there was definitely a large market for one of the league's most lethal and consistent offensively-gifted players. Despite this, the length of the deal must have come as a surprise to many when the Wild signed both Parise and Ryan Suter to identical 13-year contracts worth $98 million.
Parise's Contract Isn't Going Away Anytime Soon
For the Wild, the contract of Parise is as concerning as anything else they'll have to deal with in the coming years. Already 33 years old, Parise is still under contract for another seven seasons following the 2017-18 season with his deal concluding after the 2024-25 season. He'll be 40 years old at that time which is far from ideal for the Wild who also have to deal with the fact that Parise's entire 13-year contract contains a full no-movement close.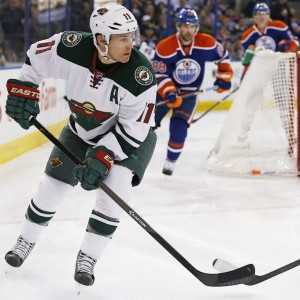 To make matters worse, Parise's production has steadily declined in each of the last three seasons. Scoring 33 goals and 62 points in 74 games at 30 years old, the Minneapolis-native looked like he was still a legitimate top-line player and would be for years to come. In the following season, Parise scored 25 goals and 53 points and still looked like a top-six forward, though he was clearly missing a gear from years past.
It wasn't until last season that Parise's offensive production really took a dip, however, as he scored only 19 goals and 42 points in 69 games. Scoring fewer than 20 goals for the first time in a full season since his rookie year in 2005-06, there was a clear decline for Parise that couldn't be denied.
While his leadership and veteran experience will never be questioned, players don't get signed to contracts with annual cap hits of $7.538 million for solely those traits. To make matters worse, Parise isn't the only player on the team earning that much money.
Similar Problem Looming With Ryan Suter
Though his defensive ability may not be what it once was, Suter's ability to contribute offensively is still noticeable. Even with that in mind, it doesn't mean that Suter will be immune to growing older. Not every player can be Zdeno Chara who still performs at a top-four level late into his 30s and early into his 40s, as he's demonstrated with the Boston Bruins.
Though the 32-year-old Suter has consistently been able to produce roughly 40 points per season and is off to a good start in 2017-18 with one goal and six points in seven games, he'll still be under contract until after the 2024-25 season when he'll be 40 years old as of July 1.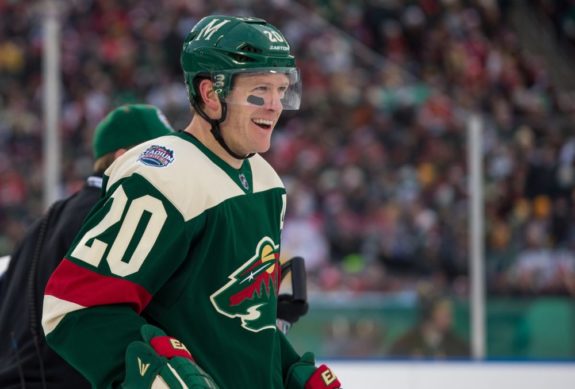 Suter hasn't slowed down yet, but it isn't out of the realm of possibility to imagine him seeing a significant decline at some point in the next eight seasons. It's not unheard of for players to see a decline in play in their 30 and the Wild are currently experiencing as much with Parise, as mentioned.
Paying any player upwards of $7.5 million until they turn 40 years old is never ideal. It's even less ideal when there are two players who will be paid just that until they are 40. It's the reason why many general managers are starting to display caution when signing players to long-term contracts. Despite this, there always seems to be at least one general manager who is willing to give a huge contract to a player despite the long-term implications.
Parise's & Suter's Contracts Stress Caution for General Managers
When the Wild signed both Suter and the hometown Parise to 13-year contracts, it was clear that they were looking to make a huge splash. Signing a legitimate top-pairing blueliner and top-line winger, both of whom were 28 years old at the time, the Wild were obviously a better team immediately as a result. While the present and near future looked bright for the Wild and their two big free agent hauls, the 13-year terms – which would no longer be permitted under the current collective bargaining agreement (CBA), the future would be severely impacted as well. At the time of the signings, there was very little discussion that delved into this fact.
In recent years, NHL general managers have started showing more reluctance to sign players to long-term contracts worth substantial cap hits. This isn't to say that bad contracts don't happen anymore, but there definitely seems to be a lot more thought that goes into the process than there was in years past.
General Manager's in a Tough Spot
It's a situation where certain teams get desperate at times and need to make a splash – for the sake of their team and for the sake of job security for a general manager who needs to show that they're making an effort to keep their job. Unfortunately, these short-sighted moves could ultimately come back to run the narrative on their careers in a negative way if things don't work out perfectly. Things almost never work out perfectly.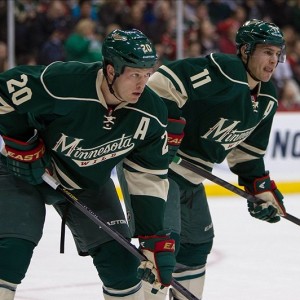 There's also the example of a bad contract coming from a team to avoid losing their player on the open market. When the Montreal Canadiens extended Carey Price to an eight-year contract coming with a full no-movement clause for the entirety of the deal with an annual cap hit of $10.5 million. That deal doesn't look good, regardless of how good Price has been in recent years. On the other hand, the Canadiens were in a situation where they knew they had to sign Price because if they didn't, somebody else would have following the 2017-18 season.
Both Parise and Suter hold contracts that could serve as prime examples for teams down the line to display caution when making desperation signings. Fixing a team is important, but doing it at the long-term detriment of a franchise simply isn't worth it.