The Buffalo Beauts will be opening their season on the road this Saturday Oct. 28. They will be taking on Connecticut at the Whale's home Terry Conners Rink. While each member of the defending Isobel Cup champs is eager to get the season underway, one player especially poised to do so is defender-forward Jacquie Greco.
You could see it in her body language during the Beauts' two preseason exhibition games. One of the most enjoyable sights to behold during those contests was Greco carrying the puck into the opponents' zone. The puck would be on her stick and her movement was crisp. Greco's shoulders would square up and she would start to go full speed ahead. As she took off full bore her brow would furrow and her eyes appeared like dark embers or coals. It was the look of true determination to her stride. This did not happen just once, but multiple times. There was a pep to her step, so to speak. Now Greco is really ready to take off at the opener.
Casorso, Edney, Ott, Oh My!
As the Beauts took on Team China and then the Buffalo Jr. Sabres Greco found herself alongside multiple defense partners. Though technically she is listed as a defender-forward, Greco spent the majority of the exhibition games as a blueliner. Of the entire Beauts' defense corps she was paired most often with three defenders—Sarah Casorso, Sarah Edney and Jordan Ott. As season's start looms closely, Greco shared her thoughts on each of these stalwart defense partners.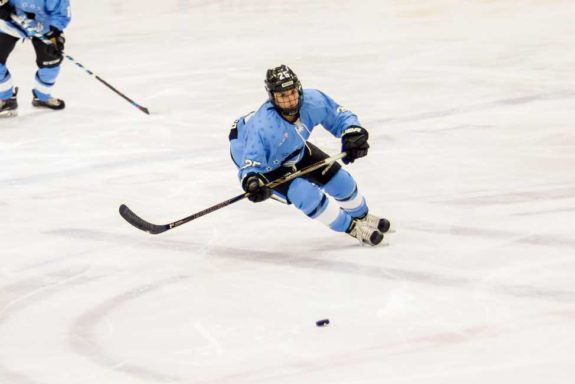 Firstly there is Casorso. Like Greco, she is one of the returning Beauts from last year's championship team. A native of Kelowna, British Columbia, Canada, Casorso has a whale of shot from the backend. Hers and Greco's familiarity with one another provides extra reassurance for Buffalo.
Greco shared on Casorso: "Sarah is a great playmaker and solid in the D zone. She is our quarterback and is great on our special teams systems."
Taking Edney Under Her Wing
After the Beauts' exhibition game against Team China, defender Sarah Edney met with the Buffalo media. Edney spoke on Greco at the time and stated: "She's done a really good job of welcoming me to Buffalo."
Greco has now returned the favor and dished on her enjoyment of playing beside the Harvard grad: "'Ed' is the type of player I feed off of and kind of follow her lead with plays. I let her play her game because she is so good at what she does. If I can be her support so she can make plays – I am happy to be her partner."
A Warm Welcoming to Buffalo
It goes beyond that though. While Greco may have developed a solid partnership with Edney, she has done a superb job of welcoming in all new players to the team. What you have to keep in mind is that Greco is a natural-born leader. During her own collegiate career at Syracuse University she was named an assistant captain during her junior season, and then eventually a co-captain her senior year. She is widely regarded as one of the most respected captains in the program's history. The Beauts could not find a more quality individual to welcome in the new players.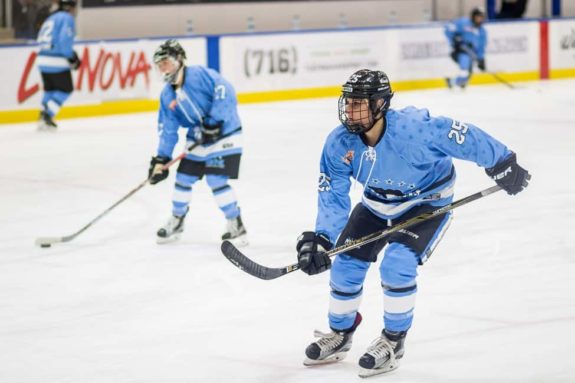 "… I want everyone to feel comfortable coming on this team," Greco explained. "Whether the player is coming right out of college, or from another professional league, everyone has different playing experiences and backgrounds. Getting our team to feel at home in Buffalo is what is going to give us the edge going into this season. Introducing the girls to the city and the hockey community here is going to make playing for our fans more fun and enjoyable. We have the best fans in the league and the new girls are going to realize that very soon."
One of Those "New" Players Is Ott
Even though she grew up in the Rochester area of New York State, Ott is one of those new players fresh out of college. After paving a storied hockey and softball career at SUNY Potsdam, Ott was one of the most exciting players to emerge from Buffalo's free agent camp this past June. The sleek 5-foot-9 skater is listed as a forward for Buffalo. The irony however is given her ability to so easily transition between either forward or defense, she as well could end up being listed and utilized as defender-forward like Greco.
Your dogs called, they want us to come visit.

Buy your #SznTix by Sunday to be entered into a prize lottery! ➡️ https://t.co/6wNvFRx90M pic.twitter.com/GaPy2PYbt8

— Buffalo Beauts (@BuffaloBeauts) September 28, 2017
Greco as well noted the perks of having such a strong interchangeable player like Ott:
"Jordan is an interesting player to play with because she naturally has that forward mentality. This allows herself to jump in on the rush whenever possible. She sees the defensive zone really well and can the break the puck out."
Related: Beauts' Showdown with Jr. Sabres Is a Good Indicator
Growing Number of Buffalo Natives on Roster
With the influx of new blood onto the Beauts' roster, there are fresh faces at every position. While some of those players may not all be new to pro hockey (Edney, Jess Jones and Rebecca Vint each ventured forth from the CWHL into the NWHL), a good number of them are new to Buffalo. That being said, there are now a good-sized number of native Buffalonians and Western New Yorkers who have become Beauts too.
In the brief time that the team has been comprised, Greco has wrapped her arms around all of her new teammates. It is what great leaders do. They promote togetherness, unity, equality, and the concept of having each other's backs. Players like Greco oftentimes function as super glue.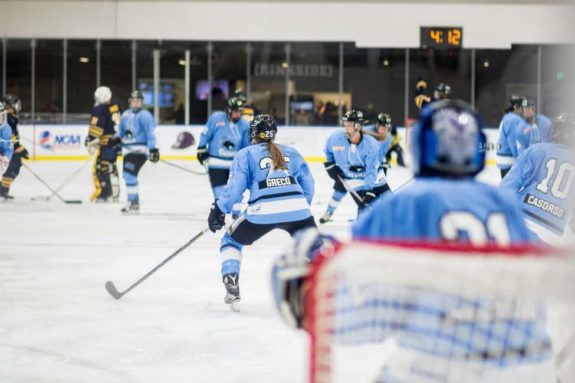 "It's been really fun getting to know and play alongside all of the new girls," she shared. "In just the short amount of time we've known each other I've tried to develop a unique relationship with each of them and get them to feel comfortable playing on a new team. I'm excited to have some new Buffalo natives and Nichols Alums (Hayley Scamurra, Maddie Elia, Julia DiTondo) on the team as well. We have an awesome group this year and I think the city of Buffalo will see that come Nov. 11th."
Cohesiveness Is Prospering From Exhibition Games
This weekend is the real deal for Greco and the rest of the Beauts. While they are still a newly assembled squad, their cohesiveness has really been taking shape in and throughout the exhibition performances. Greco is primed. The Beauts are primed. They possess an awful lot of God-given talent too.
This is Jacquie Greco, Isobel Cup champion defender/forward with the @BuffaloBeauts.
Also: Marketing Manager
Role Model.#WomensEqualityDay pic.twitter.com/ec3glwjYfC

— NWHL (@NWHL) August 26, 2017
"We got a good taste of how our team works in game situations," Greco shared. "Our chemistry is coming together, and every practice and every game we are getting better and better. You can really start to see what our forwards can do and their individual skill. I know Elia and (Taylor) Accursi undressed some of the Jr. Sabres on the blue line so to speak. Our defense and goaltending is solid. I think we have everything going for us right now to be a successful team and a top contender in this league."
Buffalo fans should get themselves primed too. Primed and waiting with bated-breath as Greco scoops up the puck this season, and starts her wheels moving. Bringing the fans to the edge of their seats, if not out of them entirely. The wheels are spinning and these Buffalo Beauts will soon be rolling.