Steven Stamkos and Nikita Kucherov have gotten off to tremendous starts to the 2017-18 season. The Lightning's top forwards have been playing their best hockey and are the hottest players in the league right now. Stamkos and Kucherov have quickly become the most dangerous duo in the NHL.
The Lightning are coming off a 5-1 win over the Carolina Hurricanes on Tuesday, which saw both players extend their point streaks to 10 games. Stamkos had a pair of assists, while Kucherov scored with four seconds left to keep his streak alive and pass Alex Ovechkin in the Rocket Richard Trophy race.
Stamkos & Kucherov by the Numbers
Lightning fans got a glimpse of the damage Stamkos and Kucherov could inflict when they were paired together at the start of the 2016-17 season. With a healthy Stamkos to start this season, the duo has been reunited and is picking up right from where they left off. Stamkos currently sits atop of the league's scoring with 20 points in 10 games, with Kucherov right behind him at 17 points.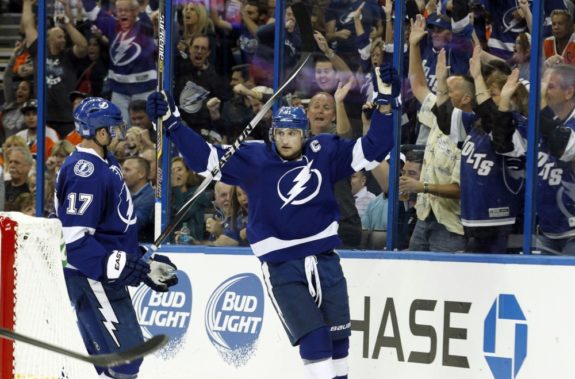 Both players have collected at least a point in every game this season and are feeding off each other's stellar play. Having combined to score 34% of the Lightning's goals to start the season, Stamkos and Kucherov have played huge roles in leading their team to a league-best 8-1-1 start. They have looked noticeably confident whenever they have the puck and seem to know where each other are on the ice at all times.
The NHL acknowledged the Lightning's duo on Monday, naming Stamkos and Kucherov the first and second stars of the week.
Related: Lightning Offensive Depth Makes a Difference
Kucherov's Historic Start
Last season, Lightning fans witnessed Kucherov emerging as one of the league's top forwards with a 40-goal campaign and a team-high 85 points. Finishing fifth in points earned the 24-year-old recognition league-wide, which elevated the expectations for him this season. With fellow countryman Ovechkin once claiming Kucherov could score 50 goals, the 2011 second-round draft pick could be on his way to a 50-goal season with his hot start to this season. The fact that Kucherov's goal production has increased in every season he's played makes this a real possibility as well.
The Lightning forward got off to one of the hottest starts in NHL history, becoming the sixth player in the league's existence to score a goal in the first seven games of a season. Although Kucherov was held goalless in the Lightning's eighth game against the Columbus Blue Jackets, the 24-year-old potted another pair of goals in his team's 7-1 victory over the Pittsburgh Penguins last Saturday.
Oh, sure. Why not two goals? Why not from that insane angle? #PITvsTBL pic.twitter.com/tdv2hrIPon

— Tampa Bay Lightning (@TBLightning) October 22, 2017
With his late goal Tuesday night against the Hurricanes, Kucherov now leads the league with 11 goals in 10 games. Given how well the Lightning's top line has played as of late, it wouldn't be surprising to find Kucherov finish near the top of NHL scoring by the end of the season.
Stamkos Embracing the Role of Playmaker
The most intimidating factor about having Stamkos and Kucherov on the same line is that they're both elite goalscorers. The Lightning have both players set up on opposite wings ready for a one-timer pass on the power play, which has proven to be extremely difficult for teams to defend. However, it seems as though Stamkos has now taken more of a playmaking role with Kucherov on his wing. The Lightning captain has just three goals but leads the NHL with 17 assists. If this continues, Stamkos could be up for a 50-60 assist season.
Lightning fans have seen that these two players like to get creative with their passes and with Kucherov's scoring ability, he's often been the trigger man. That doesn't mean we haven't seen Stamkos be the shooter that we know he can be. The two-time Rocket Richard Trophy winner has had his fair share of chances and has averaged just over three shots per game.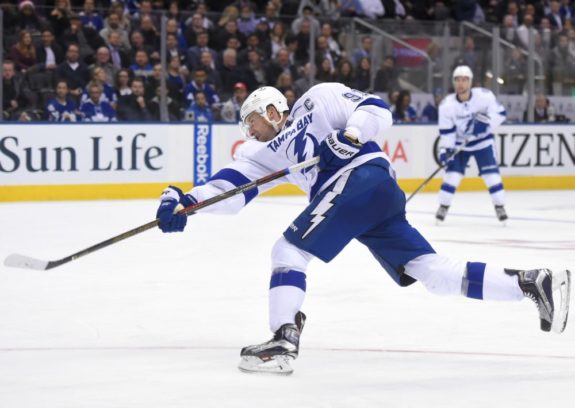 Normally, three goals in 10 games for a guy like Stamkos might be a bit concerning. However, playing with Kucherov has allowed him to be more than just a goalscorer, which has helped ease him back into playing at a high level since coming back from injury. Collecting points every game certainly does well for the captain's confidence and though he hasn't been scoring at the rate many expect him to, we will surely be seeing more goals from Stamkos down the stretch.