When Ryan Callahan departed from the New York Rangers in 2014, he took certain skills with him that the Rangers desperately need back. Don't get me wrong, trading him at the time and not signing him to a massive contract that overpaid him was the right move but looking back on this past season, he really could have made a difference. There are just certain parts of Callahan's game that this Rangers group miss.
Physicality
Don't kid yourself by watching this year's playoff performance. The Rangers were physical and really gave it to the Montreal Canadiens. Yet in the regular season, they were about an average team in hits per game. People will tell you that the physical side of hockey is slowly dying with enforcers disappearing as hockey becomes more of a finesse game. But physicality still is a big part of this game and it is not going away. Physicality is how Matt Martin of the Toronto Maple Leafs and Ryan Reaves of the St. Louis Blues make their money. Physicality was and still is a big part of how two top five teams in hits per game got to the conference finals in the Anaheim Ducks and Ottawa Senators.
Callahan, when healthy, brings a force to the lineup. He can overwhelm opposing defensemen in corners and battle his way to the front of the net. This Rangers lineup from top to bottom only has one player that can and will get into the dirty areas. That player is Tanner Glass. Last time I looked, he is now an unrestricted free agent and probably will not be re-signed. Physicality can change momentum in a game and if Callahan was still on this year's team, it could have made a real difference throughout the season.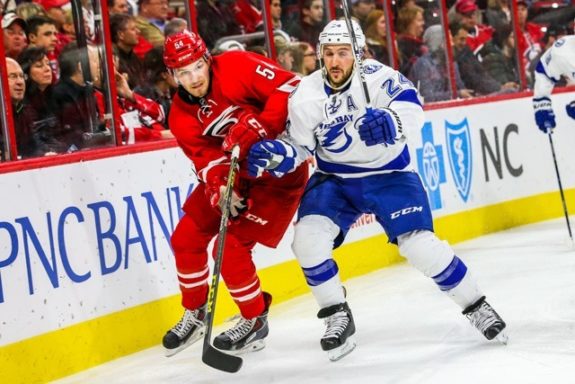 Ryan Callahan – Heart and Leadership
In a must-win Game 6 against the Ottawa Senators, the Rangers came out flat and eventually lost the game. They showed some heart in the third period but not enough to get the win. This team lacks an inspirational leader. Ryan McDonagh is a good leader and captain on the backend but it cannot just be him all the time. His assistant captains need to step up more with their play and show the younger players how to get it done. Granted, I am not in the locker room day to day but their lack of intensity is evident. This is where the Rangers really miss Callahan.
His known leadership and aggressive style of play would set the tone for the team and show them the urgency not only in Game 6 but other regular season games that are must win. He has shown in the past, either wearing a Rangers or Tampa Bay Lightning uniform, how to set an example on the ice or in the room. It is something this Rangers team lacked all year and it came back to bite them in Game 6.
Ranger fans were in love with Callahan until he asked for an absurd amount of money that the Rangers realistically could not pay. He gave the club a great return in Martin St. Louis but they could use Callahan right now. This team needs a physical forward and a great leader on and off the ice. It is just something else the Rangers need to address this offseason.