It is rare in the NHL for a team to trade its captain. It does happen but most NHL fans sit up and take notice when it does occur. To put it in terms familiar for Florida hockey fans, it is like a Category 5 hurricane. They happen, but it isn't often and you tend to talk about it for years to come. When a trade happens between two NHL teams and each of those trading partners deal away their respective captains, it is akin to a tsunami. Suffice it to say that when the Tampa Bay Lightning acquired Ryan Callahan two years ago, it was a storm that was felt from Tampa to New York city.
On March 5, 2014, the Lightning and the New York Rangers swapped captains, Marty St. Louis for Ryan Callahan. Sure, there were draft picks added to the pot on both sides but the cyclonic deal that sent Marty to the Rangers for Cally continues to reverberate throughout Tampa Bay.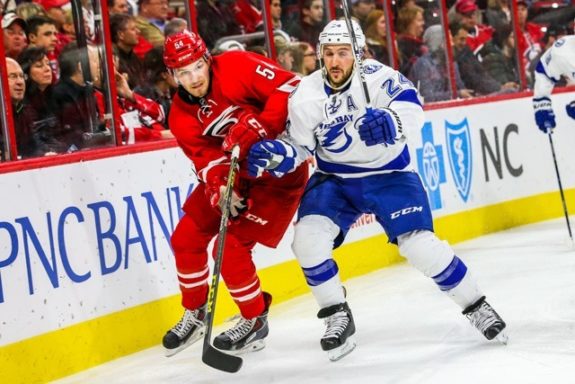 Callahan, who recently played in his 600th NHL game, is without a doubt one of the leaders on the Lightning. He is not the captain as that post belongs to Steven Stamkos. It is safe to say that Callahan is one of  Stamkos' lieutenants. Wearing the "A" of an Associate Captain alone doesn't make him a leader. It is the style of play, his physical and determined brand of hockey that shows the other Tampa players just what it takes to win at the highest level of hockey in the world.
From the moment he was traded from the NHL team that drafted, developed and named him captain, Ryan Callahan has heard the jeers from a small bloc of Lightning fans that have not gotten over losing one of their favorite players and their own captain in St. Louis. There continue to be detractors of Callahan, divisively calling him out in print and online simply because they don't believe he warrants the cap hit that his contract costs the team. Perhaps, they should direct their anger towards Steve Yzerman, Lightning General Manager. In a season in which Callahan has struggled to put up any kind of offensive numbers, the boo-birds have only increased their displeasure.
How Do You Measure Worth?
As long as the NHL operates with a salary cap, there is only so much money to go around. Especially with the looming unrestricted free agency this summer of Stamkos as well as defenseman, Braydon Coburn. In addition, the Lightning have several restrictive free agents that must be dealt with in the upcoming off-season including Nikita Kucherov, Alex Killorn, Vlad Namestnikov, J.T. Brown, Cedric Paquette, Nikita Nesterov and Jonathan Marchessault.
When some of the Callahan critics see that list of pending free agents and put that together with the $5.8 million dollar Callahan cap hit that goes through the 2019-20 season and the boos begin to rumble. Mix in the fact that with only five goals through 55 games, Callahan would be fortunate to finish with more than eight goals which would be less than half of his lowest goal production in any season where he played more than 60 games.
In today's vernacular, haters are going to hate. Regarding Calllahan, I just don't agree with them. There are intangibles that cannot be measured on a score sheet. There are little things that happen in a split second of a hockey game that cannot be measured metrically, analytically or in any other fashion. It is the things that are seen by the majority of Lightning fans when Callahan and his line mates, Valtteri Filppula and the aforementioned Brown are on the ice. It is what Callahan does to inspire the other guys with the Lightning Bolt on their sweaters that makes him invaluable to his coaches and this franchise.
What Callahan brings often times to the table are abstract things that coaches who for all intents and purposes are the lifers that have seen, reviewed, graded and broken down thousands of game tapes acknowledge. It is these little things that can turn a game around for a team. The dirty work that coaches and teammates appreciate but are missed at times by some fans watching at the arena or on television.
What Makes a Leader in Today's NHL
There is so much talk in the NHL about the value of today's NHL players. It is a by-product of the salary cap era. It isn't hard to argue that perhaps Callahan's contract is overpriced especially if he only scores eight goals this year. So, what exactly is his worth? What makes up the value of an NHL player? The answer simply is that it is a complex equation with most of the result being subjective, thereby changing depending on who it is  you are asking.
In full disclosure, today's advanced metrics baffle me. I know how to compute them, I understand the math but for me the difficulty is in determining how important they are and what purpose they ultimately serve. I know that Corsi for and Corsi against have some value. I realize that Fenwick and PDO and other stats have their worth but I'll put more faith in something so antiquated like ice time. NHL coaches put the players on the ice that they believe gives their team the best chance of winning. You see, the longevity of a coach's career depends largely on one stat – WINS. If the coach doesn't win, the team changes the coach. Looking at ice time of the Lightning and at a hair under 18 minutes a game puts Callahan at fourth on the team for all forwards. Clearly, from the perspective of the Lightning coaching staff, Callahan is critically important to the success of this team. That, my friends, is good enough for me.
Intrinsic Value
Prior to this season, Callahan scored 162 goals in 547 games. That is an average of about 24 goals for every 82 games he played. Yes, this season he has been snake bit. He seems to hit a hell of a lot more posts than the back of the net. The next time he has any kind of puck luck this year will be the first of the season. It happens, but to rail against Callahan simply for not putting the puck in the net on a team that has Stamkos, Kucherov, and Tyler Johnson who are legitimate offensive weapons seems foolhardy.
Once Coach Jon Cooper put Callahan on the Lightning's shut down line playing their opponent's top scoring lines, there was no griping from this leader. He didn't mail in his play. He went out and played the type of hockey he has played throughout his career. Tough, hard-nosed hockey. Not just during the playoffs but fore checking in the 32nd game of the marathon season. Callahan digs in the corners for the chance of a loose puck in the 47th game on the schedule. Even when the team is down by two goals with a handful of minutes to go in the 58th game of the year, he is laying out his body to block a shot to give his team hope.
Then there is this: Callahan and his wife, Kyla give back to their adopted community. Just about every home game, the Callahans host a group of pediatric cancer patients and their families to a suite to enjoy the Lightning. That level of commitment from an athlete is rare which makes it newsworthy. Without a shred of doubt, the value of Ryan Callahan to the Lightning organization and the Tampa Bay community is immeasurable. You won't find it on a stat sheet or a highlight reel. You see it in the faces of the kids in that suite. You know it when a hit or a blocked shot leads to a momentum shift in a game that the Lightning win. His leadership makes Callahan worth every bit of that contract. To hell with the cynics.
Born in Chicago, Illinois. Grew up playing and loving sports. Spent most of my formative years playing, debating, arguing and talking sports. for the last couple of years I have written about hockey. I am currently a Tampa Bay Lightning contributor for The Hockey Writers. I know that I may not always be right, but I am passionate about hockey and it is damn hard to hide that passion in my writing.