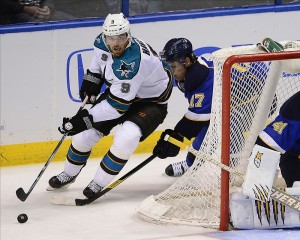 Anytime you mention the San Jose Sharks this past month you hear people ask what happened to them. Even casual NHL fans know about the Sharks struggles, that's when you know it's getting bad. The Sharks powerplay has crashed and burned so bad that it has almost become as laughable as a Ron Wilson led penalty kill (See Maple Leafs 2008-2012). The Sharks have won just two games all month and have played themselves  down to 7th in the West.
While many are quick to press the panic button it is important not to overreact and overhaul the whole team. San Jose is in need of a few tweaks that could get them back on track and into the 2013 NHL playoffs.
One of the biggest question marks heading into the season was would San Jose be let down by their goaltending. Antti Niemi has gone 8-4-3 with a save % of .930 and a GAA of 1.95, and instead it is the offense letting the team down.
The Sharks are really struggling to score outside of Thornton and Marleau. Martin Havlat has been surprisingly healthy playing in all of the team's 18 games but you wouldn't have noticed by his pedestrian play in February. Trading Havlat will be a tough sell and getting back a top 6 forward will be even tougher.
Ryan O'Reilly has been a name thrown around in trade discussions but San Jose will be better off keeping their draft picks and trying to trade roster players for other options around the league. The best bet for the Sharks would be to try and move Handzus and Havlat when/if the opportunity arises.
Firing McLellan would be a mistake especially in a lockout shortened NHL season. McLellan knows the guys in the room and he is the only one who can get them back on track in such a shortened season.
Thornton has a 3 game point streak which may not seem like much but given the Sharks offensive woes it is pretty impressive. Jumbo Joe has been doing all he can to spark the team including getting into a few scraps.
The number of struggling Sharks forwards are basically the teams 2, 3 and 4th line, but these 4 players either need to improve their performance or be shipped out.
| | | | | | | |
| --- | --- | --- | --- | --- | --- | --- |
| Player Name | Games Played | Goals | Assists | Points | +/- | ATOI: |
| Martin Havlat | 18 | 3 | 3 | 6 | 0 | 16:26 |
| Ryane Clowe | 16 | 0 | 6 | 6 | -1 | 16:24 |
| Michael Handzus | 18 | 1 | 1 | 2 | -7 | 15:11 |
| Scott Gomez | 12 | 0 | 2 | 2 | -3 | 13:36 |
*ATOI: Average time on ice
While not much was expected from Gomez he has played 13:30 a night and been given some looks on the powerplay to no avail. Ryane Clowe, eligible to return after Thursdays game has had a real rough start to his contract year. Given Clowe's style of play he could receive a much needed spark being placed on a line with Thornton in Marleau's spot.
Michael Handzus could benefit a team looking to add a 3-4th line big centre and make a run for the playoffs. The Sharks should shop him for a puck moving defenseman like Joe Corvo or Ryan Whitney to help spark their once lively powerplay.
San Jose has the skill and has the coaching to at the very least make the playoffs this year. Joe Thornton has been doing everything he can to steer the team back in the right direction and it is time that everyone else starts pulling their weight.