Head coach Mike Yeo wanted to make it absolutely clear that his team were not 'done' after a 3-1 victory over the Colorado Avalanche locked up the eighth playoff spot in the Western conference for Minnesota. However, nobody in the Wild organization was fooling anyone. They were delighted, and deservedly so, to have reached the playoffs and it was very much first mission accomplished for this franchise.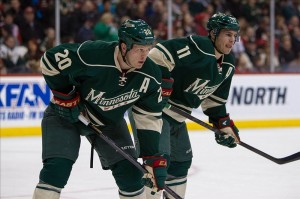 Rewind to July 4, 2012. The NHL world stood up and took notice when the Minnesota Wild, a team that had missed the postseason in four straight seasons, made a huge splash in free agency signing the two biggest name UFAs blue liner Ryan Suter and forward Zach Parise. New expectations were set for the Wild on that day. Last night, in Denver, the first of those expectations was met. The Minnesota Wild are returning to the playoffs for the first time since 2008, and for the fourth time in their 12-year history.
One night earlier Minnesota had laid the most literal egg in the history of figurative eggs getting thrashed 6-1 by the young (non-playoff) Edmonton Oilers in the Xcel Energy Center. A home crowd that had anticipated celebrations of a postseason place left with reason to be seriously concerned about their teams playoff chances.
Parise and Suter Make Their Mark
Parise and Suter headed to the Pepsi Center in Denver to face the Avalanche knowing that the Detroit Red Wings and Columbus Blue Jackets could well both win (and they did) and knowing that they effectively needed a victory to earn one of the remaining two Western conference playoff spots.
It was hard not to think back to Minnesota's big free agent moves during Saturday's 3-1 win. Parise played a superb game scoring the game's first goal and generally generating quality scoring chances; he was awarded with the game's first star.
http://www.youtube.com/watch?v=DufNE0stg3c
If defenseman received that honor more often then it probably would have gone to Suter, who presented a pretty good example of his Norris Trophy case. Suter played 32:54 minutes of ice time, more than half the game, blocked four shots and was generally a settling presence both in the defensive end and in the transition game.
Suter and Parise both left core roles with previous teams to try and build something new with the Wild. Failure to reach the 2013 NHL playoffs would have been nothing less than a disastrous start to both their and the organization's new era.
Relief For Yeo and Fletcher
There's no certainty that Yeo and/or General Manager Chuck Fletcher would have lost their jobs if the Wild had finished ninth. However, the franchise's first playoff berth in five years is almost certain to be enough to placate higher management and allow them to continue their work in Minnesota.
Yeo would have entered Saturday's contest with the highert level of nerves. Minnesota led the entire NHL three months into his first season, but ultimately fell out of playoff contention altogether and, despite a long injury list, the first year NHL head coach couldn't entirely escape blame for that slump. Speculation about Yeo's job security has continued throughout and right up until Saturday night during an up and down shortened 2013 campaign. A head coach's job is seemingly only as secure as his most recent performances, but the 39-year old has accomplished the main goal that would have been set for him at the start of the year.
The stakes were almost as high for Fletcher. The mastermind behind the summer's plunder would have known that he was still accountable for the quality of the team placed around Suter and Parise. That pressure for immediate success was apparent and intensified at the trade deadline when Fletcher moved a pair of very good prospects for winger Jason Pominville. Pominville didn't play in this weekend's deciding games, but he scored four valuable goals and added nine valuable points in 10 games with Minnesota before taking an elbow to the face from Dustin Brown.
Fletcher had yet to preside over a playoff team, but Saturday night's playoff berth was a sign that his aggressive and proactive management is finally paying off. He may not be Ray Shero yet (the man he worked with as an assistant GM in Pittsburgh for three years), but last summer's and this spring's moves suggest a man with a similar mindset.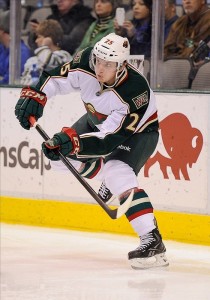 No Pressure Playoffs
None of the relief or jubilation felt at reaching the playoffs means that the Minnesota Wild are going to allow themselves to be simply rolled over by the Chicago Blackhawks in the first round. The Wild's longest playoff run came as a sixth seed in 2002 when they lost to the Anaheim Ducks in the conference finals.
Minnesota enters this series with no pressure and that should be an advantage for a relatively young line-up that appeared to be a bit tight over the last couple of weeks while playing with the expectations of grabbing a playoff spot. Predictions of a comfortable Chicago series win in four or five games can only help a group that won't mind the underdog tag at all. [See also: Playoff Preview: Chicago Blackhawks – Minnesota Wild].
Playoff experience this season will be absolutely vital for this roster moving forward. This is a franchise with the ambition to be a consistent Stanley Cup contender in the not too distant future. The makings of that serious contender are certainly in this current roster and in the organization's prospect base. The culture of winning has to start with playoff appearances and then playoff success. There's no doubt that Saturday's success was an important step for this franchise.
Minnesota Wild fans will have the opportunity to see NHL playoff hockey at the Xcel Energy Center for the first time since 2008. Most won't expect it to last for more than one round, but the Wild start the 2013 postseason in exactly the same position as the defending Stanley Cup champions did last year.