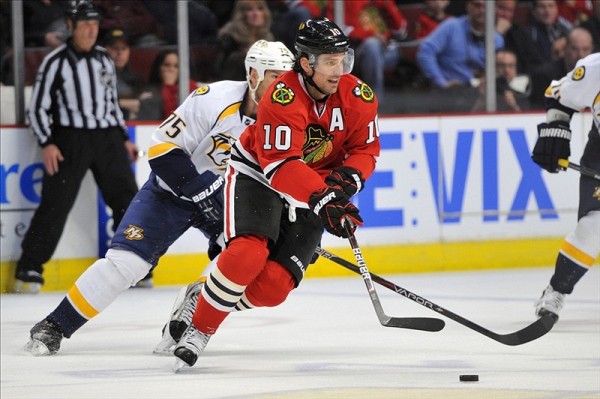 The Chicago Blackhawks wrapped up their regular season April 27 against the St. Louis Blues, with first place locked up the Hawks rested many of their regulars. It is now official that Chicago will play the 8th seeded Minnesota Wild in the first round of the 2013 playoffs. With big name stars on both rosters this should lead to a series that promises end to end excitement.
Chicago (36-7-5) have secured home ice in the entire 2013 NHL playoffs by winning the President's Trophy, Minnesota (26-19-3) have snuck in the eighth seed to secure a playoff berth for the first time since 2008.  Chicago has gone 2-0-1 against Minnesota this season, in all 3 games Chicago outshot Minnesota but were out-hit by them each game.
Both of these teams have major depth in their group of forwards. Chicago has its usual suspects Toews, Kane, Sharp and Hossa leading the way, all with championship experience from 2010. On Minnesota's side in addition to Miko Koivu, Devin Setoguchi and Pierre-Marc Bouchard, they have picked up Zach Parise and Jason Pominville.
Parise is the most dangerous offensive weapon on Minnesota's roster, he led the team in scoring with 38 points in 48 games this season. Parise has shown some clutch game changing abilities in the past, just ask any Canadian who almost had a heart attack when he tied the gold medal game in Vancouver.
The Blackhawks own the advantage as they can run all 4 lines consistently and not have to worry too much, while Minnesota has shown this season a heavy reliance on their top 6 group to produce almost all of their results. With Dany Heatley injured and Pominville questionable after sustaining a head injury, the pressure to produce will all fall to Koivu, Setoguchi and Parise.
It will be interesting to see the Blackhawks forward depth make an impact on this series as Calder candidate Brandon Saad will be looking to make his mark. Stalberg and Bickell have both grown offensively and Stalberg has proven tough to contain with his explosive take off speeds.
On defense Chicago will rely heavily on its top 4 of Keith, Seabrook, Oduya and Hjalmarsson, all of which averaged between 20-24 minutes this season. Minnesota comes in on the back of its newest free agent acquisition, 98 million dollar man, Ryan Suter. Suter has enjoyed a successful first campaign in Minnesota, producing 32 points in 48 games while playing 27 minutes a game.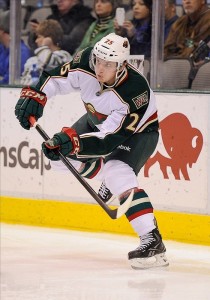 Unknown to some around the NHL is Jonas Brodin, the youngest defenceman in the NHL who averages 23 minutes a night. Brodin is up for the Calder Trophy after leading NHL D-men rookies in takeaways and 3rd in blocked shots. Brodin has produced 3 goals and 8 assists for 11 points in 45 games and has shown a poise and calmness to his game that gives his teammates and coaches confidence.
The last two Stanley Cup Championships were an anomaly, both having so much post season success but with a struggling powerplay. Chicago is hoping that remains true for a third straight year as their powerplay operated at just a 16.6% success rate, 19th in the NHL. Minnesota has a better powerplay but not by much, with a 17.9 % success rate. Minnesota ranks 18th in the penalty kill meanwhile Chicago has had an excellent kill all season ranking third.
With Ray Emery's (17-1-0) lower body injury being re-tweaked earlier this week it opens up the starter's job for Crawford (19-5-5), to run with it. If he struggles Coach Q will have no qualms about putting in Emery. Niklas Backstrom (24-15-3) had some struggles this season with a 2.48 GAA and a save percentage of .909% but did tie for the NHL lead in wins. Fatigue may be a factor for Backstrom as he started over 40 of the team's games this season.
Chicago has built a team capable of winning the Stanley Cup and will now have to start proving their will and work ethic matches the skill on the roster. It is important not to dismiss Minnesota just because they are an eighth seed, as LA taught everyone last year. Look for Jonathan Toews to lead by example and give it all for a shot at his second championship ring.