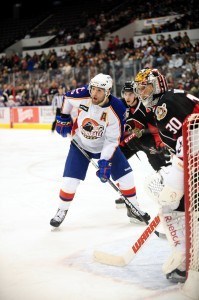 The Norfolk Admirals wrapped up their 2012-2013 campaign in Providence, RI against Eastern Conference leader the Providence Bruins on April 24, 2013. Norfolk was in the Calder Cup playoff picture until their last game.  If you're a fan of the Ducks or the Admirals, there are a bundle of things to look forward to come next fall.
NHL Lockout And The Sleeper
Thanks to the NHL lockout, the Ducks loaded Norfolk's roster with star-studded talent such as forwards Kyle Palmieri, Emerson Etem, Peter Holland, and Devante Smith-Pelly. All together the young guns racked up 112 points; furthermore; every player named above has seen action in the National League this season.
The sleeper of the year was St. Louis native Patrick Maroon. The stocky center led the team in points with 50. "Slim" as he was known in juniors, netted his first NHL goal this season against the Nashville Predators in front of his family and friends in Nashville. The Admirals assistant captain's season got a little sweeter by inking a two-year one-way deal keeping him grounded in the Anaheim organization through the 2014-2015 season. It's safe to say the deal was pretty sweet for the 25-year-old. The two-year contract is valued at $1,150,000.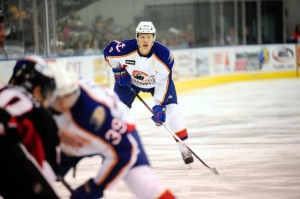 A Mix Of Vets And Rookies On The Blue Line
Norfolk's defensive core was not a unit to take lightly either. Anaheim bolstered Norfolk's blue line with Hampus Lindholm, a 2012 first round draft pick, alongside fellow North American rookie Sami Vatanen. Perhaps the blue lines anchor was their captain Nate Guenin. Guenin also had some fellow vets surrounding him on the blue line in the form of Stanley Cup winner and Blackhawks alumnus Jordan Hendry and third-year pro Mat Clark. Joining these two were Ryan Parent and Matt Smaby all who have seen NHL ice. While the vets didn't put up huge numbers, they were Norfolk's backbone shutting down the opposition night in and night out.
Vatanen put on a clinic for all AHL defenders ranking fourth amongst defenseman; as well as; finishing the year paving the way for all Admirals blue liners with 45 points. Lindholm finished his first season in North America with 11 points; however; this number could have doubled if Lindholm avoided injuries and stayed healthy. Hampus' 11 points came in 44 games played with the top affiliate of the Anaheim Ducks.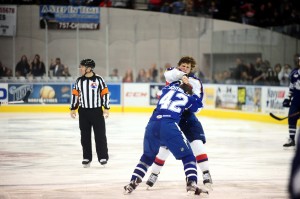 Norfolk Carried A Big Punch
As far as tough guys, Norfolk had their fair share of those too. They included Jay Rosehill, John Kurtz, and Pierre-Luc Letourneau-Leblond.  These players mushed the opposition with an arsenal of uppercuts, jabs, left hooks, and right hooks. Rosehill was traded to the Flyers at the trade deadline for forward Harry Zolnierczyk.  John Kurtz began the season on a standard American League contract, but fought his way to a NHL contract earlier this month. Pierre-Luc came to Norfolk mid-season by the way of reassignment from the Ducks. Letourneau-Leblond was invited to Ducks training camp via free agency and edged his way to a 1-year contract.
A Veteran Presence
Veteran forwards Luca Caputi, John Mitchell, Rod Pelley, Troy Bodie, and Kyle Wilson also helped Norfolk climb from the cellar turning the Admirals into a force to be reckoned with in the Eastern Conference.  Although they didn't put up jaw dropping numbers they established their presence with veteran leadership and provided the support on the ice that let the rookies and fellow teammates showcase their talents. Let it be known that Troy Bodie was loaned to the Portland Pirates, the AHL affiliate of the Phoenix Coyotes, earlier this month.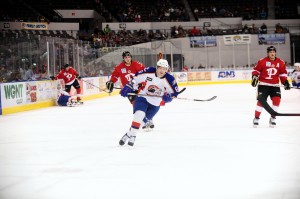 Fresh Faces
Many Norfolk fans welcomed mid-season pickups Charles Sarault, Steven Whitney, and Kyle Bonis. All three standouts were added after their junior or college season came to a halt. Sarault who is known for his on ice vision and unselfish play amassed 6 assists in 11 games. Whitney's gifted feet and his nose for the net tallied 3 goals in 8 contests while Bonis, a former Hobey Baker finalist, scored once in 6 games with Norfolk.
Speaking of the Admirals rookie class, Norfolk's unsung hero Chris Wagner totaled 21 points in 70 games during his first year as a pro. The Colgate alumnus is often called upon to play at a high energy pace with heavy hitters on the fourth line. Wagner can do it all–check, pass, and score. Although he may be a couple of strides away from the NHL, he is a guy that you need to keep tabs on going into Anaheim's Development Camp.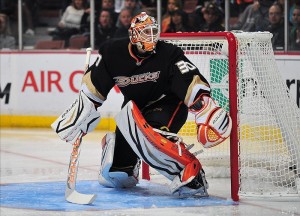 The Best For Last
You can say that we saved the best for last…The goalies. Norfolk's tendys made key saves nightly that kept Norfolk in the playoff hunt going down the stretch. By far the standout was Danish-born goalie Frederik Andersen who enjoyed 24 wins during his freshman campaign and ended the season with a .929 save percentage.  Igor Bobkov also grew stronger during the course of the season by working on his rebound control which showed much improvement.
It's safe to say that Anaheim hit pay dirt signing goaltender Viktor Fasth who played in 3 games and had a 1.96 goals against average before his recall. Fasth is definitely Anaheim's stop jewel who has 4 shutout victories spanning over 24 games. This season Fasth marks his first tour in North America. Prior to joining the Ducks organization, he spent five and a half seasons perfecting his craft in Europe.
John Gibson also made his pro debut for Norfolk when his season wrapped up in Kitchener, home of the OHL's Rangers. Gibson can be pegged as the future of the Ducks organization. The 19-year-old came to Norfolk with two gold medals–one in 2011 at the U-18 championships and his second by way of the annual U-20 WJC's. Not only did he depart with a gold medal under his belt, he was named MVP and best goaltender in the annual tournament.
If you're a fan of the Ducks or Admirals, you shouldn't call this season a failure. Fans have to remember that the AHL is a development league and the players are here for one reason and that is to develop and hone their skills. It's not all about winning. It's about development and Anaheim should be happy with the development and success their Ducklings showed in Norfolk this season.
Ted grew up in Virginia. Warren has a passion for the AHL and dishes out articles about the Norfolk Admirals and the AHL. Follow him on Twitter @bauerhockeydude