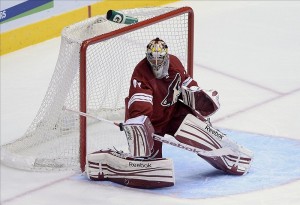 The Phoenix Coyotes season is now officially over and the organization is going to  have to decide what to do with impending UFA goaltender Mike Smith.    This decision for both sides isn't as cut and dried as it is for most UFA's and reminds me of this past off-season with the tough decisions that Coyotes Captain Shane Doan had to make.  In Doan's case, he wasn't sure where the Coyotes future was as it pertained to ownership but at least he knew who the Coach and General Manager were going to be his next season.
Who's the General Manager?   Who's the Coach?
Making matters in this whole situation even more challenging is the fact the contracts of G.M. Don Maloney and Coach Dave Tippett expire on June 30th as well.  I'm sure this will all be settled in due time well before the end of June and all parties involved will know where they stand.  In the mean time, goalie Mike Smith will be a little busy as he has been asked to join Team Canada for the upcoming senior men's World Hockey Championships.   He'll be joining his current head coach, Dave Tippett, who has recently been added to the Team Canada coaching staff that will be participating in this years tournament in Stockholm, Sweden and Helsinki, Finland.   I'm sure on completion of his commitment to Team Canada  both will start looking their future's with the Phoenix Coyotes franchise.
 Will Loyalty Play any Part in Decision?
I don't know Mike Smith and have no inside information on what his thoughts are about his upcoming free agency.  I will say that there are things you notice over a period time when watching a player on the ice with his team-mates during and after the game.  Listening and watching Smith in a post-game interview on TV you will see a little glint in his eye and a smile that lets you know he loves what he's doing and he loves doing it for the Phoenix Coyotes.  It's not a coincidence that he ended up in Phoenix resurrecting his career after struggling with his earlier team the Tampa Lightning.  Coyotes Head Coach Dave Tippett had Smith as a back-up goaltender in Dallas and knew exactly what he could bring to the table.  It was an easy decision for Coach Tippett to convince G.M. Don Maloney to bring him aboard.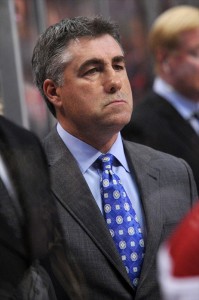 I am convinced Smith feels a great amount of loyalty to Tippett and Coyotes G.M. Don Maloney.  If both are back in the fold, I think that would be a major factor in his decision process.  This is his big chance at controlling his future and what every NHL player strives for: THE BIG PAYDAY!!!  Make no mistake about it, Mike Smith is the prize nugget in the goalie market this upcoming UFA season starting July 5.
A Brief Explanation of an Unrestricted Free Agent (UFA) 
Any player whose contract has expired (June 30) can declare himself an unrestricted free agent (UFA)  if he is at least 27 years old or has at least seven years of service as an NHL player.  The free agency period begins on July 5  (new for 2013).   At that point, an unrestricted free agent is free to negotiate and sign a contract with any NHL team.  Teams losing unrestricted free agents do not receive any compensation.
The Bigger Dilemma Facing Mike Smith
Last summer, Shane Doan turned down offers, postponed self-imposed deadlines and patiently waited for Greg Jamison's purchase bid to run its course.  He ultimately considered an offer from the Vancouver Canucks but chose to re-sign with Phoenix, the only team he has really ever known.  At the time of his signing, the ownership situation was not resolved but he took a leap of faith that the Coyotes would end up staying in Arizona.  At the time of  the writing, the Phoenix Coyotes have still not resolved their ongoing ownership saga.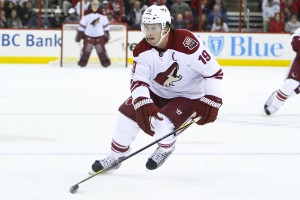 It's probably a safe bet to say that Mike Smith would like to remain a Coyote but needs to see a resolution to the ownership situation.  If the Coyotes end up with a new owner that is committed to keeping the team in Phoenix before the free agent period starts on July 5th, I think he will probably end up re-signing with the team.  If the team ends up without new ownership, will the NHL  move the team before next season or run them as a lame duck franchise for one more year?   Would anybody blame Smith if he waited to hit the open market and then choose his own destination?  Does he roll the dice and end up having to move to Seattle, Quebec City, Houston, Kansas City or Markham?  These are the main factors at work that will make this a particularly interesting decision.  I don't take the lack of contract talks as a bad sign but a sign that all parties are waiting patiently to see how these external factors pave the way for Mike Smith's future.  I'm sure that he will know if this franchise is staying or leaving long  before the July 5th free agent frenzy begins.  Stay tuned !!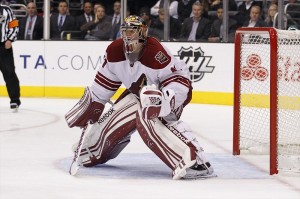 My name is Mitch and like most Canadian kids I was introduced to hockey at a very young age and fell in love with the game. I have played, I have coached, I even scouted in WHL for 15 years. I spend half my time in Winnipeg, MB and the other half in San Tan Valley, AZ. I am a season ticket holder for The Winnipeg Jets and my wife and I attend the Phoenix Coyotes games. I am involved in 3 or 4 fantasy leagues, I enjoy hockey shows on radio or TV, TSN or Sportsnet, ESPN or NBC Sports and Fox Sports Arizona. You get the picture, hockey is a big part of my life. Admin/Writer at http://phoenixhockeytalk.com