Growing up in southern Ontario, Mitch Marner did what a lot of other kids his age did. He watched the Toronto Maple Leafs on television, wearing a Leafs jersey, dreaming of one day playing for his favourite team.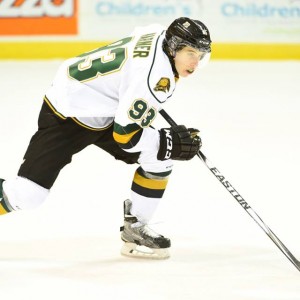 This past June, Marner was drafted fourth overall by the Maple Leafs at the 2015 NHL Draft. On July 28, he took another step towards his dream when he signed his first National Hockey League contract. He admitted that signing the contract was pretty amazing.
"It was unbelievable," shared Marner. "It was a special moment for me and my family. Growing up, we just sat in front of our TV. I used to have my Leafs jersey on watching the games. I never thought I'd sign with my home team, and the team I'd grown up watching and wanted to be on, but crazy things happen and I'm thrilled to be signed with them now. Hopefully I can make an input on that team soon."
Marner is coming off a banner 2014-15 season that saw him finish second in scoring in the Ontario Hockey League – just behind third overall pick Dylan Strome and just ahead of first overall selection Connor McDavid. Marner was pleased his his season.
"Growing up, McDavid was always a top '97, the whole age group, everyone knew that name and it's no surprise how good he did this year and where he went in the draft," said Marner. "You know Eichel, us Canadian boys didn't know too much about him until these past couple years when he came out of nowhere, that's when TSN and everything starts blowing up. Both of them are great players, and me and Dylan, we just had a good rivalry going all year. We wanted to beat each other. We're good friends off the ice, but on the ice, it's a brother relationship – we want to beat each other, no matter what. We did the best we could this year, and I think we're both happy with our years."
Marner admits that his ultimate goal in the fall is to crack the Toronto roster. However, he obviously has the London Knights in his heart, and would have no qualms about returning to the OHL if that's what happens.
"My goal is to make obviously Toronto, that's the goal for every kid drafted," said Marner. "I know they're not going to rush anything that's not ready to happen, but I'm going to try to go in there strong and as tough as I can be, and try to make an input on that team and try to leave a print if I get sent down or something like that. If I get sent down, I'm going back to an organization that's special and probably the best fanbase in the CHL."
Marner hopes to spend his Christmas wearing a maple leaf on his chest – either with Toronto or as part of Canada's World Junior entry. He takes some inspiration from his London Knights teammate Max Domi, who donned the Team Canada jersey last Christmas.
"I remember when Max came back from his first year, he didn't make the team, the work he put in the next two years to try to make this team again was unbelievable to watch," said Marner. "He told me that you have to go hard every game and every practice and you have to try to get better no matter where you are. I've been taking those words and trying to be the best I can."
Ryan Pike has covered the Calgary Flames and the NHL Draft extensively since 2010 as a Senior Writer for The Hockey Writers and Senior Contributing Editor of FlamesNation.ca. A member of the Professional Hockey Writers Association, he lives in Calgary.