A six-year partnership between the NHL and MLB Advanced Media will be made official on August 4th during a conference call between the NHL and MLB commissioners, Gary Bettman and Rob Manfred, as well as NHL COO, John Collins, and the MLB President of Business & Media, Bob Bowman. The deal is reportedly worth over $1.2 billion.
MLB Advanced Media (MLBAM) will oversee NHL's online and digital operations, video streaming, and NHL Network. Perhaps more noticeable to fans will be the operations of NHL.com, all 30 NHL team websites, and its mobile apps including NHL Game Center Live.
What Does MLBAM Do?
The company provides technology for multiple sporting venues including March Madness, WWE, HBO Now, and Watch ESPN. As for the MLB, they cover the league website, all 32 team websites, and the Minor League Baseball website. They cover all video streaming, MLB Gameday, and MLB At Bat, the league's go-to mobile app.
How Will This Affect NHL GameCenter?
MLB At Bat and Gameday are beloved by baseball fans for providing in-depth stats at a pitch-by-pitch rate. There is virtually no aspect of the game left out in the app, giving information on every part of the game.  There are hopes that MLBAM will convert GameCenter into a copycat version of MLB At Bat, giving hockey fans a way to easily view in-game stats.
The NHL experimented with more in-depth stats tracking during the All Star Game last season. It is likely that those ideas and many more will be implemented into a revamped GameCenter app in the coming years. Main ideas included player and puck tracking during the game to enhance a fan's ability to visually see which team is carrying the play and more.
Will Further Advanced Stats be Added to NHL.com?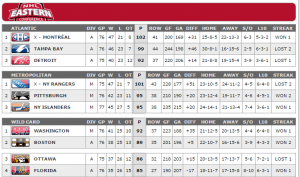 Last season, NHL.com revamped their stats page to include a section designated for "enhanced stats". Finally, fans could view Corsi percentages in an easy to access place, despite renaming it as "SAT". However, less than a year later, fans have realized that the advanced stats covered by NHL.com are extremely weak and very limited. So, will MLBAM enhance the enhanced stats?
Reports suggest that yes, they will. Details are not quite clear on what advanced stats may be included, but hopes are that plenty of visuals will also be available for viewers to not only get more information, but to also grasp it quicker in an easy to understand format.
Of course, more details of the agreement and specifics as to what fans can expect from MLBAM will be known in a short time, but you can expect an overhaul in NHL's previous technology. The mobile app should be the greatest innovation, getting away from a slow and limited GameCenter and into one which gives fans easy and in-depth stats, as they happen. Analytics lovers can also expect a new place to be able to gather their information easily, in a visibly attractive manner. All in all, it is an exciting partnership for the NHL and its fans. In an age where information is found almost exclusively online, it is extremely important to provide a way for fans to have quick and easy access. This deal should provide just that.
More details to come later today.
For any questions, comments, or concerns, you can contact Devin Slawson on Twitter @SlawsonTHW.
Contributor for the Toronto Maple Leafs and Prospects. Scout with the Oakville Blades of the OJHL. For questions, concerns, or comments, contact me at devinslawson123@hotmail.com or on twitter @SlawsonTHW.