Mitch Moroz THW Close-Up:
Big Power Forward Could be Draft Day Surprise
Date of birth:May 3/94
Place of birth: Calgary, AB
Ht:6'2  Wt: 208
Shoots: Left
Position: Left Wing
NHL Entry Draft Eligibility: 1st time eligible 2012
*Click here for Notes Up Front for various topics covered below in the live updated NHL 2012 Entry Draft Guide – The Next Ones home page – your quintessential draft resource.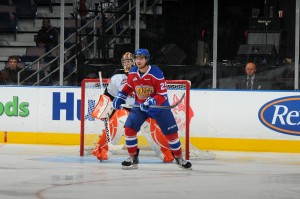 If you look up Mitch Moroz's statistics last season for the Edmonton Oil Kings you may be left scratching your head about his inclusion in this draft preview. However, to dismiss him because he only scored 16 goals last season would be doing him a disservice. Moroz is much more than just your basic hockey statistics. He is a big, powerful, aggressive and hard-working player who could sneak up into the second or third round of the draft. If you ask Oil King's General Manager Bob Green about that description of Moroz he'll chuckle and say "That about sums it up".
Moroz saw his draft stock rise this year, after his first full season in the WHL, and while his numbers don't jump off the page at you his play on the ice will. Moroz is tough in front of the net,  has good hands, knows when to drop the gloves for his teammates to provide energy and will score you ugly goals. Green feels that his offensive skills are vastly under-rated and is impressed with his work on special teams, something the Oil Kings expect to see more of out of Moroz next season. That will give him more chances to show off his skill set as the day of the one-dimensional fighter are over in the NHL. Green says that those days are gone in the WHL as well and that Moroz is much more than just a fighter.
Playing mainly on the fourth line in Edmonton last season Moroz will most likely have a similar role at the NHL level. He will be a physical player who will contribute in all aspects of the game, kill penalties and will chip in on the power play. When asked what Moroz needs to work on Green says "he needs more consistency mentally. Playing in the WHL brings a busier schedule and he plays a tough game which can be a challenge to bring every night, and he needs to do that". Green goes on to say that Moroz is an intelligent kid who "shows up, works hard and goes about his business" which bodes well for his presence in the room.
Scout's Honour:
"He has great size and strength, is physical and not afraid to stand up for his teammates, he understands when to fight and bring energy to the team. His skill level is under-rated as he shoots well, gets the hard to score ugly goals and is a good player. He can kill penalties, play on the power play, good in front of the net and has the skill level to finish it. He got an opportunity to play in every situation for us." – Edmonton Oil Kings General Manager Bob Green
" At 6-foot-2 and 208 pounds with a decent set of hands, Moroz is a tempting physical package. He could be considered somewhat of a WHL answer to Tom Wilson, the rugged Plymouth Whalers forward who's likely to be a first-round NHL pick thanks somewhat in part to the rarity of his skill" – Neate Sager, Buzzing the Net
Statistics:
Bio/Interview(s)/Link(s):
Interview with Oilers Today:
video.oilers.nhl.com/videocenter/console?id=180038
ETA = 3-4 yr
Risk-Reward Analysis:
Risk = 4/5   Reward = 5/5
NHL Potential:
Grinding physical third or fourth line winger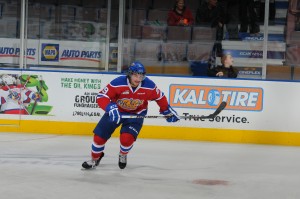 Strengths:
*See "THW Close-Up" section above.
Great size
Physical Presence
Tough in front of the net
Good hands
Intelligent
Flaws/Aspects He Needs To Work On:
Staying mentally consistent
Skating
NHL Player(s) Comparison:
Milan Lucic
Video(s):
Off the Iron:
Moroz took part in the NHL Scouting Combine and scored in the top ten of the Mean Power Output with 11 Watts/kg3
THW's The Next Ones prospect profile template design architect: Chris Ralph