After the Stanley Cup playoffs, one of the most exciting times for hockey fans (especially fans whose teams failed to make the playoffs) is the NHL Entry Draft. It's a chance to discover tomorrow's NHL superstars and equip teams for the future. Keeping in mind the money Buffalo threw at Ville Leino, Christian Ehrhoff and other players, the Sabres need to be smart about their choices this year. This is especially true since they elected not to sign a third of the players they drafted.
The Sabres are in an interesting place.  Ryan Miller, Thomas Vanek and Jason Pominville are the core of the Sabres, but they are starting to age: Miller is 31, Vanek is 28 and Pominville is 29. This leads to the question of how many solid years do they have left.   Pominville was named captain this season and Vanek, a fan favorite for the role, was named alternate captain. They are in place to lead the Sabres, but in order for them to be successful leaders they need to bring success to Buffalo in a hurry.
The Sabres  have a group of prospects and former draft picks who are ready to step into the limelight:
Once he recovered from a series of injuries, Tyler Ennis had a fantastic year and revealed a lot of potential for a place on the Sabres' roster.
Marcus Foligno is ready to play full-time at the NHL level.
It's now or never for Luke Adam.
Cody Hodgson looks to flourish with more ice time and less drama next season.
For the Sabres, banking on Miller has proven itself to be a poor strategy.  Miller needs help.  While he is still one of the key pieces of the puzzle, he can't do it alone and that's where players like Ennis and Hodgson come in and should relieve some of the pressure from Miller.  With the veterans and rookies both ready to prove their worth to the team, the Sabres could be in for a solid run next season. This is why the Sabres need to draft for today, not for tomorrow.
Here are a few prospects the Sabres should be looking at in the first round:
Cody Ceci- Defense, Ottawa 67's (OHL)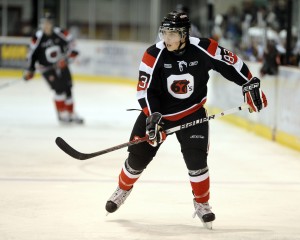 The Sabres already have youthful depth on defense with Tyler Myers, Brayden McNabb and Andre Sekera.  Still, Cody Ceci may be too good for the Sabres to pass up at the 12th pick. Ceci had a great year in the OHL racking up 60 points (17 goals) and finishing 2nd in scoring amongst OHL defenseman. He looks to have a tremendous offensive upside. He uses his size to his advantage in the defensive zone, shutting down opponents with his massive reach.
It's remarkable that Ceci wasn't considered first round material when the season started in September.  Since then, his stock has skyrocketed up the rankings and he's now considered top 10 material. With his 6'3″ 207 pound frame he is physically ready for the NHL, if the Sabres are able to get their hands on him they would have one of the tallest blue lines in the NHL with an average height of 6'2″.
 Griffin Reinhart- Defense, Edmonton Oil Kings (WHL)
Griffin is the latest Reinhart to enter into the NHL scene, following in the footsteps of his father and older brother. As a legacy prospect,Griffinmay draft higher and prove to  be the best Reinhart to enter the NHL.Griffinenjoyed a solid year in the WHL with the Oil Kings alongside Sabres prospect and former first round draft pick Mark Pysyk. He led all Oil Kings defenseman with 12 goals and helped the Oil Kings win their first ever WHL Championship. Like Ceci, Reinhart has the intimidating size (6'4″ 207) that the Sabres seem to be looking for on the back end. Unlike Ceci though he will likely need more time  to develop his skill as his game is still  a bit raw. He would be perfect to help spark the Sabres' power play unit.
Radek Faksa- Centre, Kitchener Rangers (OHL)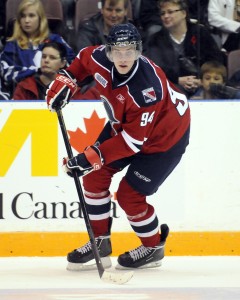 Faksa just finished up a solid rookie season in the OHL, racking up 29 goals and 67 points in just 62 games. He also gained international experience with the Czech Republic U20 team. He's the kind of player that every coach wants: he's coachable, has a strong work ethic, and gives his all every shift. He shows keen awareness in the defensive zone and has the potential to be the Sabres' 2nd line centre. The only downside with draft Faksa would be the wait. He's likely 2-3 years away from being ready to step into the NHL.
Mikhail Grigorenko- Centre, Quebec City (QMJHL)
The Sabres are looking to draft for now, not the future. Grigorenko could be the perfect match. While he's taken a lot of flak for his "Russian" work ethic, it is not likely he will fall out of the top 5, so the Sabres will need to trade up. The Sabres hold 9 picks in this year's draft including 4 of the top 44, so they have leverage. They are also drafting in the 12th position. That makes it the perfect place for a couple of reasons. First, for some teams just outside the top 10, they would still have to pay top 10 money for their pick and for others who want to move up, bringing them that much closer to the top. The Sabres could offer up both their first round picks (12th&21st) and a prospect (Luke Adam). This could help them move up into the top 5 and have a shot at Grigorenko.
Grigorenko is the real deal. He showed his production skills by racking up 40 goals and 45 assists in 59 games. He has the ability to control the flow of a game a special skill that few players possess. Combine his skills with his 6'3″ frame he should be able to step right into the NHL next season and succeed.
Check out Eric Roberts article Sabres Draft Strategy Part 1
Caitlin is a former goaltender who turned journalist after a few too many concussions. She's a Buffalo Sabres fan living in the hockey crazed market of Toronto. She's spent time writing with Chat Sports, Fansided and The Fourth Period. Her work has been featured on Puck Daddy, Bleacher Report, Sports Illustrated and Grantland among others.