It is that time of year, the Stanley Cup Playoffs have come to a close, the NHL's future stars have gone through the rigorous tasks that come with the NHL Combine and the fan bases for those teams that haven't been fortunate enough to be playing over the last two months have turned to researching this year's draft to feed their hunger for coverage on their team.
So, Buffalo Sabres fans who were subject to a delightful and heavy spending offseason last year, have likely tiredly stumbled into this postseason after a season full of shortcomings. The Sabres are about to take another run at the offseason and it all starts with the 2012 NHL Draft.
The Sabres are fortunate enough to have two first round picks in this year's draft, their first the number 12 pick, and second, the number 21 pick, which they received from the Nashville Predators when trading Paul Gaustad at last season's trade deadline.
The Sabres could use those two picks to add some size and grit to their smaller offensive corps, with  any combination of Stefan Matteau, Zemgus Girgensons or Brendan Gaunce. These prospects all posses the offensive ability needed and are able to play well defensively as well. All three prospects have size behind them, play great two way hockey and excel in boards play and battles in front of the net.
These three are still quite young and may not be ready for the NHL next season, but the Sabres would benefit in the long run with having any of these three in the system.
Stefan Matteau
| | | | | | | | |
| --- | --- | --- | --- | --- | --- | --- | --- |
| | League | GP | G | A | P | +/- | PIM |
| 2010-2011 USA NTDP | USHL | 28 | 4 | 5 | 9 | 0 | 47 |
| 2011-2012 USA NTDP | USHL | 18 | 6 | 4 | 10 | +4 | 93 |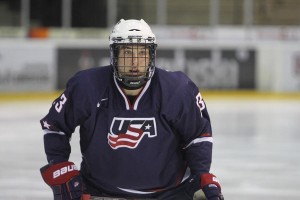 Matteau, son of former New York Ranger, Stephane Matteau, is ranked number 17 among North American skaters by Central Scouting and is a big forward that does not shy away from the physical play of the game. Matteau does not have the best speed in the world which results in his often going through an opponent rather than dangling around him. His big 6' 1", 209 pound frame helps his play in front of his opponent's net, a place where some of the Sabres' smaller players may fall in the disadvantage.
There is a mean streak in Matteau and you can find him in most post whistle scrums. This could be seen as one of Matteau's few faults, occasionally taking the bad penalty. In both international and USHL play, he has racked up 276 penalty minutes in 138 games played for the USA National Team Development Program, since the 2009-2010 season. However, Matteau's grit and physical mentality could be harnessed and molded into a strong and influential power forward once in the NHL.
Matteau will not dazzle with over the top offensive goals, but he will get the job done and fight when needed. When ready, and once his frame is fully built and is as strong as can be, Matteau could be a solid top six forward.
Zemgus Girgensons
| | | | | | | | |
| --- | --- | --- | --- | --- | --- | --- | --- |
| | League | GP | G | A | P | +/- | PIM |
| 2010-2011 Dubuque FightingSaints | USHL | 51 | 21 | 28 | 49 | +7 | 46 |
| 2011-2012 Dubuque Fighting Saints | USHL | 49 | 24 | 31 | 55 | +17 | 69 |
Much like Matteau, Girgensons has a big 6' 2" build and is ranked by Central Scouting right behind Matteau at number 18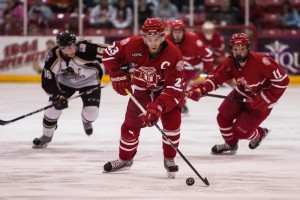 among North American skaters. However, listed at just 198 pounds, the 18-year-old, Latvia native, will need more time to fill out his size. Girgensons gets continued praise for his solid two way play, and as a center man, he should have any Sabres fans drooling.
Girgensons has the leadership envied by most, and has captained the Dubuque Fighting Saints to a Clark Cup last season.
Being a quicker skater and having more playmaking ability, Girgensons should have a better offensive turnaround than Matteau and still able to land a big hit from time to time. In the last two seasons, Girgensons  has recorded 104 points in 100 games for the USHL's  Fighting Saints.
Girgensons could develop into one of the league's best two way power forwards. The downside, it could take a few seasons until he makes that transformation and pays out. But if and once he does, Girgensons could be a top six, maybe even top three forward.
Brendan Gaunce
| | | | | | | | |
| --- | --- | --- | --- | --- | --- | --- | --- |
| | League | GP | G | A | P | +/- | PIM |
| 2010-2011 Belleville Bulls | OHL | 65 | 11 | 25 | 36 | -31 | 40 |
| 2011-2012 Belleville Bulls | OHL | 68 | 28 | 40 | 68 | +4 | 68 |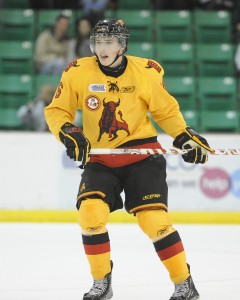 Among the three mentioned, Gaunce is the highest ranked by Central Scouting, ranked at number 13 among North American skaters. Gaunce, currently playing for the Belleville Bulls of the OHL, is probably the best two-way center in this year's draft and one of the biggest. Listed at 6' 2" and 215 pounds, Gaunce is ready for the NHL when it comes to size.
Gaunce has a heavy shot, both wrist and slapper, and will likely shoot the puck rather than choose to try and deke. Once at full speed Gaunce is a wrecking ball, but his acceleration could use some work.
In his second year with the Bulls, Gaunce has taken on the responsibility of being an Alternative Captain at the young age of 17, this shows the leadership qualities that Gaunce has both on and off the ice. Gaunce has not only excelled in leading the team, but nearly doubled his point output in his second year with the team.
If Gaunce improves his speed, he could develop into one the leagues best two way forwards and be paired up with opponent's best players on a nightly basis in a shut down role, and be able to offensively torment teams while doing so.
Part two of the series will be up later this week, and will go over why the Sabres should draft players that will have an immediate impact with the big club. Also covered will be prospects, Cody Ceci, Mikhail Grigorenko and Griffin Reinhart.
Eric received his BA in Journalism from California State University, Northridge. Eric has contributed to RinkRoyalty.com, Buffalowdown.com and California Rubber Magazine.