Scott Kosmachuk THW Close-Up:
Date of birth: January 24th, 1994
Place of birth: Toronto, Ontario
Ht: 6-0 Wt: 185
Shoots: Right
Position: Right wing
NHL Draft Eligibility: 1st time eligible in 2012
THW Ranking (May): 34th
Other Rankings
***
*Click here for Notes Up Front for various topics covered below in the live updated NHL 2012 Entry Draft Guide – The Next Ones home page – your quintessential draft resource.
***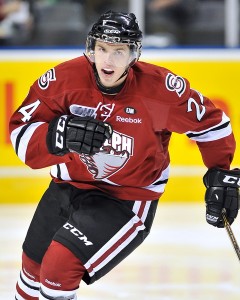 The right wing with the Guelph Storm took huge steps forward this year and had a breakout season, scoring 30 goals and adding 29 assists for 59 points in 67 games, a 38-point increase over his rookie season. The gritty winger also recorded 108 penalty minutes in 2011-12, 85 more PIMs than the year before.  The speedy winger can not only drop the gloves and hit hard, he also has a knack for scoring goals as shown by his 30 goals this campaign.
Despite his average size, Kosmachuk is not afraid to drive the net and skate into high traffic areas where he scored the majority of his goals. The hard-working pest is constantly on the fore-check, winning board battles, and getting himself in the middle of the action. A team player, Kosmachuk plays hard every shift with intensity and heart. He plays the game on the edge and is often found in the middle of scrums near the offensive net after the whistle; he is very adept at getting under the opponents' skin.
Blessed with a laser-beam shot, Kosmachuk can rifle his shot in a split second and his top-notch skating allows him to position himself in perfect areas to get good scoring chances. While he possesses good first steps and a good acceleration, he will need to polish his skating as he looked very raw at the U18 Championship.
Still, Kosmachuk is a work in progress as he needs to be more consistent from game to game; some nights he was a dominant force not to reckon with and all over the sheet of ice, while there was some games in which he was AWOL and made no impact at all. The Ontarian also needs to improve his defensive positioning without the puck and eliminate his tendency to play a passive game.
Kosmachuk is a talented player that will certainly succeed at the NHL level; he simply needs to work on his all-around game and improve his deficiencies to become a very useful second-line winger for many years. Finally, similar to Scott Laughton, the feisty forward could go from being picked 20-25th overall to being drafted at the end of the second round.
Scouts' honour:
"Kosmachuk entered this season in great shape as he gained over 12 pounds and came out of the gate eager to contribute. He found success early this season and was immediately placed in a top six rotation with ample PP time. He scored more goals this season (30) than any other player in the OHL eligible for the NHL draft. Kosmachuk is lethal in the slot as he has a great shot with a hair-trigger release. His ability to roof a puck in an instant often results in a face-off at centre ice. Kosmachuk is not against paying the price as he will take a punishment to score his goals and willingly attacks and goes hard to the net. He also plays a robust physical game as he will finish checks and can hold his own in a fight as he registered over 100 PIM's this year. Unfortunately, consistency plagued Kosmachuk all season, and there were some games in which you needed a GPS to find him and other games he was arguably the best player for the Storm. He was  unable to build on his strong playoff success; (an opening round loss to the Plymouth Whalers) with a lacklustre performance at the World under-18 Championships as he rarely saw a regular shift. Nonetheless, Kosmachuk's clutch goal-scoring and pugilistic style of play makes him a prospect who has several ingredients that translate well at the next level." – McKeen's Director of Scouting David Burstyn Twitter account: @DavidBurstyn
***
"A bit on the smaller side, Kosmachuk is easy to overlook at first glance, but he comes at you with tremendous intensity, speed and a never ending motor which quickly erases any thoughts of an easy opponent. He is extremely opportunistic and has the very rare ability to be a potent mix of turnover creation ability and the skill set to capitalize on those opportunities he creates." ISS Hockey's Ross MacLean Twitter account: @rossmaclean
***
"Kosmachuk is another graduate of the famous Toronto Marlboros of the Greater Toronto Hockey League. Drafted in the second round of the Ontario Hockey League Draft by Guelph in 2010. He is a hard-working forward who's biggest asset is his high complete level and aggression. He never quits on a play, and is always willing to sacrifice his body in order to ensure team success. He makes smart plays with the puck and doesn't try to force things or make plays that he knows he is not capable of. Kosmachuck has some room to develop his three zone positional play. At times he can struggle with being in the right place at the right time in his own zone, and chases the puck a bit to often. He has shown good offensive growth this season; however, most of his goals are scored within 5-6 feet of the net on secondary opportunities, not via high-end skill. I do like his upside as a top-9 forward at the next level; however, I just don't see his individual skills being high enough to justify a top 50 selection on him. I do worry about how much offensive growth he has left. He can also suffer with some poor discipline at times, but that's something that is easily fixed with coaching. Kosmachuk is projected out as a smart, competitive top-9 forward at the next level." FutureConsiderations' Sean Lafortune Twitter account: @SeanLafortune
***
"Nail Yakupov led the way in goal scoring among draft eligible players in the OHL with 31, but Kosmachuk was right there behind him in 2nd with 30. His goal-scoring ability is vastly underrated among this year's crop. Basically, you know what you're getting with him; a hard-nosed goal-scoring winger who can complement more finesse type players. I think there is some concern about his high-end potential because he's not a flashy guy, nor does his playmaking ability suggest he'll be a fully complete offensive player. But guys who are competent in all three zones, work hard away from the puck and who can score in close are invaluable. I think there's also definitely something to be said about the fact that his coach in Guelph is Scott Walker, a player who made his living in the NHL in a similar way we're projecting Kosmachuk. Who better to learn from?" OHL Prospects' Brock Otten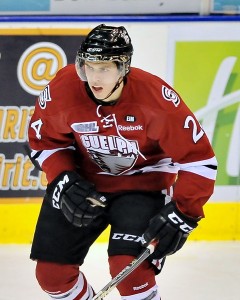 ***
"Scott Kosmachuk is not an overly big guy, but he plays big. He's not afraid to engage physically and he is more than willing to stick up for himself and his teammates. He's a very good skater, he has a good shot and a non-stop motor. He works hard each and every shift and he often gets rewarded for his efforts. He projects to be a solid second or third line winger who can be physical, provide energy and chip in offensively." The Hockey Guys' Todd Cordell Twitter account: @ToddCordell
Statistics:
Bio/Interview(s)/Link(s):
• Guelph Storm's Matt Finn and Scott Kosmachuk in Kelowna: Top Prospects' Game Video
• 2012 NHL Draft Profile: Scott Kosmachuk by Kirk Luedeke
International Tournaments:
2011-12 IIHF World U18 Championships – 7 games, 0 goal and 0 assist for 0 point
ETA = 3 years
Risk-Reward Analysis:
Risk = 3/5 Reward = 4/5
NHL Potential:
Second line winger
Strengths:
• Soft and quick hands
• Accurate slap shot and wrist shot
• Super pest who can get under the opponents' skin
• Physical play along the boards and in front of the net
• Tenacious on the forecheck and not afraid to mix it up with bigger players
Flaws/Aspects He Needs To Work On:
• Needs to improve his overall skating
• Needs to work on his defensive zone positioning
• Needs to be more consistent game after game, as he tends to take some nights off
• Needs to stop taking bad penalties at inopportune times
Fantasy Hockey Potential:
Offensive = 7/10 Defensive = 6/10
NHL Player(s) Comparison:
– Scott Walker
Video(s):
Scott Kosmachuk dropping the mitts against Josh Anderson
Scott Kosmachuk two goals vs the Kitchener Rangers
Follow Fred Poulin for all your 2012 NHL Draft prospect needs and get more information on the NHL.
THW's The Next Ones prospect profile template design architect: Chris Ralph