Welcome to part two of our Vancouver Canucks 2012 NHL Draft preview. For a look at who the Canucks currently have in their system check out Daniel Schöpf's look at their prospects. For all of your NHL Draft needs, prospect profiles and team previews be sure to check our NHL Entry Draft Guide.
Now that the on-ice NHL action is over teams are gearing up to select the next crop of players that hopefully will lead them to a Stanley Cup. The best way to build a championship team is through the NHL Entry Draft which takes place, in Pittsburgh, on June 22nd. The Vancouver Canucks have the 26thpick and while they most likely won't be selecting a guy who can step right on the ice, they do have an opportunity to pick up a player that can contribute in the near future.
When this past season ended General Manager Mike Gillis indicated that the Canucks were looking to get younger and bigger this summer. With that in mind we can make some educated guesses on what type of player is most likely to have his named called in Pittsburgh by the Canucks. We also know, by looking at Gillis' track record, that he prefers players who are versatile, can play both ways, can contribute on special teams and play up and down the lineup.
With that in mind here are ten guys that may be on Vancouver's radar next week at the draft. A lot of crazy things can happen on draft day and with the potential of a Roberto Luongo trade the Canucks may see their pick change. But for now, they are locked in at 26. Whom might they pick?
Click on the player's name for a more detailed profile.
Scott Laughton – Laughton showed last year, for the Oshawa Generals, that he is a good two-way center who can play tough minutes and score timely goals. He put up 21 goals and 32 assists last year while playing in 63 games while also picking up 101 penalty minutes. While those penalty minutes suggest he has some toughness, which Vancouver could use, he has a smaller frame, is not the greatest skater and may never be more than a third line player. You have to wonder if he fits the 'bigger' criteria Gillis is after. There is a good chance that he will be available at 26 and if the Canucks feel that he can add some muscle to his frame they might seem fit to select him.
Henrik Samuelsson – Samuelsson played all over the world this year before ending up in Edmonton  with the Oil Kings. His draft stock rose with a solid playoffs and excellent Memorial Cup performance and is now projected to go late in the first round. He has  great size, plays tough, not afraid of throwing hits or getting hits and plays a solid two-way game. He has shown he can play up and down the lineup and has a high level scoring touch. There might be some question about his discipline as he has had some suspension issues for crossing the line once or twice.
Slater Koekkoek – The Peterborough Petes defenseman was injured this past year causing his draft ranking to go up and down but he is still considered a top prospect. He has the talent to go higher in the draft than 26 but there is still a chance he will be available when Vancouver picks. At 6'2" he has good size and has shown that he can play physically. His highest potential however, is as an offensive defenseman where he has shown a tremendous amount of upside. He is still a bit raw but posses a  good shot and high hockey IQ.
Tanner Pearson – The Barrie Colts winger might be a bit of a reach in the first round but he could be a draft day wild card. He is a 20-year-old who has gone un-drafted his previous two years of eligibility due to lack of production. This past season Pearson blossomed with 91 points and 37 goals in his final OHL season. He has tremendous size and can play up and down the line up. His age could be a positive factor as well as he might be mentally and physically ready to make the NHL jump sooner.  Has a good two-way game and seems to be the type of player Gillis is looking for but you have to wonder if this past season was a true indication of his potential or just a decent 20 year-old playing against younger players.
Thomas Wilson – Wilson is a big powerful forward playing for the Plymouth Whalers and would seem to be a good fit for the Canucks. He has great size at 6'4" 194 pounds which translates into a physical game and the potential to be a Lucic type of power forward. While is a pretty good skater for his size he could still improve some in that area. He knows how to use his size though and is tough, not afraid to drop the gloves, and will score ugly goals for you. He is the type of player that many have claimed the Canucks are missing from their roster.
Mike Winther – Winther was stuck on a really bad Prince Albert Raiders team last year and his numbers may have suffered. Despite that he has shown that he has tremendous speed, knows how to find open areas on the ice and takes care of his own end. He does not have the biggest frame but can muck it up in the corners. He can contribute on the power play as he scored 16 goals there last year, despite playing on one of the worst units in the WHL.
Colton Sissons – There is a good chance that Sissons will be gone by the time Vancouver picks but if he slips to them do not be surprised if they snatch him up. The KelownaRockets forward is a leader, plays in both ends of the ice (was named the team's best defensive forward) and can score. He'll be able to play up and down the lineup, kill penalties and contribute on the power play (he scored 13 power play goals last year). He has good size and would be a great fit for the Canucks.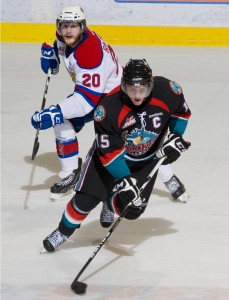 Hampus Lindholm – The Swedish defenseman is a great skater with a tremendous offensive game. He will move the puck, can potentially quarterback a power play and could end up giving the Canucks what Christian Ehrhoff did. While he has decent size he has not shown that he is comfortable playing a physical defensive game and it could take him some time to adjust to the North American game.
Damon Severson – Severson is a big kid who, while can chip in offensively, will become a physical two-way defenseman in the mold of Kevin Bieksa. The Rockets are going to expect him to shut down the opponents top players this upcoming season which should allow him to hone his defensive skills even more. He has a heavy shot that can be an asset on the power play and has shown a willingness to stand up for his teammates. He would be a solid and somewhat safe pick for Vancouver at 26.
Matt Finn – Finn has overcome some concerns about his conditioning and turned into a defenseman who can consume a large amount of minutes. He put up 47 points for the Guelph Storm and showed a high level of maturity and hockey instincts. He plays well in own end but is not the biggest defenseman on the block. Finn will end up in someone's top four someday but you have to wonder if his size will steer Vancouver away.
So who will the Canucks pick?
When you pick as low in the draft as Vancouver does you are sometimes at the whim of what happens before you. There are always draft day surprises and curve balls that make predicting draft picks tenuous at best. That being said and all things being equal, Henrik Samuelsson seems to be the best fit for the Vancouver Canucks. If he is available at 26 the Canucks should select him.
Samuelsson is big, tough and can contribute in all phases of the game. This is the type of player that Gillis seemed to be describing in his post-season press conference. While he had some discipline issues last year you it would seem reasonable that, with age, those issues won't repeat and in it's place will become a player that is tough to play against.
Who would you like to see the Canucks pick up in the draft? Tell us in the comments below.