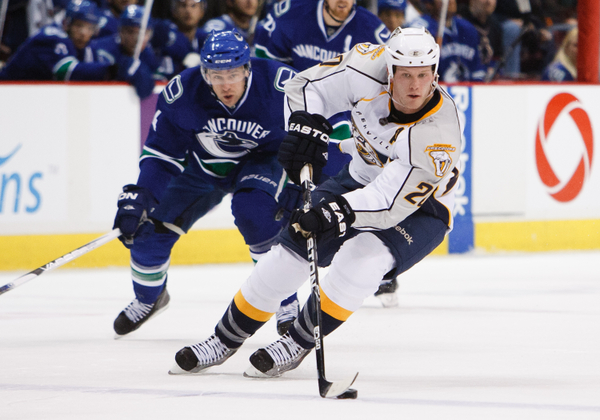 He's been referred to as, "No. 1 on the Red Wings' wish list." He's been almost unanimously touted as the cream of 2012's free agent crop. He's the defenseman that 30 NHL teams would love to have, and only 1 will get. He's Ryan Suter, but is he really all he's cracked up to be?
That's the question one Nightmare On Helm Street writer posed yesterday, going on to offer evidence for his doubts about the Nashville defender's value.
"Now, admittedly, I've not studied the guy.  But whenever I've watched Suter play, I've seen a great #2 defenseman, not the great #1 guy that everyone talks about.

Against Detroit, Shea Weber absolutely dominated.  He Prongered the Wings by scoring killer goals, hitting everyone in sight, and literally bullying the Wings the entire round.   It's the first defenseman since, well, Pronger that I thought outplayed Lidstrom in a matchup.  Maybe the only other one, ever.

But Suter?  Barely noticed him.  He appeared to be to Weber as Robin was to Batman.  Or put another way, he was Lidstrom's Rafalski.  Sure, he didn't play horribly, but sure didn't look like a game changer.   More of a tag-along.

His stat sheet for the series against Detroit backed up my feelings; he finished with 5 GP, 0 G, 0 A, 0 Pts, 2 PIM, 0 +/-.   Not exactly impressive.  His career numbers, while good, also aren't that impressive."
The post goes on to point out Suter's average point and low hit totals while playing alongside perhaps the best defenseman currently in the game in Shea Weber, finishing with this ultimate question (you can head over to NOHS to read the rest of the post as I'd rather not quote the entire thing here):
"So what exactly is so special about Suter?  I'm not sure.  I'm even more worried that his decent point totals are a result of playing with Weber, similar to how Lidstrom made Rafalski almost hit 60 points multiple times.  Without Weber is he a 25 point guy?"
And while the point about Rafalski is a bit off base (unless multiple = 2 and Lidstrom also made Rafalski reach 49 and 55 points in his 2 seasons prior to coming to Detroit), it is a valid question. Is Suter the extreme benefactor of Shea Weber's excellence? Some Nashville fans actually believe it's the other way around.
"The Sicamous, British Columbia native [Shea Weber] isn't quite as dominant without his first lieutenant by his side. On the contrary, however, Suter is a more complete player without Weber by his. And he proved this recently. After Dallas Stars defenseman Mark Fistric knocked Weber out for four games with this hit on December 23, Suter averaged nearly 30:00 per game, all the while making rookie Roman Josi look like a seasoned veteran as the number two defenseman.

What about the team? Nashville hasn't scored a goal since Suter came out of the game on Monday afternoon. Five periods, no goals. Now obviously he's not exactly known as an offensive juggernaut but Suter is known for that elite-level first pass out of the zone. Without a good breakout, the Predators' transition game suffers greatly.

And then there's the results. With the captain out, the Predators are 3-1-0 this season. Without Suter? They're a combined 4-7-1 over the past two years."
"Last season from October 20th to November 12th, the Predators were without the help of Ryan Suter. In these 9 games, Shea Weber looked human rather than super-human as many have come to expect. Without Suter quarterbacking the PP, the Predators scored only 1 PP goal while allowing 5 PP goals against. In comparison, in the nine games after Suter returned to the lineup, Nashville scored 5 PP goals and let in 4 opposing PP goals (in one game: the Toronto meltdown).

Nashville's record in the 9 game absence of Suter in the 2010-2011 season was 3-5-1 and Weber only produced 1 goal, 2 assists and sported a -8 rating in those games. In the next 9 games with Suter dressed, the Predators would begin their turn-around and go 4-3-2 with Weber posting 3 goals, 6 assists and a +4 rating."
While On The Forecheck makes a valid point about measuring individual success by team performance being ill-advised, it's hard to argue with the descriptions of Weber and his teammates looking lost without him. Further evidence to this point is readily available in the fact that Nashville has been adamant about wanting to keep the 27-year-old this entire time, and continue to negotiate with him in hopes of reaching a deal soon.
There's a reason Suter was named an All-Star this season, and it's not because anyone was trying to help him earn more money on his next contract. He's a smart, reliable defenseman, and Pavel Datsyuk is probably the only player to ever make him look like anything less than that at the NHL level.
Playing in Nashville (an undercover hockey market of sorts) with such an understated style and in the shadow of one of the flashiest defensemen of this generation has led to Suter flying under the radar, but Nashville coach Barry Trotz believes "hockey people" are very aware of his talents.
"I think maybe (Suter)'s under the radar a little bit in terms of the general public, but if you're talking to hockey people who are around the game a lot and who have a good eye for the game, they know he's not under the radar, he's one of the top defensemen in the National Hockey League."
An incredibly talented blue-liner with an understated style flying below the radar, sound familiar? It should, it's exactly how Nicklas Lidstrom's career started out. He was overshadowed by star power and under appreciated by those outside of Detroit. The Detroit Free Press posted 2 articles that recounted just that shortly after his retirement.
"If Lidstrom got overshadowed amid the myriad of spotlights that shined in that locker room, those who saw him play nightly understood his impact and import. Funny, the mumbling in Detroit then was why Lidstrom wasn't getting more Norris Trophy hype. Maybe it's because he was so understated not enough people noticed him.

I guess they finally noticed. He won seven of those trophies in the end."
"Back then, I thought Lidstrom suffered from a strange double standard. While professional athletes were criticized for being too bold and brash, he was supposedly too bland and boring. Some figured that was why he had finished second, not first, in voting for the Norris Trophy three years in a row.

As the years went by, Lidstrom received his due. He won the Norris seven times. He became known as 'The Perfect Human.'"
Am I suggesting that Ryan Suter is the next Nicklas Lidstrom? Absolutely not, but Lidstrom went severely under appreciated and was tragically underrated until later in his career. Only those who watched him game in and game out truly understood the value he brought to the game, and what are the Predators' fans and media who watch Suter with regularity saying? That he's better than most people realize.
Is he worth then $7+ million he's expected to command? It's debatable, but the market isn't in the buyers' favor this year. Demand is high, and supply is low. Beyond Suter the talent level quite clearly drops off.  Whether he's a #1 defenseman or a #2, he's the best player available for a position the Red Wings need to fill now; Kronwall is the only top-tier defenseman the team currently possesses.
Perhaps that's a significant piece to keep in mind. Even if he makes bank in Detroit, Suter won't necessarily have to be the #1 guy. The Red Wings have stated from the get go that they want Kronwall to step up. That's why he was awarded the 7 year contract as well as the 'A' on his jersey this season. They believe he is ready to be the big dog, the go to guy, the head honcho, etc.
For me, the bottom line is this:
Slightly overpaying for the top defender available is an infinitely better decision than not acquiring him at all. Your team cannot lose 3 top-4 defenseman in 2 years, not replace them, and still expect to be competitive. GM Ken Holland has said many times already, that's exactly what the team is going to be.
Andrew is a passionate hockey fan at heart, and has been since a very young age. Residing in Michigan, he grew up with the team he currently covers at THW, the Detroit Red Wings.