Slater Koekkoek THW Close-up:
Date of Birth: February 18, 1994 Place of Birth: Mountain, Ontario Height: 6'2″  Weight: 183 lbs Shoots: Left Position: Defence NHL Draft Eligibility: 2012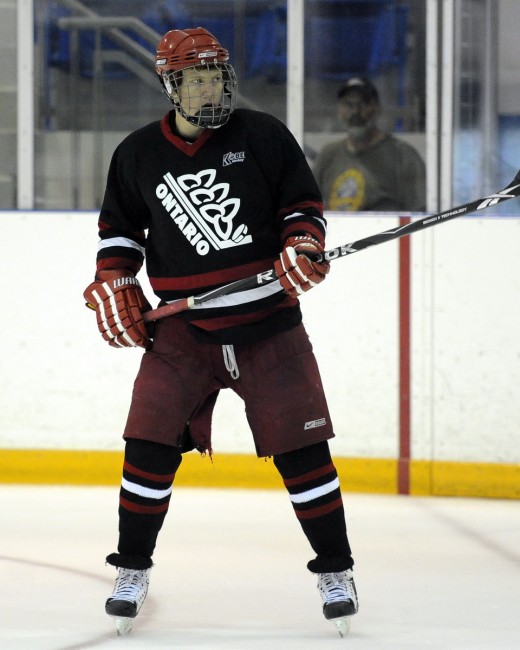 Slater Koekkoek has seen his draft stock rise and fall quite a bit this season throughout the many draft rankings that get released.  Based on his skill set and potential he rates very high on just about every list there is. Unfortunately for Koekkoek he has plenty of time to look at them as he has been out injured with a torn labrum since early in the year.  Whether it's due to injury or the rise of other top prospects, the Peterborough Petes product has found himself dropping recently in some rankings.  He has been ranked anywhere from mid first round to as low as late second round in some rankings.  NHL Central Scouting recently had him ranked #23, whereas International Scouting Services had him #18, and TSN analyst and former GM Craig Button had him #36 in his April 16 rankings.  The consensus seems to be somewhere mid to late first round, but each ranking you see places him somewhere different.
Koekkoek possesses as much upside and potential as just about anyone in the draft, but is still very raw as a prospect.  An offensive defenceman by trade, he boasts an impressive package of size and skill that can make scouts drool.  Prior to his injury, he was leading all Pete's defencemen in scoring with 18 points in 26 games and was logging 30+ minutes of ice time a night on some occasions on a very inexperienced defence group.
A great skater with an ability to lead the rush, Koekkoek makes good decisions and moves the puck well. He possesses a good shot from the point which he uses effectively on the powerplay, and will become a bigger weapon for him as he gains confidence in his game.
Koekkoek has good size, although he is still filling out his frame, and has the ability to play a physical style of game.  While his defensive game still needs some polishing, it was showing signs of improvement before he went down with injury.
International Tournaments:
Koekkoek represented Canada as a member of the Ontario squad at the 2011 World U17 Hockey Challenge, scoring 3 points in 7 games en route to a gold medal.  He also suited up for Canada at the U18 World Championships registering 2 points in 7 games at that tournament.
Scout's Honour:
Koekkoek has a tremendous package of size, skill, and potential which could be a home-run in a few years…..Koekkoek is a great skater and does a good job of moving the puck and making good decisions. His skating ability allows him to lead rushes and his offensive zone play is very good. He's still in the progress of filling out his frame and improving his defensive zone play, but the skill-set that Koekkoek brings to the table cannot be overlooked as his ceiling could be as high as any of the defensemen in this draft. – The Scouting Report
Koekkoek is a smooth skating defenseman that uses his frame and strength to his advantage.  He loves to join the rush and can be counted on to use his hockey IQ in knowing when to jump up or stay back.  His shot is quick and accurate which makes him even more of a threat when he decides to wheel with the puck.
If Koekkoek continues to improve his footwork and outlet passing, he will be that much more of a threat as opposition will begin to think twice about dumping the puck into his corner.  One of the underrated areas of Koekkoek's game is the fact that he has experience not only playing in high pressure games but excelling in these games; a quality that a lot of players in the 2012 draft don't have. – Hockey Prospect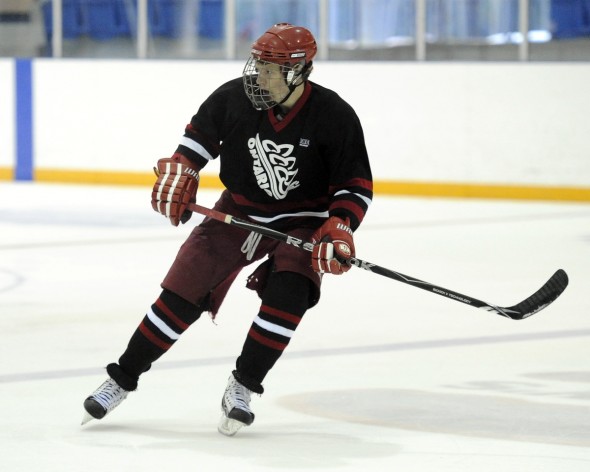 Statistics:

Bio/Interview Links:
ETA:  2-3 years
Risk/Reward Analysis:
Risk: 3/5  Reward: 5/5
NHL Potential Upside:
Potential top pairing, big minutes defenceman
Strengths (See THW Close-up):
Skating
Stamina (plays big minutes)
Shot
Physical play
Hockey IQ
Flaws/Aspects He Needs to Work On:
defensive zone play
Fill out frame/add strength
Fantasy Hockey Potential:
Offensive 8/10  Defensive 8/10
NHL Player Comparison(s):
Alexander Edler
Zach Bogosian
Video:
THW "The Next Ones" prospect profile template design architect is Chris Ralph