There comes a point in time when a team is no longer considered to be in the transition phase of being a playoff team to becoming an annual contender. The Montreal Canadiens have shown over the past three seasons that they have the capability to continuously be a playoff team, but they're now reaching the point where they need to make the jump to a perennial contender before it becomes too late.
Anyone can recognize that the Tampa Bay Lightning are the class of the Eastern Conference right now, but what do the Canadiens have to offer that can at least help them challenge for an otherwise wide open conference?
The Canadiens announced at their annual golf tournament that they will be naming the 29th captain in the franchises history after this seasons training camp. In one of the most heavily scrutinized markets in hockey, being a captain comes with a great deal of responsibility and pressure that is very hard to live up to.
"Whoever gets selected is going to have a bit of a responsibility, a little bit more than everybody else anyway. But we share that as a team. We share that responsibility as leaders to make sure that we're best preparing each other to play at a high level and to be where we want to be at the end of the year. -PK Subban
In a city where results are everything, the Canadiens made some really intelligent moves this off season and hope that these moves can help put the Canadiens over the top where a lot of people think they should be.
The Canadiens were able to add bought-out forward Alexander Semin to the team on a cheap, low risk 1 year 1.1 million dollar deal. The Habs also dealt well liked forward Brandon Prust to the Vancouver Canucks in exchange for forward Zack Kassian. Montreal was also able to extend free agents Jeff Petry and Torrey Mitchell.
Ultimately, the Canadiens will look to improve on a season where Hart and Vezina trophy winner Carey Price guided them to a division title and second round exit. The Canadiens have improved this off-season, but will it be enough to lead them past a tough Lightning team?
---
2014-2015 Finishes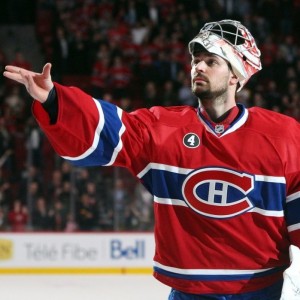 Record: 50-22-10
Division: First
Conference: Second
NHL: Second
Goals For: 2.6, 20th
Goals Against: 2.24, 1st
Power Play: 16.5%, 23rd
Penalty Kill: 83.7%, 9th
---
Key Additions
(RW) Alexander Semin
(RW) Zack Kassian
Key Losses
(LW) Brandon Prust
(RW) Pierre-Alexandre Parenteau
---
Forwards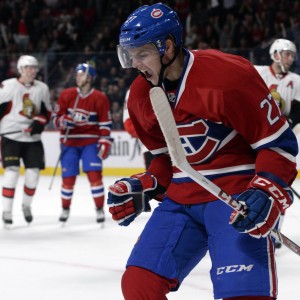 Alex Galchenyuk: The Canadiens being clogged down the middle of the ice is a good problem to have, and Galchenyuk is finally being added to the mix as he will begin the year as a center. Galchenyuk signed a 2 year bridge deal this off season and will look to finally elevate his game to equate to his 3rd overall draft status. With Galchenyuk finally slotting in at center, we will finally be able to get his development back on track to ultimately be that big, skilled center that the Canadiens have a big need for. Galchenyuk making the transition to center will be a big story line heading into camp and one that will likely continue on for the entirety of the season.
Brendan Gallagher: Now if you're a Canadiens fan and you think of the word heart, Gallagher is the ideal perception of what that means. On the other hand, fans of other teams may think of Gallagher as more of a pest, but you won't likely find a player on the ice that works as hard as he does every given night. Gallagher plays a big role as a catalyst of whatever line he is placed on, and he's often put on a struggling line to get them going again and back in a good rhythm. If the Canadiens want anything to do with a deep playoff run, Gallagher will play a big role and not only contribute but help lead this deep Habs team.
Max Pacioretty: As everyone already knows, Pacioretty has some sort of healing power that allows him to heal quicker than expected and that once again seems to be the case after he fractured his tibia this off season. Pacioretty plays a vital role in a Canadiens offense that is looking for more offense throughout their lineup, and the hope is that Pacioretty can continue to be his consistent self and finally hit the 40 goal plateau. Pacioretty is one of the candidates to be the next Canadiens captain, and if he is selected, he will be asked to continue leading by example on the ice and with the media, as the Habs have more of a leadership by committee than just one player. Expect a big season from Pacioretty, who is definitely hungry to finally hit the 40 goal mark and lead this Canadiens team to a Stanley Cup.
Alexander Semin: What better atmosphere in the NHL is there to come and try and motivate yourself to be the player you once were? Alex Semin is looking to rebrand himself and bounce back after a poor season in which he was bought out by Carolina. Playing on a cheap one year contract, Semin has the ability to be a key component of the Habs if they're to be a contender in the Eastern Conference. The best case scenario for Semin is that he has a big year and some team signs him to a long term deal after this season. The worst case scenario for him is that he finds himself in Therriens dog house and is often a healthy scratch. Canadiens fans certainly hope the highly skilled Semin shows up and helps contribute.
| | | |
| --- | --- | --- |
| Max Pacioretty | Tomas Plekanec | Brendan Gallagher |
| David Desharnais | Alex Galchenyuk | Alexander Semin |
| Jacob de la Rose | Lars Eller | Zack Kassian |
| Devante Smith-Pelly | Torrey Mitchell | Dale Weise |
---
Defense
PK Subban: Perennial Norris candidate PK Subban looks to build off of his best season yet in the National Hockey League, where he put up an astounding 60 points in 82 games. Another candidate for the captaincy, Subban would be a fantastic choice, as he is locked up long term and leads by example on the ice as well as being very well liked in the dressing room. The Canadiens minute eating, every situation defenseman will be a big part of the Canadiens success this season, and it will be interesting to see if PK has an encore performance in store for us after a fantastic 2014 season.
Jeff Petry: After years of the Canadiens sending out Andrei Markov and PK Subban as their biggest threats, the Canadiens were able to add Petry at the trade deadline last season and extend him long term this off season. Petry will look to slot in as the Canadiens number two defenseman as early as next season, as he can take some of the work load away from the aging Markov. Having a stable number two defenseman for an entire season will likely help the Canadiens transition game, as well having another weapon on the power play that has a good shot and can move the puck effectively.
Nathan Beaulieu: It's difficult to see where Beaulieu slots into the Canadiens top six, whether it be in a top four role or playing on the bottom pairing. Most of this depends on where Alexei Emelin is slotted in, and although Emelin is more deserving of a bottom pairing role, Therrien for some reason trusts him to play big minutes in the top four. If the Canadiens hope to take their game to the next step, they need to trust Beaulieu with more minutes to help open up their attack game. Beaulieu is one of the fastest skaters on the team as well as one of their best puck movers, and the Canadiens need to use these strengths to establish their transition game at a much higher level and pace. Beaulieu signed a two year bridge deal this off season and it will be up to him to prove that he can be a top four defenseman, but also for the coaching staff to trust him and keep him in that role.
| | |
| --- | --- |
| PK Subban | Andrei Markov |
| Jeff Petry | Nathan Beaulieu |
| Alexei Emelin | Tom Gilbert |
---
Goaltending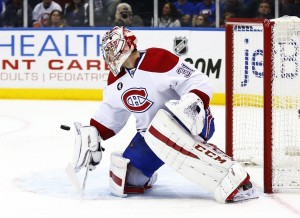 Carey Price: The crease in Montreal belongs to the best goaltender in the world in Carey Price. Price was able to take home the Vezina trophy as the NHL's best goalie and the Hart trophy as the NHL's most valuable player. Price posted 44 wins to go along with a sparkling .933 save percentage and a 1.96 goals against average. The Canadiens need to figure things out around Price before they can take their game to the next level, as they need to stop relying so heavily on Price and instead build a system that plays to his strengths but also empowers their attack game. It will be interesting to see what Price has in store for us this season and it might be a tad difficult to one up his historical numbers he put up last season.
---
Breakout Player
Zack Kassian: After being selected early on in the first round and dissapointing in Buffalo, Kassian was dealt to Vancouver in exchange for another struggling high draft pick in Cody Hodgson. This wasn't the last time Kassian would be moved, as he was dealt to Montreal this off season in exchange for gritty veteran Brandon Prust. This may be Kassian's last opportunity to prove himself in the NHL, and what better opportunity than in one of the best hockey cities in the world in Montreal. If Kassian is used to his strengths, which are more of the skill variety than the hitting ones, he will make a positive impact on this Canadiens lineup as long as he is able to stay healthy and play with the consistency he is capable of. Kassian is a big question mark heading into the season for the Habs, but he has a lot of potential and could be a big spark plug as a potential power forward for the Canadiens.
---
Player With The Most to Prove
Lars Eller: You can make the argument that Alex Semin has more to prove than Lars, but the Canadiens will need to see some more offensive output from the Danish center if they look to take their game to the next level. Everyone seems to always be looking for more from Eller, but maybe our expectations for him were just to high. This is one of the statements that I don't believe to be true. If Eller were put in a more opportune situation besides playing a structured defensive role on the third line and actually receiving power play time, I believe we would see a big change in his offensive numbers. A question that many have asked, but is Eller ready to take over the duties of Tomas Plekanec? Time will tell on that front.
---
Season Outlook
Management can say whatever they want to the media, but the Canadiens are no longer in a transition phase. This team is ready to compete now, but it will be up to how the players perform and how the coaching staff uses them if they're able to reach their potential.
The Canadiens have a great core group of players, but they need to make the jump to an elite team before the cap comes calling like it has in the past for the Blackhawks.
Some interesting story lines to consider going into next season include what encore performances do Carey Price and PK Subban have in store for us? Will Tomas Plekanec be a Hab at seasons end? Will Alex Semin once again regain his scoring touch? How will Zack Kassian fair with his new team? Can Nathan Beaulieu and Alex Galchenyuk thrive with more responsibility or will they dissapoint?
There are a lot of question marks hanging on the Canadiens this season, but we once again will likely see the Canadiens challenge for a wide open Eastern Conference.