At 16-5-1, the Habs are a few games past the quarter mark of the 2014-15 season. More importantly, they lead the league with only the Pittsburgh Penguins (28 points in three fewer games) in striking distance for that title up to this point. Nevertheless, as far as their term report card is concerned, it's far from 'A's all around.
The Montreal Canadiens Offense – B
Montreal has only scored 2.59 goals per game (61 total), nearly putting them in the bottom third of the league in that statistical category. They've also already been shut out three times, the most notable goose egg, an embarrassing 5-0 defeat, coming at the hands of the Chicago Blackhawks back in early November.
Of course, since that point, the Habs are 8-1 (with that one loss being another shutout against Pittsburgh). Over those nine games, even with the shutout, they've scored 29 goals, which translates to a very impressive 3.22 per game, which would put them in the top three (had they been scoring at that clip since the start).
Seeing as the Penguins lead the league with 3.53 goals per game, it's at least possible the Habs are able to keep up the pace the rest of the way. Granted, the Habs don't have Sidney Crosby at their disposal, but doing it by committee is almost more impressive.
They're notably only registering a very low 27.8 shots per game (which has stayed largely consistent over the last nine games), so the increased punch may not be sustainable. However, credit still must be given to them for turning it around.
Defense – B+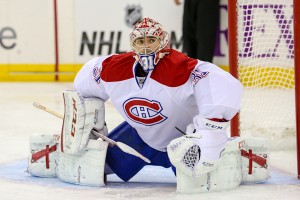 The Habs have given up an average of 2.36 goals per game, which, in sharp contrast to their goals for, ranks in the top third of the league. However, their shots-against average (30.5) places at the same mediocre, 19th-in-the-league rank.
Sure, the quality of shots is a factor, but only three playoff teams are below them, and each is only holding onto a wild-card spot.
One can only conclude that their goaltenders—Dustin Tokarski and Carey Price—are playing incredibly well, which their individual stats also show with save percentages of .937 and .922 respectively.
Goaltending – A+
Special Teams – B-
Since defenseman Sergei Gonchar 's first game, Montreal's power play has improved drastically, going 5/20 in six games. While that may not seem to be that impressive of a boon, those five goals are two more than they had during the previous sixteen games. As a result, the power play stands at a worse-than-mediocre 12.9%.
Almost it's mirror image, the penalty kill is currently a decent 84%, but since Gonchar came to town it's clicking to the tune of 13 successful kills over 17 opportunities (76.4%).
For the record, Gonchar has received zero ice time on the penalty kill since being acquired (2:55 on the power play per game). The loss of Travis Moen might have something to do with it… or, alternatively, it's just one of those things. However, if the power play is going to get credit for improving recently, the penalty kill must be, uh, penalized for just the opposite. So, the Habs' special teams are just okay.
Coaching & Management – A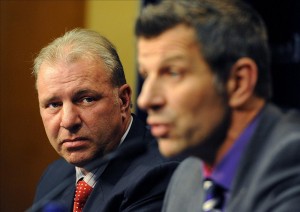 Head coach Michel Therrien has his fair share of detractors (yours truly included), and yet he's still 16-5-1 this season. His team is notorious for its slow starts, having given up the first goal 14 times this season, with proper preparation and pre-game motivation being responsibilities that fall largely on him. And yet he's still 16-5-1.
He seemingly refuses to give ice time to young defensemen like Nathan Beaulieu and Jarred Tinordi (with the latter in the American Hockey League and the former having been scratched the last two games and likely soon to follow). And yet, despite the negative long-term ramifications to the club, in the here and now, he's 16-5-1.
And, despite him being 16-5-1, the predictive stats, like Corsi, say the team is only holding onto the puck about (not even) 50% of the time, and is due to regress any game now. But, again, he's 16-5-1.
From a managerial perspective, Bergevin has made a positive mark having gotten rid of unwanted players like Rene Bourque, Travis Moen, and Peter Budaj. And that's just since the start of the year. Dating back to the offseason, he also unloaded Daniel Briere's contract (which he admittedly signed in the first place), getting Pierre-Alexandre Parenteau and a fifth-round pick back, essentially ripping off the Colorado Avalanche in the process.
While his recent moves, i.e., adding defensemen Gonchar and Bryan Allen to the roster (at the expense of Moen and Bourque respectively) have unjustifiably translated into less ice time for Beaulieu and Tinordi, the fact remains his team is still in first place.
Bergevin is in between a rock and a hard place. On one hand, his team is, yes, a league-leading 16-5-1, and, yet, he himself has admitted relatively recently that the Habs are not yet a perennial contender. Does he go for it this year? Even if all the stats say Montreal should not be where they are, at the very top of the league?
It's a tough call to make. Overall, one cannot deny he's done an exceptional job up to now under the circumstances. After all, his team is 16-5-1.
Overall – A-