If you've been following the Florida Panthers this season, you've probably been a little disappointed. The lack of scoring has led to too many ties and losses, leaving them in their usual spot: 7th place in the Atlantic Division. The past week or so, however, has been an exciting one, and hopefully the beginning of some change for the team.
Starting with a home game against San Jose on Tuesday, November 11th, the Cats showed their first serious group effort of the season, beating the Sharks soundly 4-1. With goals by Jimmy Hayes, Aleksander Barkov, Derek MacKenzie, and Tomas Fleischmann, and 20 saves by Roberto Luongo, this was a team who basically did everything right.
Hitting the Road
Although they lost in overtime to the Islanders just a few days later, they still notched another point and Jimmy Hayes earned another goal, along with rookie Aaron Ekblad and veteran Brian Campbell.
Setting the tone for their upcoming trip to the west coast, Florida arrived in Anaheim ready to play. There was no messing around either; Nick Bjusgstad had two goals and two assists. Brad Boyes had two goals and an assist. Their other two goals were from Vincent Trochek and Jonathan Huberdeau, and the list of players with assists was almost as long as the roster. This was the team's first win in Anaheim in six years, and a much needed confidence booster to follow up their win against the Sharks.
From there it was on to Los Angeles. Although they fell to the Kings 5-2, this wasn't a team that rolled over. They kicked and clawed their way on to the scoreboard via Jimmy Hayes and Jussi Jokinen, showing that they might be going down, but it wasn't going to be without a fight. The loss was a disappointment, but not quite as painful as it's been in the past because this was a new kind of Panthers loss, the kind that showed heart and soul to the bitter end. Where has this team been all season?
With two wins, a loss, and a shootout loss under their belts, it was time for a rematch with San Jose. It might have taken a shootout for them to win, but it was still a win, and Nick Bjugstad was on fire. Scoring both regulation goals as well as the shootout winner, he was the big star of the night as well as most of the week.
Music City Showdown
Heading back towards home, the Cats ended their road trip in Nashville. Despite an iffy call on Shawn Thornton in the beginning of the game that left a bad taste in their mouths, Florida still managed to kill the penalty and kept the Predators at bay during the first period. Though out-shot 14-4 in the first period, Luongo was rock solid. The second period was much of the same, with Luongo keeping them in the game, even when being out-shot 28-11. Tired and nowhere near as fast as Nashville, Luongo managed to hold off 29 shots before allowing one in.
Even so, coming into the third period and having to kill a 5-on-3 power play took its toll and the Panthers couldn't capitalize on a power play of their own, but at least started getting shots on goal. Then everything changed.
Two goals twelve seconds apart brought the team back to life and showed that these Cats definitely have nine lives. Going from a two point deficit to overtime, the Panthers showed incredible resilience at 19:18 of the third with Rocco Grimaldi's first ever NHL goal. Just a few seconds later the hot hands of Nick Bjugstad tied it up with his seventh goal of the season and they were headed to overtime, with at least one more point in the bag.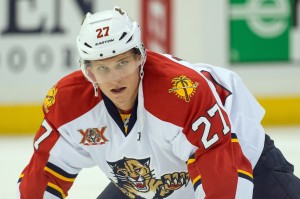 The loss in the fourth round of the shootout couldn't take away from the sheer determination of this team tonight and during their entire road trip. Luongo stopped 48 out of 50 shots on goal, while Pekka Rinne only faced 30. Tired but unwilling to lay down, this is a new breed of Cats that South Florida hasn't seen in a long time. Here's to hoping the magic is back.
I'm a born and bred South Floridian who's been lucky enough to wander the U.S. a bit, broadening both my life and writing horizons. I've been writing since I was old enough to form letters, and don't plan to stop any time soon. I have a Bachelor of Science in Communications, two kids, a husband and a house in the suburbs of Atlanta. I worked in the music business for a decade, as a legal assistant for about as long, and was lucky enough to intern for the Manchester Monarchs in the mid-2000s. I like to think I'm well-rounded, but you be the judge.