There are no moral victories when a team loses to the worst club in the National Hockey League. The Capitals fired 41 shots on goal during even strength play in a 2-1 loss to the Buffalo Sabres Saturday night at Verizon Center, but couldn't beat Buffalo goalie Jhonas Enroth more than once.
These are the games good teams win. They find a way to complete the job. The Capitals lost a board battle in the second period to an undersized Tyler Ennis, who pulled the puck out of a scrum and generated an offensive chance that led to Matt Moulson's third goal of the year and a 1-0 Sabres advantage.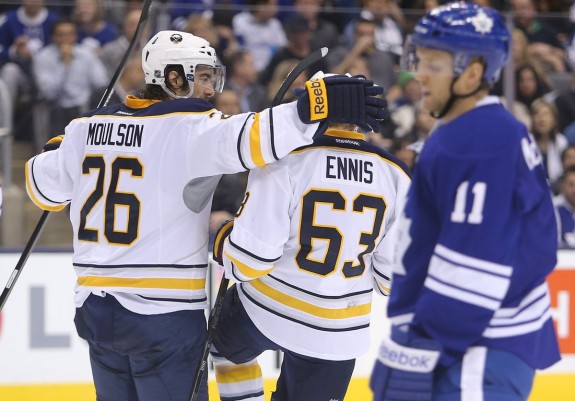 "I think we did a little bit of a better job getting pucks towards the net, that's when you start to get bounces…I got a fortunate bounce [on his goal], [but] we've got to keep getting pucks to the net. [Jonas Enroth] played, obviously, great tonight and I think we fed off that." –Buffalo forward Matt Moulson
Matt Niskanen netted his first goal as a Washington Capital, scoring on the power play 5:54 into the second period. The Capitals second ranked man advantage unit (25.4%) came through on their only opportunity against a Buffalo, a team that has been shorthanded 79 times this season, the fifth highest in the entire league. With all the pressure and zone time Washington produced, getting their power play on the ice for more than one man advantage opportunity is necessary. Although the Capitals have a dominant power play, it's been on the ice just 59 times this season, third lowest in the NHL.
"I think it'll give him some confidence. He's played very well. He's arguably as good a defenseman as we've had all year in terms of his consistent play. He's really a sneaky, tough player. Great stick and great sense around our net. Just a real good, poised player. I think that's good for him to score a goal." –Barry Trotz on Matt Niskanen
The decisive goal of the contest came as a result of another battle lost by Washington. Jason Chimera failed to establish body position in front of the puck, leading to a 2-1 Sabres lead. Chimera easily lost an attempt at gaining possession against Torrey Mitchell, the eventual goal scorer. Mitchell then snuck behind John Carlson and batted home a rebound following an initial save by Braden Holtby.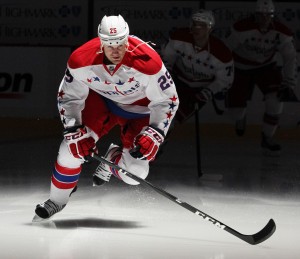 Washington continued to provide offensive pressure against the Sabres' defense, but the final result was negligible. The Capitals earned at least 11 shots on goal in each period, including a 20-10 shot on goal advantage in the second frame.
"It was a weird game, I think. We led most of the game, I thought. We had the most chances, too. It's too bad thing that we didn't score on our chances. Maybe we need to get more traffic in front of the net. I thought we played alright, but it's tough to say that when we lose."-Nicklas Backstrom
Braden Holtby (7-5-2) played another strong game in goal for the Capitals, totaling 24 saves on 26 shots. The 25-year-old net minder improved his goals against average to 12th in the league at 2.25 and his save percentage improved to .915, now 23rd in the NHL. Over his last six games, Holtby has a goals against average of 1.67 and save percentage of .942. He hasn't allowed more than two goals over his past six games after allowing four goals in consecutive games against Calgary and Tampa Bay in early November.
The fourth line trio of Evgeny Kuznetsov, Michael Latta and Eric Fehr was significantly ineffective. Fehr tallied the only shot on goal for Washington's fourth line. Although they weren't dominant by any means, no player on the fourth line finished with a corsi-for percentage below 50%.
Mike Green Injured
Washington lost Mike Green to injury in the third period, leaving the game due to an upper body injury. The Capitals don't play till Wednesday and the team is calling Green's ailment a day-to-day situation.
https://twitter.com/alex_prewitt/status/536342938654375936
"I don't think it's too serious," Trotz said, "but I have not talked to my trainers yet." The Capitals have maintained a particularly healthy blue line this season beyond injuries to John Erskine and Jack Hillen. Steve Oleksy is a primary call up option for Washington, having NHL experience.
Related Recaps
Matthew Speck covers the Washington Capitals organization for The Hockey Writers. He provides coverage of both Washington at the NHL level and prospect related content. Matthew also covers local sports for the Lebanon Daily News in Central Pennsylvania. You can email him at mspeck21@yahoo.com with any questions or comments.