The Montreal Canadiens just traded away Rene Bourque… and so much else.
What the Montreal Canadiens Actually Gave up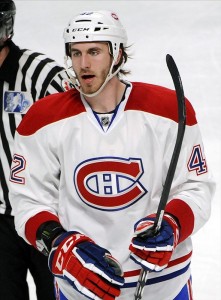 There's an economics term out there called "opportunity cost." Bear with me. I'll try my best to keep this from turning into a math lesson. It's essentially defined as the alternative benefit you give up in order to attain something else.
So, whereas many might believe that the Montreal Canadiens didn't give up all that much to get depth defenseman Bryan Allen from the Anaheim Ducks this past week, seeing as Bourque had been in the minors, nothing could be further from the truth.
No, I'm not saying Bourque was suddenly going to light the American Hockey League on fire, with the only accelerant at his disposal being his unique brand of apathy.
Nor am I saying, despite what Canadiens general manager Marc Bergevin might have, that had he played with more consistency in the four full games he got in with the Hamilton Bulldogs, he could have made it back to Montreal and then lit the NHL on fire. Obviously that didn't happen (nor was it ever going to)… despite him notably notching two goals and two assists in those games.
"I'm not shutting the door on Rene Bourque. If he plays with more consistency in Hamilton, he could come back up. I'm open to that." -MB

— Canadiens Montréal (@CanadiensMTL) November 11, 2014
I'm saying that, by acquiring yet another defenseman after they did Sergei Gonchar not two weeks ago, they've essentially given up on Jarred Tinordi and probably Nathan Beaulieu for yet another year. And in many ways unjustifiably so.
A Crowded Blue Line
By acquiring Allen, the Habs aren't exactly going to have an easy time fitting everyone into the lineup, and that's not in reference to his massive 6'5" frame. They now have eight defenseman up in Montreal.
Already gone is the 6'6" Tinordi and with him the bold statement the team made exiting training camp when they kept both him and Beaulieu in the NHL. The latter could conceivably soon follow. Evidently, that statement was made in a word processor that allows for bolding and unbolding text and then deleting it at will.
Sure, the Habs are at their 23-man roster limit and Beaulieu doesn't necessarily need to go anywhere. But, if the only options are stay in the rafters as a seventh or eighth defenseman or get some actual playing time with the Bulldogs, it's an easy choice to say the least.
Make no mistake, these moves are not about winning now. One can argue that a 22-year-old Tinordi is actually more valuable than a 34-year-old Allen. I mean, what has Allen done in his career, really? I mean, besides playing for some very good Anaheim Ducks and Vancouver Canucks teams? That's right, not much, besides playing for some very bad Carolina Hurricanes and Florida Panthers teams as well.
He's a more mobile Hall Gill, one who makes $3.5 million. And no one can convincingly argue that playing him ahead of Tinordi, who's taller, younger, even more mobile, and worth more to this organization in the long run, makes sense… all else being equal.
Sure, Allen has got more experience. But Tinordi would be getting that right now were it not for this latest string of moves. So, the organization can't really value experience all that much, one would be forced to conclude.
By the same token, no one can argue that Tinordi and Beaulieu have played lights-out hockey this season so far. They've been just okay. There have admittedly been mistakes made, sure. But if Bergevin or head coach Michel Therrien expected something different other than growing pains this year playing those two, they need some kind of sanity check.
There were always going to be mistakes. The question was whether or not the team would persevere in spite of those mistakes. And, yes, the team was winning when Gonchar was acquired and Tinordi got sent down the very next day. In fact, the night before Tinordi got sent down, the Habs shut out the Jets 3-0 for the team's third straight victory and had a very decent 11-4-1 record overall.
The Real Reason Behind It All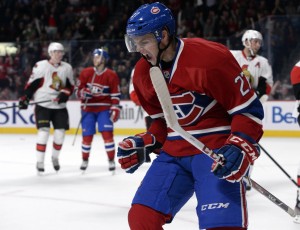 As weird as it all sounds, even with Tinordi in the minors with the acquisition Gonchar and Beaulieu likely to follow with the acquisition of Allen, Bergevin has an eye firmly on the future, next summer to be exact.
By trading away Travis Moen for Gonchar, who will be an unrestricted free agent next year, the Habs will be saving $1.85 million against the salary cap in 2015-16. By trading away Bourque for Allen, who will also be an unrestricted free agent, they will be saving another $2.4 million, and that's if the Habs would have kept him in the minors. If Bourque stays up with the Ducks, the Habs will theoretically be saving his full $3.33-million cap hit.
With both Brendan Gallagher and Alex Galchenyuk set to become restricted free agents this summer, that's space that will come in handy when signing them to their bridge deals. Considering defenseman P.K. Subban made an average of $2.875 million during the two years of his bridge contract, Bergevin has almost if not completely found the space to sign both young forwards in a span of a few weeks.
That's undeniably impressive. But here's the rub. Almost by a laughable coincidence, Tinordi and Beaulieu (and Michael Bournival, etc.) are set to become RFAs as well. No one should be forgetting about them… that's if, if they haven't already.
At the end of the day, it's not a matter of weighing Rene Bourque vs. Bryan Allen. It's not even a matter of weighing Allen vs. a year in the NHL for Beaulieu and/or Tinordi. It's determining whether a year in the NHL for Beaulieu and/or Tinordi at this stage of their development is worth more or less than easier negotiations between the Habs and Gallagher & Galchenyuk next summer.
Bergevin has made his decision. Considering Gallagher and Galchenyuk are already established NHLers and Tinordi and Beaulieu aren't, it's not necessarily a bad one. You know what you're going to get from the former two and the team likes what they've seen so far, so, yes, signing them is a definite priority. It just would be nice to know what you're going to get from the latter two as well.
The Habs don't, not really, because they've yet to give them a decent enough opportunity to shine. But that's just the cost of doing business in the NHL.