Montreal Canadiens forward Brendan Gallagher is general manager Marc Bergevin's next target. If the reports are accurate, the importance of Bergevin hitting the bull's eye when finalizing the details of Gallagher's next contract cannot be understated.
Canadiens' Cap Concerns
It isn't purely from a cap-space standpoint, although that obviously must be a consideration. The Habs may have a relatively healthy $10 million in cap space and Gallagher's contract only expires at the end of next season, but, for starters, Max Domi still needs to theoretically be re-signed this offseason.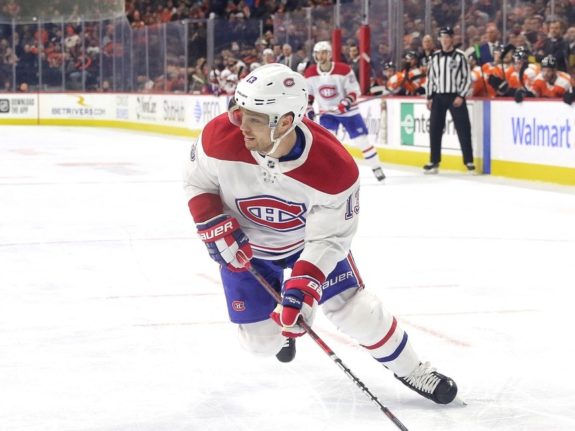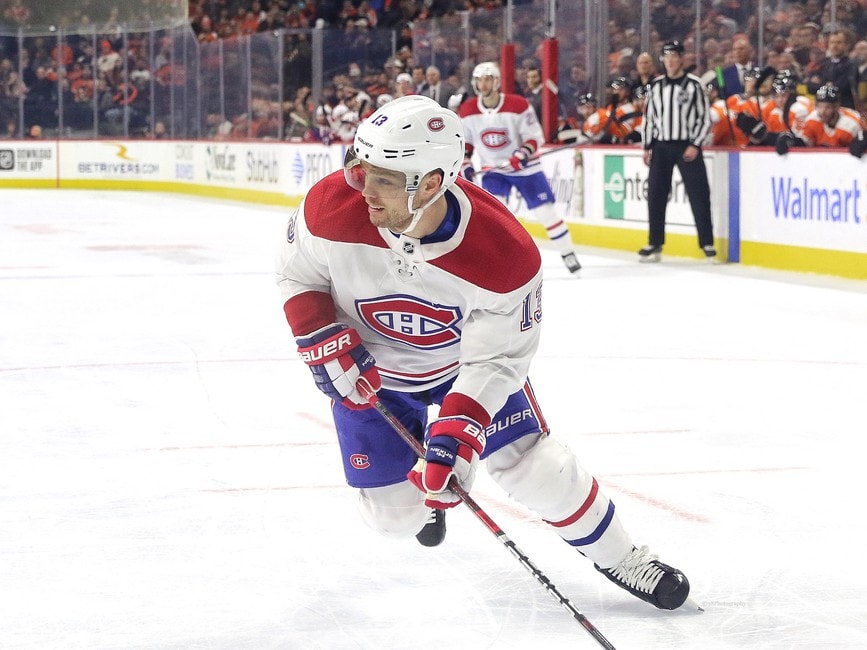 All alone, Domi should eat up a big chunk of that space, even for next offseason with the cap potentially set to stay flat for the next few seasons. Furthermore, defenseman Jeff Petry's new extension comes into effect next offseason too, as Gallagher is set to hit unrestricted free agency alongside the likes of Tomas Tatar and Phillip Danault.
Bergevin is obviously justified in not wanting to let it get to that point and re-upping Gallagher as soon as possible. Gallagher's a priority the same way getting dressed in the morning should be. Sure, you technically don't have to, but you'd feel naked if you didn't. Who are the Canadiens really, without Gallagher's tenacity and scoring prowess?
Gallagher Leads Habs in Scoring
It's hard to believe Bergevin is in any hurry to find out. After all, Gallagher's scored 86 goals in his last three seasons, including over 30 in the previous two heading into this past one, when he notched 22 in 59 games (31 over 82 games).
In effect, Gallagher's led the Canadiens in markers in each of those three seasons, meaning the Habs would be letting their top goal-scoring threat go. Perhaps more significantly, with Joel Armia being directly below him on the Habs' depth chart, they'd be parting ways with their only consistent scorer at right wing, which is arguably their weakest position.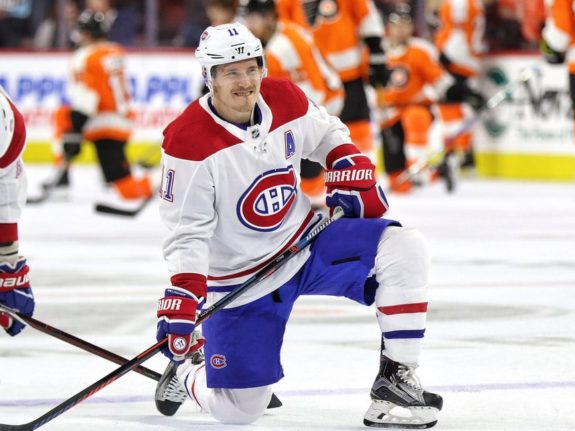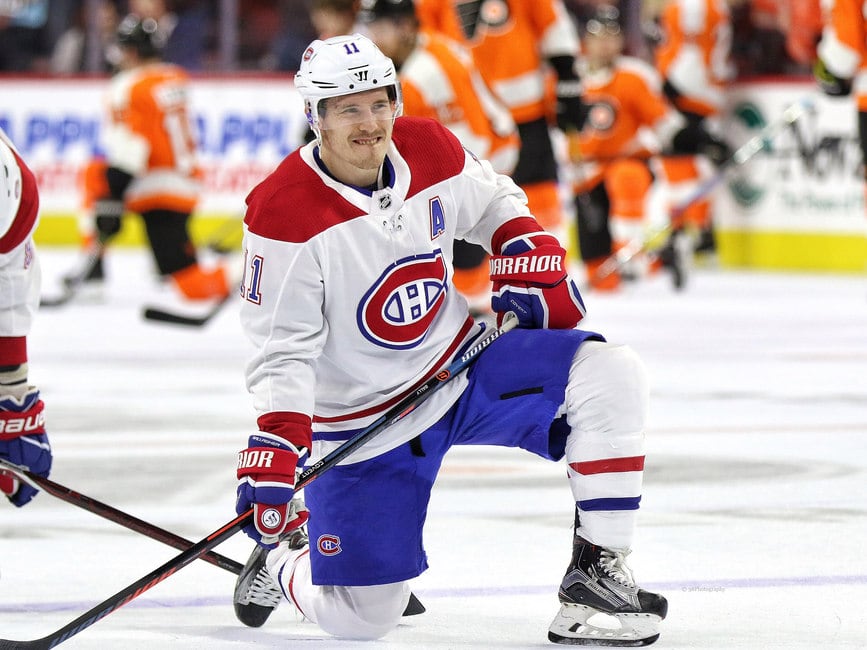 So, Gallagher can justifiably command a cap hit up from his current $3.75 all the way to $6 million, probably more. No one would bat an eye at that amount, with Kevin Hayes, another 2010 draftee at right-wing, having signed with the Philadelphia Flyers for seven years and $50 million last summer ($7,142,857).
While Hayes also plays center, which is typically more valuable, the Canadiens are all of a sudden deep down the middle. They aren't at right-wing and Bergevin would be asking Gallagher to give up the chance to hit the open market. So any hope for a hometown discount should be thrown out the window.
In effect, any hypothetical hometown discount would simply come in the form of Gallagher deciding to stay in the first place. Every other team in the league would love to have him in their lineup (in spite of hating to play against him). Nevertheless, there's a very real risk of someone overpaying, not so much in terms of the dollar amount he'll justifiably command, but the term he'll likely want.
Gallagher's Current Contract
The beauty of Gallagher's current six-year contract, undeniably one of Bergevin's best pieces of work, is how it ate up the peak years of Gallagher's career. Bergevin signed him to it after his second season in the league, during which he broke out for 41 points and emerged as a potential top-six option instead of just a secondary scoring threat with the tendency to get under the skin of opponents.
Few saw his potential as a top-liner and one of the best wingers in the league who consistently drives the play as a career 56% possession player. The tendency to get under the skin of opponents is almost the gravy, but not quite. It's his on-ice persona, what defines him as a player and what may end up costing the team that decides to sign him long term into his 30s.
A big part of Gallagher's value is his hard-nosed style that draws penalties and the ire of opponents. It tends to take its toll. If you look at some of the top pests in NHL history, many of them were unable to keep up the pace offensively later on their careers. Well, that's technically true of any player, but Andrew Shaw is unfortunately a good example of injuries having piled up to disastrous effect, as he has failed to play 70 games in each of the last four seasons, three of which with the Habs.
Gallagher vs. Shaw
Bergevin had acquired Shaw back in 2016. He had been enamored with Shaw and his playing style for years, having been instrumental in drafting the forward while with the Blackhawks in 2011. In spite of that history between the two, Bergevin traded Shaw back to the Blackhawks last summer for a haul that included a second-round pick in the upcoming NHL Entry Draft. It was an underwhelming return considering Shaw had just scored a career-high 47 points with the Habs. Yet, after Shaw played just 26 games this past season after having tragically sustained another concussion, from a purely organizational standpoint, it was probably for the best.
Of course, Gallagher is not Shaw. There is no proof Gallagher's reputation for willingly going to the dirty areas on the ice will follow him out into the twilight of his career. There should still be caution exercised on Bergevin's part, even as he inevitably re-signs Gallagher before he becomes an unrestricted free agent next summer. It's Bergevin's only play, due to Gallagher's undeniable value to the team.
Gallagher will get paid… most probably by the Canadiens. And he'll have earned it too. With possible exception to Jesperi Kotkaniemi, who'll become restricted at the same time Gallagher is scheduled to hit the market, none of the Habs' other pending free agents, either this summer or next, are projected to have even close to the same positive impact on the team. Kotkaniemi maybe gets the nod, because of his just 20 years of age right now. Into the long term, Kotkaniemi realistically has more to give.
Bergevin must approach negotiations with that in mind. It's in part about rewarding Gallagher for his hard work up to this point, but it's mostly about paying him for his contributions still to come over the length of his next deal. As long as Bergevin is able to keep that length within reason, he and the Habs should easily come out ahead. It's hardly the dollar amount that's the issue. As the long as the cap works, whatever it realistically ends up being, Gallagher will be worth it. As long as you don't break it on the way, you can take that to the bank.
---
---