When the Montreal Canadiens passed on Filip Zadina and Brady Tkachuk the consensus was that they went off the board. Now they have the makings of an elite two-way center. Depending on who you asked, Kesperi Kotkaniemi ranked anywhere from 5th-15th heading into the 2018 NHL Draft.
Despite that Tkachuk had what should be a Calder-winning season, the Canadiens got exactly what they wanted – and needed – in taking Kotkaniemi with the third-overall pick.
Though he wasn't named a finalist for the Calder Trophy, if you look at his 2018-19 numbers it's safe to assume that this 'snub' was simply due to an extensive group of quality rookies vying for three nomination spots.
Here are Kotkaniemi's numbers and where he ranked among rookies at 5-v-5 with a minimum of 500 minutes played.
| | | | | | | | |
| --- | --- | --- | --- | --- | --- | --- | --- |
| STAT | CF% | CF/60 | SCF% | CA/60 | relCA/60 | SCA/60 | P60 |
| NUMBER | 57.17 | 67.51 | 55.19 | 50.58 | -7.13 | 22.46 | 1.91 |
| RANK | 1st | 2nd | 3rd | 4th | 3rd | 3rd | 7th |
Offensively Kotkaniemi Was Great
Even though he finished seventh in P/60 there's a strong case to be made for Kotkaniemi to be classified as a very good second-line center after his rookie season. The 1.91 scoring rate puts him within 0.08 of experienced players like Mark Scheifele, Sebastian Aho, Dylan Larkin and William Karlsson.
The missing point totals can be attributed to poor distribution of minutes by the coaching staff. Kotkaniemi has a 5-v-5 TOI/game of 11.31 which places him in the third or fourth line category. This unacceptable decision likely held the Habs rookie out of serious Calder consideration. An argument could also be made that had the Canadiens used him more frequently they may have earned a playoff spot given how close they came.
Outside of the point totals, Kotkaniemi proved himself elite in controlling play and generating chances. Only Andrei Svechnikov of the Carolina Hurricanes bested the Habs rookie in CF60. Not one rookie bested him in CF%. He also held the third highest scoring chances for percentage.
Not to be overlooked, everyone that Kotkaniemi played with for at least 150 minutes improved when they were alongside him.
Defensively a Future Selke Nominee?
So much stock is placed in offense when it comes to trophies and awards. If there was a Selke Trophy for rookies, Kotkaniemi would get it by a landslide.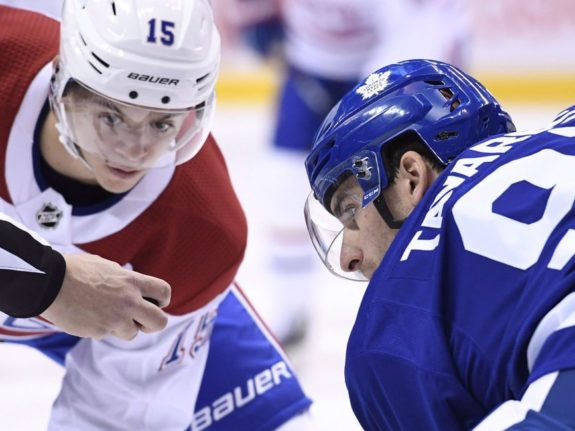 Even though Kotkaniemi was deployed with a heavy dose of offensive starts, he was forced to skate with Joel Armia and Artturi Lehkonen for nearly 50% of his 5-v-5 minutes. In short, Kotkaniemi wasn't the player being protected with the zone starts.
Despite this, he was a solid player on the defensive side of things. You have to assume that when a player controls play like he did, regardless of which starting zone, he will get the puck moving in the right direction.
The third and fourth place finishes in scoring chances against per 60 and corsi against per 60 are excellent totals. It's nice to enjoy strong numbers in overall chances against but it's great when they go hand in hand with a low number of dangerous chances.
Kotkaniemi is the driving force behind the line success when he's on the ice. This is true both offensively and defensively.
With him on the ice, the Canadiens enjoyed 7.13 less shot attempts per 60 against. That is the best among rookie forwards and the 20th best number among 574 skaters who played at least 500 minutes at 5-v-5. The next closest Canadiens player is Tomas Tatar with 4.67 less shot attempts per 60 against.
What Does It All Mean?
Not only was he the best two-way rookie forward in the NHL during 2018-19, Kotkaniemi was by far the best defensive forward the Montreal Canadiens iced.
Offensively he drove play throughout the season and carried his linemates nearly all the time. The scoring at even strength while he was on the ice, whether documented statistically or not, was largely due to him.
The eye test tells you that he is a solid player with strong rookie point totals. What it doesn't tell you is that the Canadiens hit a home run when they draft Kotkaniemi, and he's already a star.
If the Canadiens choose to give him the ice time that a first/second line center commands at 5-v-5, they might be pleasantly surprised with the results.
*all stats from naturalstattrick.com
Tim Chiasson is a 36-year-old father, military veteran and youth sports coach. He writes about the Ottawa Senators and Women's Hockey as a freelance contributor at THW, and has previously written at Hockeybuzz and FanSided.