Earlier this morning, new head coach Michel Therrien announced his final roster in preparation for the season home opener Saturday at the Bell Centre versus their division rivals, the Toronto Maple Leafs. The cuts happened the morning after the team played an intra-squad game in front of over 17,000 fans at home, crowd that began flocking towards the arena as early as 6 AM in order to get the best seats in the house.
This free split-team game also offered some surprises to the hectic fans as the Canadiens players were waiting at two entrances to greet them prior to yesterday's exhibition game. As for the "game", it ended in a 3-3 tie and the players went 20 rounds in the shootout before grinder Brandon Prust finally beat Peter Budaj. Rookie Alex Galchenyuk played a good game and showed great hands once again when he deked Peter Budaj in his first shootout attempt.
Galchenyuk talking about his first experience at the Bell Centre.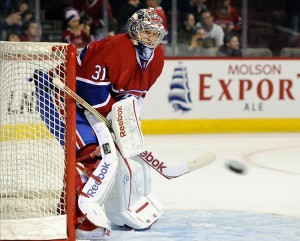 With restricted free agent PK Subban still without a contract and the negotiations between general manager Marc Begevin and his agent Don Meehan at a standstill, the Canadiens have decided to keep 7 defensemen and 14 forwards with the team.
The following players have been cut from the mini-camp: D Mike Commodore, D Frederic St-Denis, D Jarred Tinordi, F Michael Bournival, F Louis Leblanc,, F Gabriel Dumont and F Patrick Holland.
Please note that the club had to put St-Denis on waivers in order to send them down to the team's AHL affiliate, the Hamilton Bulldogs. Scott Gomez, who had been placed on accelerated waivers by the Canadiens on Wednesday, has not been claimed and is now officially a free agent. Gomez's buy-out will carry a $6,457,143 cap hit this season.
Projected line-up for tomorrow's game:
Forward lines:
67 Max Pacioretty – 51 David Desharnais – 72 Erik Cole
27 Alex Galchenyuk – 14 Thomas Plekanec – 21 Brian Gionta
17 Rene Bourque – 81 Lars Eller – 32 Travis Moen
8 Brandon Prust – 53 Ryan White – 20 Colby Armstrong
Extra: 45 Mike Blunden, 73 Brendan Gallagher
Defensive pairings:
79 Andrei Markov – 74 Alexei Emelin
22 Tomas Kaberle – 26 Josh Gorges
55 Francis Bouillon – 61 Raphael Diaz
Extra: 68 Yannick Weber
Goaltenders:
31 Carey Price
30 Peter Budaj
Injured player: Petteri Nokelainen (back injury)
Do you agree with the decision to keep Alex Galchenyuk with the team (for the time being) or would you have sent him back to the Sarnia Sting of the OHL?