Ex-Montreal Canadien Mark Streit has officially announced his retirement, bringing an end to the ultimate underdog career.
The way his NHL career ended, his contract being terminated with the Habs, will probably end up being one of the biggest lowlights (along with the complete 2010-11 season he missed due to injury). Nevertheless, there are plenty of highlights to make up for it.
Here are the top five:
5) Drafted in 2004… Finally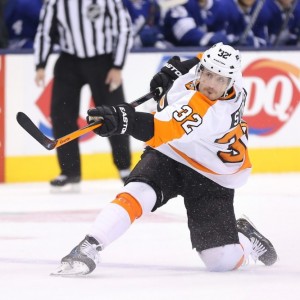 Streit was only drafted in 2004, as a ninth and final-round pick of the Canadiens. While that's nothing to write home about, the fact that it was as a 26-year-old is. Streit, listed as 5'11" and 186 pounds and undersized by North American standards, was never realistically expected to make it.
In fact, he had failed to catch on in the States prior to being drafted. In 1999 he toiled in the minors in three separate leagues (the now-defunct International Hockey League, the then-East Coast Hockey League and the American Hockey League), before returning to Switzerland.
His point totals increased every season from that point on, culminating in a 36-point effort in 2003-04, which presumably caught the attention of the Canadiens. After having been drafted, he tacked on an additional 43-point season (44 games) during the lockout-cancelled 2004-05 season for good measure.
4) Two Goals, One Assist
Streit was always known primarily as a playmaker in his career. It should come as little surprise then that, not only did he top out at two goals in a game, but that he only hit the high-water mark twice. He added in assists both times to tie his career-high three points in a game (which he achieved on numerous occasions).
Both two-goal games came as a New York Islander. The first time was on March 15, 2009 in a win over the Chicago Blackhawks. The second time was a tad more memorable.
In Game 4 of the Isles' first-round series against the Pittsburgh Penguins in 2013, Streit scored to give the Islanders a short-lived lead in the second period. He also notched the game-tying goal early in the third to spark the Islanders, who netted two more to bring and end to the scoring and knot the series at two games apiece.
https://www.youtube.com/watch?v=3Lj25AcyIls
The Penguins would win the next two games to take the series. Still the game itself most definitely ranks as one of Streit's top career highlights, with playoff success remaining elusive for the defenseman… up until last season, ironically with the Pens.
3) Stanley Cup
Streit's journey to the Stanley Cup was a strange one. He started the season with the Philadelphia Flyers only to eventually join the arch-rival Penguins.
After effectively being usurped as the Flyers' top puck-moving defenseman by Shayne Gostisbehere the previous season, Streit, whose age and numerous injuries factored more into his play, became expendable. He was traded for Valtteri Filppula to the Tampa Bay Lightning, who flipped him the same day to the Penguins.
There's no denying that Streit's playoffs last season were far from ideal, despite the eventual Stanley Cup championship. He got dressed for just three games, and none in the Final itself, despite the Penguins' defensive corps being ravaged by injury.
Still, for a player who only made it out of the first round once in his career up to that point, he probably didn't care simply going along for the ride. Getting his name on the Cup, despite not appearing in the Final, was probably as good of a realistic ending to his career for which he could have hoped.
Enter the Canadiens, desperate for a puck-moving defenseman as it became more and more apparent that Andrei Markov wouldn't be returning. They signed him on the cheap to a one-year deal that all at once seemed to confirm they knew Streit had nothing left in the tank, but didn't care. Curious that.
While it was abundantly clear then and especially now that the struggling Habs had better options available to them (namely throwing whatever money they had Markov's way), Streit can't be faulted for trying to extend his career as much as possible. It's just unfortunate he couldn't go out on top.
Ultimately, it's safe to say he has few regrets. He still got to win it all, after having played in the most competitive league on the planet for over a decade.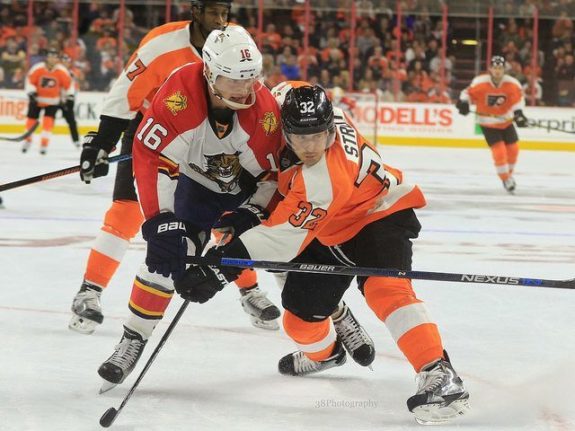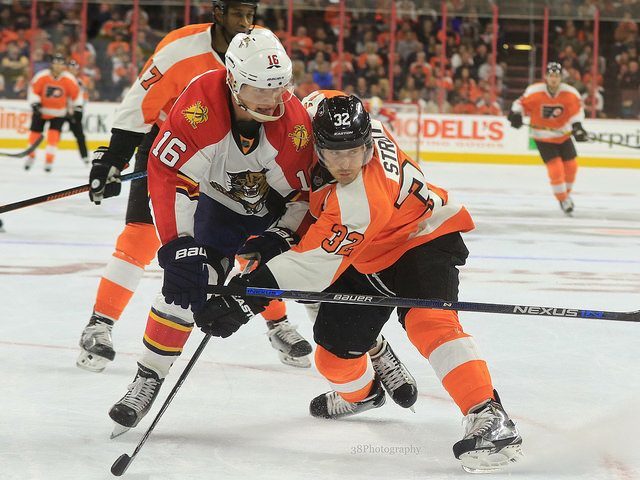 2) Making the Canadiens Out of Training Camp
In retrospect, it's hard to believe, but Streit was never a sure thing to make the Canadiens back in 2005-06. The day the final roster was announced, Streit went on record as being thrilled at simply surviving the final cuts. He would make good on the opportunity to simply prove he was worth keeping around.
It took some time, as he platooned in and out of the line-up, but he ultimately found his niche as a puck-moving defenseman, who would occasionally get looks up front as a depth forward. Playing just 48 games in his first season, his value to the Habs grew exponentially to the point that he got in 81 two seasons later, contributing a career-high 62 points (13 goals).
On the strength of that campaign, he left for more lucrative opportunities elsewhere. The thought process in the local media at the time had been that he was both too unproven AND old at 30 to justify a rich deal. It was clearly the wrong move to let him leave.
1) Joining the Islanders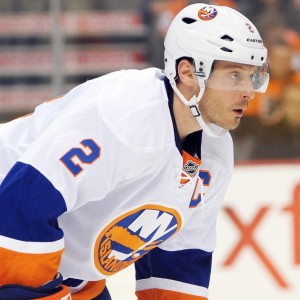 It's odd to think of the Islanders as greener pastures, but Streit got the chance to prove himself as a legitimate NHLer in New York. He might not have had he stayed in Montreal. He also blossomed there as a leader. It's easy to forget, but Streit served as the Islanders' captain, immediately proceeding John Tavares in the role.
It was with the Islanders that he not only got the job stability he probably craved, but some well-earned financial security in the form of a five-year, $20.5 million deal. He would obviously go on to play for the Flyers, but, even though that contract he signed was for even more money ($5.25 million per), popular opinion dictated at that point that Streit, then 35, would not be worth it.
True to form, Streit continued to prove the doubters wrong, putting up 44 and 52-point seasons, before his age started to truly show over the final two seasons of the deal.
Financially, he may have peaked as Flyer. Production-wise he had his best season as a Hab. Professionally, he climbed the mountain as a Penguin. It's nevertheless probably as an Islander that he had his best years and will best be remembered. He deserves the fond memories… and being fondly remembered.