It was all falling into place for Evgeny Svechnikov at this year's training camp.
Andreas Athanasiou was still without a contract, and the 20-year-old Svechnikov was a prime candidate to replace him in the competition for a roster spot with the Detroit Red Wings. He was going up against Martin Frk, Tyler Bertuzzi, and other top forward prospects yearning for an opportunity.
The young Russian forward may have had an inside track, as he logged two big league games with the club at the tail end of last season. He made a memorable first impression, scoring a shootout winner in his first NHL contest.
Unlike Anthony Mantha, who was vying for a top-six role himself in 2014, the former Cape Breton Screaming Eagle had a full AHL season under his belt in which he performed admirably. In his first professional campaign for the Grand Rapids Griffins, he scored 20 goals and 51 points, placing third on the team and fourth overall among AHL rookies in scoring. Totaling 37 primary points, he finished in the top-40 league-wide.
Part of a Calder Cup Championship team, he gained valuable playoff experience and served as a key cog in the Griffins attack. In 19 games, he scored five goals and 12 points, good for eighth on the team. His 50 shots placed him fifth on the squad in shot generation.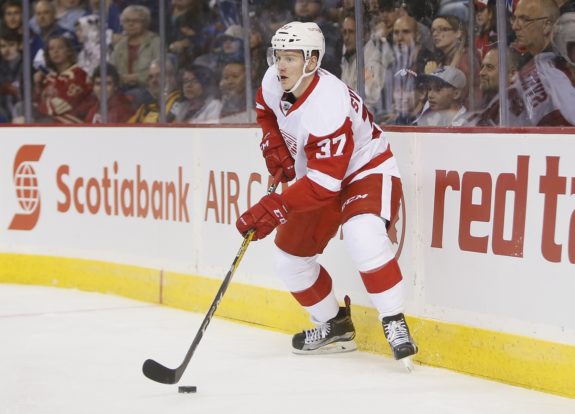 Being a player of his caliber, the 6'3″, 205-pound winger was not going to suit up with the Wings unless he received a top-six role and meaningful minutes. With Mantha and Dylan Larkin projected to earn that ice time up front on the second line, there was an open spot on the right wing ripe for the taking.
Unfortunately, like Mantha three years ago, an injury derailed Svechnikov's hopes of earning that spot. With the setback limiting him to two preseason games, the Motor Barnaul product finds himself back in the minors having to prove himself once again.
This is not necessarily a negative outcome.
Another Chance to Impress
Many things went right for the Bars Kazan product in 2016-17. Between the 20-goal performance, Calder Cup Championship, and NHL debut, the adversity he had to face was slim. With this injury, he was prevented from making an impact on a roster that could have used his offensive ability. This was the first real hardship he experienced in his young career as a pro.
The best thing the top Detroit prospect can do now is to come back stronger than ever with the Griffins. He is charged with the task of debunking any claims that his rookie campaign was a fluke. At the same time, he must refine some negatives in his game that could prevent him from being consistent at the NHL level.
At five-on-five in 2016-17, Svechnikov was not particularly strong on the defensive side of the puck. His on-ice goals-for percentage relative to teammates was minus-4.77%, even though he scored 14 goals at even strength. This season through five games, he's potted one marker and that rate has fallen to minus-22.73%. It is a small sample size, but it's something to work on.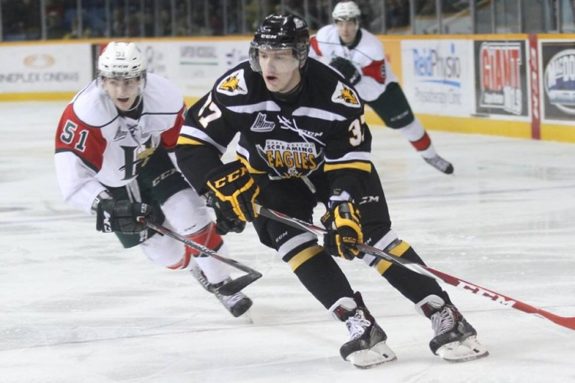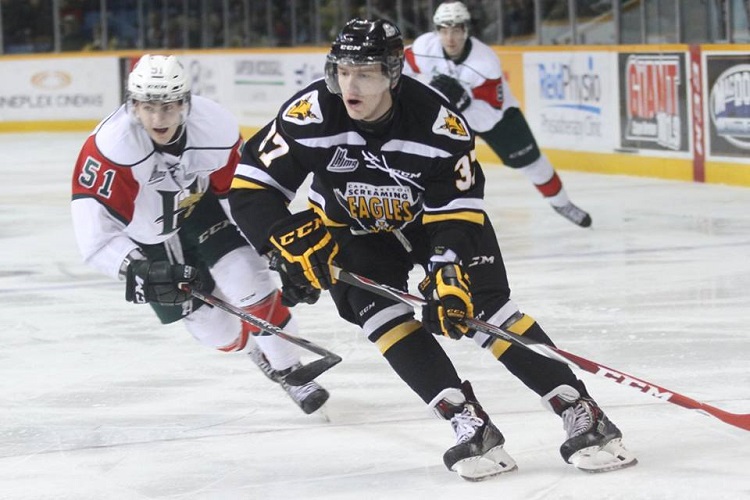 Consistency will be key across the board this season for Svechnikov. Coming off of an extended campaign where he played the most hockey of his career (93 games), he must now get up to game speed after missing most of the preseason and the beginning of the regular season.
It's quite the challenge for a player his age in a sophomore season, but it's one he must play up to if he wants to earn another call-up in the near future.
Leadership Role in Grand Rapids
With the current state of the NHL club, it's more favorable for Svechnikov to develop in a situation where he can be a leader in a relatively successful environment. He won't turn the Wings' season around by himself and the Griffins will need him to step up with Frk, Mitch Callahan, and Tomas Nosek all moving on this past offseason.
Those three finished fourth, sixth, and eighth, respectively, on the team in scoring last season. While Svechnikov was a top scorer himself as a first-year pro, the veterans are no longer around to help him get acclimated to the professional game.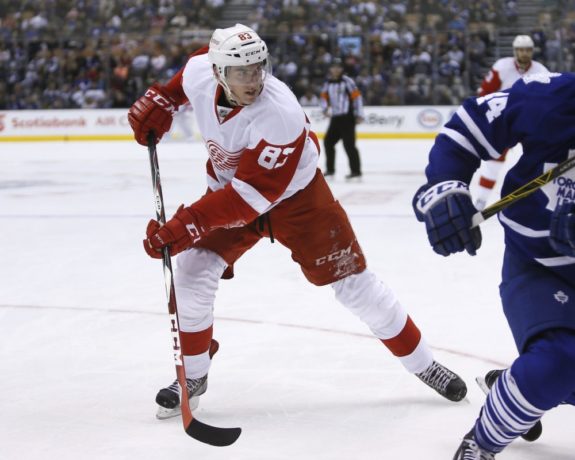 This is a tremendous opportunity for the former 19th overall pick in 2015 to bud into a leader, a quality that the organization craves and one that will only help him mature his game. The acquisition of forward Matt Puempel from the Ryan Sproul trade could help in this regard, as he's logged 178 minor league games and looks to be a key contributor going forward.
No Rush for Russian
Even if Svechnikov eventually finds his game and returns to form, the signing of Athanasiou and performance of Frk both put forth roadblocks to a call-up. The 23-year-old Athanasiou took over the second line spot and experienced early success playing with Mantha and Larkin. Frk has scored three goals and has maintained a role at the point on the second power play unit.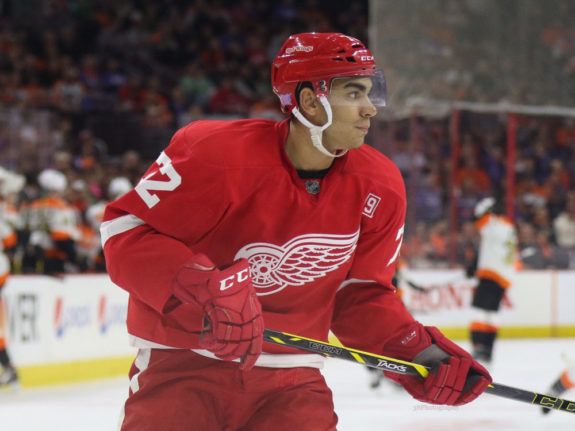 What's more, head coach Jeff Blashill made it clear that the forward line combinations he rolled out for the matchup against the Florida Panthers on Saturday will be the main trios going forward. Justin Abdelkader will hold a right wing spot on the third line and Frk will hold the fort as the fourth line winger.
With no available space on the roster for the former QMJHL standout, it is apparent that Detroit wants his development to continue in an environment best suited for the current stage he is at in his young career.
At just 21-years-old this campaign, there's no urgency for Svechnikov to step into the NHL lineup. Experiences like his preseason setback are sometimes needed for a player at his age to return with improved motivation and maturation. For a sniper that has as much raw potential as he does, the Wings will be better off letting him continue his growth in the AHL.
Advanced statistics courtesy of prospect-stats.com.
Griffin is a Junior at Northwood University in Midland, Michigan pursuing a Sports and Entertainment degree. His passion of writing began when Detroit Red Wings captain Henrik Zetterberg was out for the season in 2014 and he wanted to give his thoughts. Griffin comes from LastWordOnSports.com where he had the role of "associate editor" and wrote nearly 300 articles over three years for their hockey department.