written by Marc Lapierre (@MarcLapi)

The Montreal Canadiens' prospect pool has plenty of strengths, most notably a deep and talented defense core. However, one aspect that stands out at the forward position is the lack of depth and size at left wing. There may not be much in the way of elite talent in the farm system at that position, but two players currently stand out from the pack: Tim Bozon and Charles Hudon.
Let's take a closer look at my top-five ranked left wingers in the Habs' prospect system.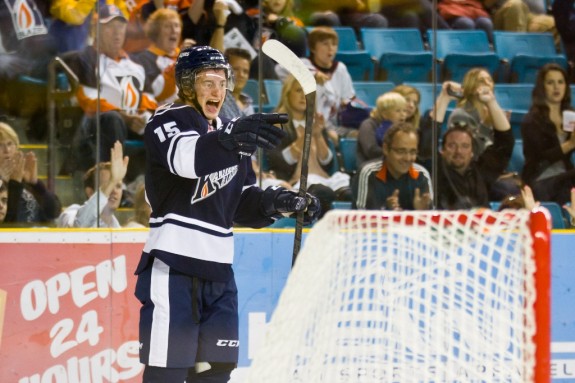 1. Tim Bozon (Kamloops Blazers – WHL)
Bozon was selected 64th overall in the 2012 NHL Entry Draft and is off to a furious start this season with the powerful Blazers, putting up 14 goals along with 18 assists in 22 games.
Game-Breaker
Bozon has abilities which cannot be taught and is already a game-breaker at the junior level. The Lugano, Switzerland native is a very smart player who doesn't have a clear weakness. He's an above-average skater with an NHL shot. Bozon also plays with a bit of an edge and works well in Western Hockey League traffic because of the gritty element he brings to the table. In fact, he insisted on playing in the WHL over any other league because of the physicality found out west.
Projection
Bozon has obvious NHL top-six potential but it could take up to four-five years before he makes an impact in the show. He needs to bulk up, but he has the talent and attitude to be a solid second-line winger in Montreal.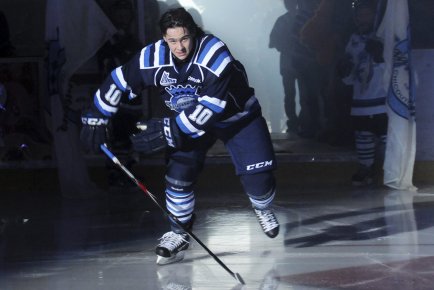 2. Charles Hudon (Chicoutimi Sagueneens – QMJHL)
Hudon was selected with the 122nd overall pick in the 2012 draft. The gifted winger is not a big guy by any means but he has tremendous offensive skills, lots of character and a great work ethic.
Elite Vision
Hudon has a great hockey sense and elite vision. He reads the play well and is most often in the right place at the right time on the ice. The smallish forward definitely has the potential to be the best Quebecois from the 2012 draft class.
A Little Slow?
Hudon is a decent skater but is still missing that extra dynamic gear to really move away from the pressure or to blow by the opposing defense. The undersize forward also needs to bulk up and get stronger in the next few years.
Projection
Hudon's size will probably hold him back from moving up the hockey echelons as quickly as he would like but he has second-line tools. It will clearly be an uphill battle for the Alma, Quebec native but if he can improve his speed and strength, Hudon certainly has the hockey sense to make it in the big league one day.
In the mean time, he has a great shot to be part of Team Canada at the upcoming World Junior Championship in December.
3. Mark MacMillan (University of North Dakota – NCAA)
MacMillan was selected in the fourth round of the 2010 NHL Entry Draft. Before joining the University of North Dakota in 2011-12, the Penticton, BC native was a dominant player in the BCHL which is probably the highest ranked Tier 2 Jr. A league in Canada along with the AJHL.
Long Term Project
MacMillan is clearly a long term project for the Habs. He's highly skilled but still very much on the thin side. Currently listed at 6'0" and 160 lbs, many hockey observers believed that MacMillan would have been selected much higher in the 2010 draft had he been a little bigger.
Projection
MacMillan is very talented but he'll need to add weight which should not be a problem. When he does add the needed strength and quickness in the NCAA, MacMillan will be able to develop other facets of his game that are not visible at the moment. There is a good chance he plays four years in the college ranks before joining the Hamilton Bulldogs.
4. Steve Quailer (Hamilton Bulldogs – AHL)
Quailer was selected 86th overall in the 2008 NHL Entry Draft. The Arvada, Colorado native hails from the Men's U.S. college hockey system where he was by far Northeastern University's most valuable player in 2011-12.
Quailer played all three forward positions at Northeastern, but was at his best at left wing, which is where he is currently playing with the Bulldogs.
Injury Bug
Injuries have been a big concern for the lanky winger. During the 2008-09 season, Quailer sustained a devastating ACL tear that cost him a year of hockey. Upon returning from that injury in 2010-11, he managed just 13 points in 38 games with Northeastern.
For a tall guy, Quailer is pretty quick and has a solid shot. He also has decent hands.
Projection
Quailer is quite tall and has a pretty big body, but needs to realize it and use it. He also needs to get in traffic more as he can be a little bit passive. Quailer needs to develop a physical game as soon as possible and adapt his offensive style to the big league. A lot of doubt still remains about his NHL ceiling.
5. Blake Geoffrion (Hamilton Bulldogs – AHL)
Blake Geoffrion suffered a skull fracture on a huge hit during an AHL game Friday night and will be out of action indefinitely. However, he's expected to make a full recovery.
Centerman?
Before the terrible injury, Geoffrion was playing center on the top-line in Hamilton and was the best player on the team. Upper management must be pleased with Geoffrion's progress at the center position having also played on the wing in the past few seasons.
Like a lot of bottom-six forwards, Geoffrion is a smart player that gives an honest effort on every shift and is not afraid to get his nose dirty. He has above average skills for a fourth-liner in the NHL, but lacks a little bit of speed and acceleration.
Projection
I am still unsure what Geoffrion's future holds with the Canadiens. It's hard to even consider him a prospect at 24-years-old. He definitely brings enough qualities to be a good injury-call up for the Habs in a bottom-six role. However, with limited offensive upside, it's hard to see him as anything more than a fourth-liner unless his skating improves dramatically.
The Others
Erik Nystrom, Olivier Archambault and Phillipe Lefebvre are next on the left wing depth chart.
Notes
I have assumed for the purpose of this article that Mikael Bournival will be a center (that's where he plays in Hamilton) if he makes in the NHL but it's possible that he will end up as a left winger at some point instead.
I did not include Patrick Holland in my rankings because he can play all three forward positions. However, as of last week he was playing left wing for the Hamilton Bulldogs.
Unless needed in case of injury, the Habs have also decided to make Louis Leblanc a full time winger. He should now be primarily used at the right wing position.