The Montreal Canadiens, as a whole, have struggled mightily this season. For whatever reason, consistency has eluded them as they can lose to a team like Arizona one night but manage to beat a contender like Tampa Bay. There are certain players who are struggling more than others, though.
Whether it's a major slump, injuries or struggling to adjust, some Habs have yet to find their footing this season. These are the three players struggling the most for the Canadiens right now.
3. Artturi Lehkonen
Artturi Lehkonen's struggles have flown a bit under the radar this season. In his case, his struggles are likely chalked up to a sophomore slump. Whether it's a result of other teams figuring out that player's tendencies or a player putting much pressure on himself, this is not uncommon.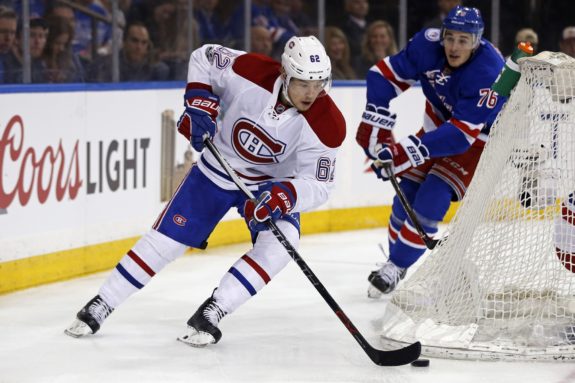 Lehkonen has just six points in 26 games with only two goals — both coming in the blowout win against Ottawa back on October 30. He also missed a chunk of time due to an injury.
It's a far cry from the player who scored 18 goals for the Habs last year and was one of their better players in the playoffs. Lehkonen has produced everywhere he has gone and it's unlikely his offensive skills have completely left him. His all around game is pretty good for a player his age, though his bread and butter is scoring goals. It's far too early to worry about Lehkonen, but he needs to show more signs that he is ready to break out. 
2. Jonathan Drouin
General manager Marc Bergevin seemed to make it clear that in a perfect world, Drouin would be a winger in Montreal if they had the centre depth. Because Montreal is pretty barren down the middle, Drouin is now in a role he isn't really suited for. Playing centre in junior hockey for a short period of time when you're already one of the best players in the league doesn't mean it will translate to being a number one centre at the NHL level.
Most of Drouin's success in any league has been on the wing. His defensive game isn't particularly strong, but his skill and speed make him a strong playmaking winger. He has had a lot of growing pains at centre and faces a lot of pressure to fill that role. Injuries and playing a role he isn't suited for has reflected on the scoresheet for him, with just 19 points in 37 games. Considering the team is near the bottom of the standings, is it really that important to keep force-feeding Drouin?
On a more positive note, he does make great plays often but teammates haven't been finishing his passes. He has also been gaining more chemistry with Alex Galchenyuk, which is encouraging to see, especially with the team desperately trying to push Drouin to play with Max Pacioretty and it's obvious they just can't play together.
Moving Drouin back to wing would go a long way in helping him be the player he is capable of being. He is Montreal's most talented forward in terms of skill and has the potential to be a top winger. The Habs aren't paying Drouin to be an average centre. 
1. Karl Alzner
When Karl Alzner signed that five-year deal ($4.6 million cap hit) back on July 1, it was a contract that came with expectations and doubt. The expectation was that Alzner would fill a top four defence role that Montreal needed. The doubt was that he is a player whose foot speed is not that good and would only be a slight upgrade over the departed Alexei Emelin.
This season, so far, has been disappointing. It has been pointed out that Alzner, who played his entire NHL career in Washington up until this season, was playing a completely different style of defence with the Capitals compared to Montreal. The truth of the matter is that Alzner's lack of speed is an issue in a league that's incredibly quick.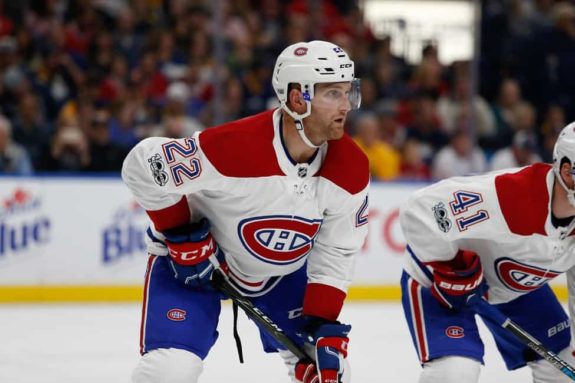 His style of play relies heavily on strong defensive play and he hasn't provided that either. He doesn't clear the crease nor is he a physical player. He brings very minimal offence with seven points in 42 games this season. His career high is 21 points and he had the benefit of playing with some very gifted offensive players in DC. Alzner could very well turn his game around, but right now, that deal he signed is looking like an albatross.
Turning the Page
For Alzner, he has never been an offensive producer but his current lack of foot speed in a league that is getting progressively faster doesn't bode well for him, especially as he ages. For Drouin and Lehkonen, they are young and have produced in the past. Drouin needs to be put back on the wing, while Lehkonen's sophomore slump will most likely pass. All three are relied upon for different reasons so Montreal needs them all to find their games.
I have a Bachelor's Degree in Journalism from Ryerson University. I am a freelance journalist and a Montreal Canadiens writer for The Hockey Writers. I previously wrote for Simcoe.com and Last Word on Sports as well as interned at TSN.