After winning only one of their last four games, the Montreal Canadiens were back in their barn, ready to turn things around against the Metropolitan division leading New York Islanders. The lack of offense was the talk of the town. Only seven goals were scored in those four games, five of them coming from Pacioretty's stick. With a dormant power play, the Habs needed to diversify their offensive threat at 5v5. In my last article , I was a proponent of putting Alex Galchenyuk back on the left side. Apparently so was he. In the afternoon preceding the game, Galchenyuk sat down with coach Michel Therrien and admitted that he was more comfortable on the left-wing. The results were quasi-instant. In the third period, he scored a one timer goal from the faceoff circle off a rebound caused by a Brendan Gallagher shot.
On November 15th, the Montreal Canadiens beat the Philadelphia Flyers 6-3 on home ice. The Habs scored 3 consecutive power play goals. People were quick to celebrate and claims that Gonchar's arrival meant an end to Montreal's power play woes. Now in hindsight we know that it wasn't the end of the Canadiens' troubles with the man advantage unit. It was simply the Habs facing a team who had the whole of their top 4 defensemen on injured reserve. It's always a matter of perspective. Last Saturday was an entertaining, exciting game. You could feel the electricity of the crowd through Paul Romanuk's whispers – who almost had to resort to sign language to finish his broadcast – , but wasn't exactly a clash of titans.
New York Hungovers
The New York Islanders were hardly their division leading self on Saturday night. After an emotional, hard fought 6-3 win the night before, coach Jack Capuano ill-advisedly put back Jaroslav Halak in net for a second night in a row. A tired goalie behind a tired defense that already averaged a 75.4% penalty kill success rate lead to what was. Don't expect Tomas Plekanec to roll out 4 point games on a regular basis and above all, don't expect David Desharnais sniping from the dot regularly. Although the goal might entice him to shoot more, which is good news for everyone.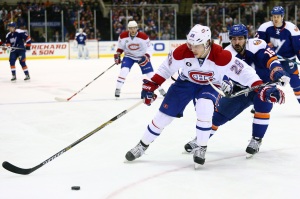 The Canadiens weren't just schedule-lucky. The defense played a solid game before relaxing in the third with a 4 goal lead. Nathan Beaulieu was the silent hero of that game, playing what just might be the best defensive game of his career so far. Jiri Sekac got some power play time and did well. He parked himself in front of the net, using his 6'2 frame to screen Jaroslav Halak. A technique that proved successful right away when P.K. Subban blasted his cannon off the point for a power play goal at 18:04 of the first period. Looks like Sekac might earn his slice of the pie  cake on the power play in games to come.
Habs Get Another Chance to Prove Themselves
Now the Nashville Predators are rolling into town. Coming off a loss against the Detroit Red Wings on Saturday, the Nashville Predators are the only team to yet lose 2 games in a row this season. It will be the Canadiens' challenge to put an end to that sequence. Another trend the Habs would like to reverse is how sloppy they are playing against the league's top teams on home ice. This season, Montreal has lost 5-0 against the Chicago Blackhawks, 4-0 against the Pittsburgh Penguins, 2-1 against the Anaheim Ducks, 4-2 against the Tampa Bay Lightning, and 2-1 again against Pittsburgh.
Sherlock Laviolette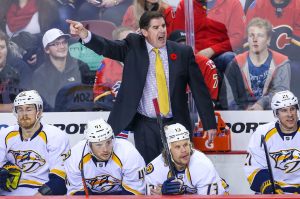 Nashville Predators are in that group for no one reason. The emergence of rookie Filip Forsberg, the addition of offensive (in all meaning of the word) forwards Mike Ribeiro and James Neal, the stellar goaltending of Pekka Rinne, and the hiring of coach/detective, Peter Laviolette. Who will be coming back to one of his favorite crime scenes.
The loss of Pekka Rinne to a sprained knee is of course a dark cloud on Nashville's horizon. The 32-year-old is bouncing back from 2 bad seasons and back to his 2010-12 form when he finished second and third in the voting for the Vezina trophy. Rinne has 29 wins out of 32 starts, a .931 saves % and a ridiculous 1.96 goals against average. An absence of that magnitude obviously is a detriment to the team but it doesn't stop there. 24-year-old defenseman Ryan Ellis is also on the shelf. Drafted 11th overall by the Predators in 2009, Ellis was blooming this year before getting injured. In 40 games, the defenseman had 5 goals and 13 assists for 18 points. On Nashville's second pairing/PP unit, Ellis was averaging 19:37 of ice time per game and along with sophomore partner Seth Jones, brought much needed relief to the Roman Josi/Shea Weber pairing.
Hockey Night In Bizarro World
The Habs might get the feeling they are playing themselves as both teams have a very similar make up. On their first line, both have a 40-goal power forward left wingers (James Neal/Max Pacioretty) and skilled, pass-oriented centres (Mike Ribeiro/Tomas Plekanec). They both have young, talented to the gills, centremen playing wing (Filip Forsberg/Alex Galchenyuk). Both teams have a a top-5 NHL defenseman (Shea Weber/P.K. Subban), and young, first round picks, defensive talent getting better every game (Seth Jones/Nathan Beaulieu). And of course shelved, all star goaltending (Pekka Rinne/Carey Price).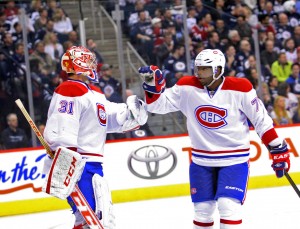 As Strong As Your Digits
The major difference between the two clubs is, the subject of the year, puck possession. On the road, the Predators have a CF% of 54.4 at 5v5. In 23 road games played. Nashville has 55 goals for and only 34 goals against. Those numbers may not be as scary as they seems for the Habs. The flip side to that coin is a 103.4 road PDO, a 79.37% penalty kill efficiency and of course, facing the back up goaltender.
Still it won't be a walk in the park. In 21 home games, the Canadiens have a 49.1 CF% at 5v5 . The Habs scored 49 goals for and got scored on 34 times. Of course, what kept the Habs from sinking deeper in the standings then they have this year is partly because of their 84.77% penalty kill efficiency.
Take It And Run
The Habs' best chance of getting two points in that game will be, like against the Islanders, to take a big lead early. Something they are not known for doing often this season. The possession numbers at 5v5 close are largely at the advantage of Nashville. Both teams have played the same number of games, 44. At 5v5 Close, Nashville has a 52.7% CF%, 61 goals for, 37 goals against for, a 62.2 GF% and a 102.5 PDO.
At 5v5 Close, the Habs have a 49.0 CF%, 47 goals for, 44 goals against for a 51.6 GF% and a PDO of 100.6.
The PDO numbers suggest that the Predators' bubble should deflate at some point in the near future, especially with their best player on the IR.  Remains that if the Canadiens try to play rope-a-dope against Nashville like they did against high possession teams in the past, they are more likely to take it on the chin by Smashville than get the win.  They will have to come out strong, score early and score big. That way,the Montreal Canadiens might finally get a win against a top 3 team and strengthen their claim that they belong there themselves.