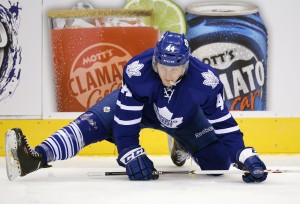 The idea of a total rebuild, of tearing it down and 'doing it the right way,' of building through the draft, is all I hear lately as I scour the internet to get the pulse of Leafs Nation. It's understandable – with the team mired in a horrific slump and facing another year out of the playoffs, the fans of the once-proud franchise are grasping at straws for solutions. They complain about the "core" of the team, say they can't win with the players the team is currently built around and after the firing of the coach failed to sent the team on an upward trajectory*, they are out for blood and they are demanding the emotional catharsis of a "rebuild."
The thing is, that is a really, really bad idea.  Sure, I see why a total tear-down is an appealing, cathartic process but the people saying that are just emotional. They are not thinking clearly, not at all.  You see, to totally tear the team down and start over is a bad idea on almost every single level – it would feel good, at first, but do you really want another five years out of the playoffs?  With no guarantees? You do not.
I get it: the Leafs faithful haven't ever been given that generational player – the kind that wins championships.  Worse, most of them are from here (Ontario) –  Stamkos, Perry, Lindros and Gretzky (just to name a few) and it kind of really sucks that they don't ever play here. It can be frustrating. It is frustrating – year after year, the team misses the playoffs and never drafts first overall. And local players travel to obscure American cities and the Leafs just go right along being the biggest laughing-stock in the NHL. It galls and it grinds.
So I get the appeal of a total rebuild –
especially since the team has never had the patience to properly bottom out – but the conditions under which this would be a good idea are not being met by the 2014-15 version of the team and so, I ask you to hear me out on why it's a bad idea.
1. There is nothing wrong with Phil Kessel.  You should note that Alexander Ovechkin has not won a Championship. That a team built around Patrick Kane would go exactly nowhere. And that Corey Perry is on a line with the very prototype of a number-one centre.
People are frustrated, but shouldn't take it out on Kessel – he does exactly what he's paid to do and all that can be expected of him. It was Burke and Nonis who miscalculated the ability of a winger – any winger – to lead his team to glory. Kesesl is an innocent victim of hype and stupidity – all he does is rack up 38 goals a year and put up a point per game.  He is the perfect weapon for a well-built team – and if the Leafs are not reactionary or stupid, he can be on Toronto too.
His leadership is irrelevant. If you want a reason why the Leafs are terrible, just look at their centre ice depth: Bozak, Kadri, Holland, Smith. It is entirely possible Kadri can be a top line centre, but you still need three better centres. one at least as good as Kadri, in order to compete.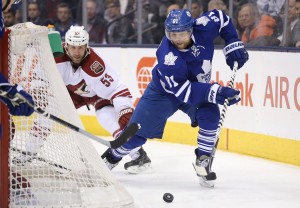 2. If the Leafs picked top five for the next five years – as many so called demolition experts would have them do – they'd be lucky to get five players as good as JVR, Kadri, Rielly, Bernier and Gardiner.  To all those build-through-the-drafters, you might want to ask yourself if that would be a good haul for five years of drafting. It's A+ actually.  So, let's all take a Valium, realize that the odds of a team scoring one goal in four games is less likely than an 8th seed winning the Cup, and get a frigging grip on reality.  
If you add Kessel to that list of five and call it your "core" then your core is excellent, young and talented. It  just needs some additions. Remember, if your core was made up of #1 C, #1 D, #2 D, #1 W, Elite Goalie, then you'd win the Cup, or at least compete for it every year. I mean, the reason all this talk about the "core not being good enough" is so stupid is because if the "core" was good enough, then the Leafs wouldn't be a team lucky to qualify for eighth under optimal conditions.
3. The Leafs currently have two of the best wingers in hockey and an elite goalie. By the time the team rebuilds, they'll all be over 30 and they'll just need to re-find those players.
4. Let's be honest: when people say "tear it down" they really mean trade Kessel and trade Phanuef. I think the media and the organization sold it this way, so you can't blame fans for thinking that the team is built around them and since the team sucks, they, by extension, do too. The only thing that needs to change about Phaneuf and Kessel is perception. Based on the more than adequate job he has done as the number one defensemen on a bad team, I think it's reasonable to think that Phaneuf can be an amazing player to have if he can be moved further down the lineup.  Same goes with Kessel – his 38 goal seasons are really more like 50 goal season when you consider who he was playing with, what he meant to the team, and how opposition game plans vs Toronto for the last five years have been nothing more than to shut him down.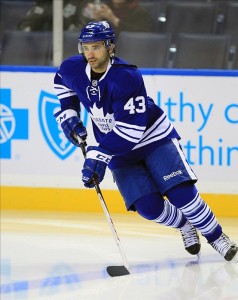 If you really consider these points and are willing to change your mind in the first place, I believe you will realize that the Leafs are really not in bad position. They have a decent amount of really good players and are not as far out of contention as some people would want you to believe. They are in the process of fixing their coaching and there are at least two elite level prospects in the organization (Nylander and whoever is drafted highly this season). The future is a lot better than people think. I mean, it is totally a forest for the trees situation: Bernier is the kind of goalie teams search their whole competitive windows for, Kadri and Rielly are special players and Kessel and Van Riemsdyk are two of the best wingers in hockey.  This is a group worth being excited about – a tear-down is not necessary, they are – now – in something approximating the fourth or fifth year after the tear-down people are currently calling for. Basically, they're a good young team with massive flaws and the shine and excitement has worn off.
No Need to Fire Bomb What They Currently Have
The Leafs are not in need for a total annihilation of the roster. If anything, that is an easy answer to a complex situation. What they need is salary cap relief so that they can acquire the players they are missing.
What they need is patience to let Rielly and Kadri become full-fledged NHL stars.
What they need is to get rid of Reimer, Bozak, Clarkson, Robidas, Polak, Santorelli, Komarov, Lupul, Holzer, Winnik and Booth. 
You notice, I hope, that those are not any of the so called "core" players? The Leafs need to add to the core, not dismantle it. They need to move those players and bring up/give more minutes to the likes of Leivo, Holland, Panik, Carrick, Smith, Biggs, Percy, Granberg, Gauthier, McKegg, Ross, Finn, Carter, Abbot and Kozun.  See who, if any, of those guys can play in the show and draft high later this year.
They must re-sign Kadri and Bernier, and they should probably re-sign Franson.
They have to be open to trading Phaneuf, Franson, Gardiner, or JVR. That is not to say they should, but you do have to give to get and obviously a centre and a winger is a better combo than the current two wingers set-up. The team is in Cap-Hell right now, so these options – though not preferable – have to be on the table.
Other than that, just be patient.
Times are rough right now if you're a fan who just wants to see the team win. But, the Leafs – going back to the eighties at least – have never had a collection of young talent like they do right now – JVR, Kessel,Rielly, Kadri,Nylander, Bernier – that is something to be honestly excited about. A few more pieces added to the puzzle and it will be a competitive team for years to come.
It's ironic, the people begging for a rebuild are the exact reason a full-on tear-down will never work in this town: the team currently has a selection of talent that borders on ridiculous and they want to flush it away before it's even matured. Outside of less than 1% of the time, players take five or six years to develop into what they become. What the Leafs need is patience.  Don't believe me?
It took Kyle Okposo seven years after being drafted to become a star.
Seven season for Alex Steen to mature.
Voracek, Datsyuk, even Toronto's own JVR languished in Philly for four years after being drafted before needing another two in Toronto to break-out. Dare I mention Cody Franson?  I could go on, but you get the point: Kadri is right on schedule. Rielly needs more time. The team is in the middle of a very, very good rebuild.
One Error:
The only problem is that they went out and added bit players and big ticket UFAs before they were ready to do so. The only thing wrong with the Leafs is a management team that didn't grasp how to build a team in a cap system, or which did grasp that but bowed to the pressure of Toronto and jumped the gun. Even Shanahan has to take blame for the stupidity that went on this summer when the team added a bunch of players that would suggest they thought they were on the verge of winning something, further complicated what was already a terrible cap situation.
I mean, why do I have to work so hard to convince people this isn't the end of something bad, but rather the beginning of something good when the chicken-little types (unfortunately the ones with the most reach and influence) think the team should trade one of the best players in the NHL and re-sing Mike Santorelli? I mean, Leo Komarov is a funny guy and a decent player, but his contract is a bigger part of the current problem than who currently wears a letter on their jersey.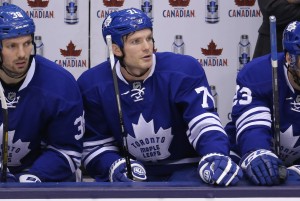 Let's hope Shanahan and co. have learned from what happened this past summer. Let's hope the team can shut-out the pitch-form wielding maniacs. Let's hope they can find a way to jettison their bad contracts with creative moves (want JVR? You gotta take Clarkson too) and that they don't go crazy and break up what is – if you can look objectively – a very good starting point for what can eventually become an elite-level team.
And I think they will. Say what you want about Nonis – he made some bad moves – but he did resist the urge to make trades to try to save his reputation and he has kept Kadri throughout all the trade rumours and speculation with a determination that deserves respect.
The team won me over when they hired Dubas and Hunter. They impressed me when they drafted the small but skilled Nylander. They cemented my support when they fired Carlyle and brought in Horachek. I think they have a great core of players and I like the direction the team is headed (though the losing streak doesn't bother me maybe as much as others since I've been calling for a last place season and the moving out of bad value contracts all season).
In fact, I'd go so far to say that I am the most excited about a Toronto Maple Leafs team in my life time.
Think about it: one of the best players in the NHL; at least three elite-level young players to be excited about; potentially the best goalie in franchise history and a management group that is young and eager to be at the cutting edge of progressive thinking in sports-management.
What's not to like? Besides that  pesky old salary cap. I don't care what the Leafs do result's wise for the rest of this season. I don't give a shit if the team salutes it's fans or who the captain is. I don't care if they have good leadership or a culture that is conductive to winning. I also do not care if their goalie knows world history, how often Kessel skates in the summer, how many doughnuts he eats per day or how many jerseys were tossed on the ice this week.
I care about one thing: this team has a young, talented group of players who I am excited to watch grow. I care that the team finally has a coach who will hold players accountable to p laying defense. I care that the management is willing to ignore convention and look at empirical data.
If you want a throw your jersey away, don't bother, send it to me.
*Never the point of this particular coaching change