Over the last five to seven years, the Montreal Canadiens have typically been a playoff team, usually finishing near or at the top of their division. While that kind of success is great for such a passionate fanbase, it has left the club with a shortage of top prospects.
Besides selecting Alex Galchenyuk third overall in 2012, the Canadiens have picked inside the top 15 only one other time since 2007, when they selected Ryan McDonagh 12th overall. That pick was Mikhail Sergachev at number nine in 2016, who was traded to the Tampa Bay Lightning for Jonathan Drouin not a year after hearing his name called.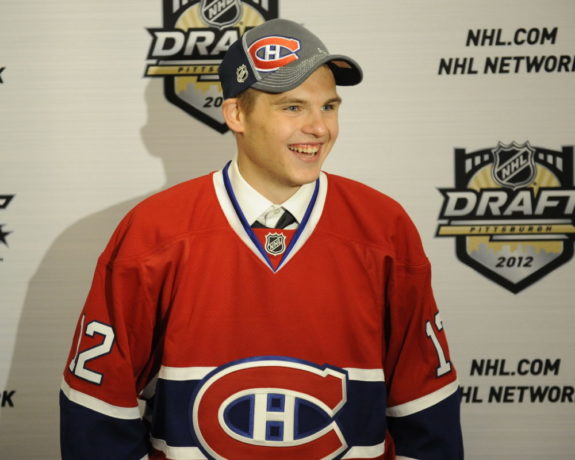 Now, this isn't to say that the Canadiens don't have any good prospects. There are a few players who stand out who could either make the club this season or whose campaigns were strong last year. These are my top four prospects in the Habs organization, in no particular order:
Charles Hudon
Hudon was Montreal's fifth-round pick in 2012, selected 122nd overall. The season after being drafted, he played 56 games for the Chicoutimi Sagueneens before being called up to the Hamilton Bulldogs, where he would pot a goal and two assists in nine games. The next season, Hudon would split time between Chicoutimi and the Baie-Comeau Drakkar, scoring 26 goals and 76 points in 57 games.
Since then, Hudon has been one the top point producers for the Bulldogs and St. John's IceCaps, scoring 159 points in 198 games. He has finished second in team scoring in each of his last three AHL seasons.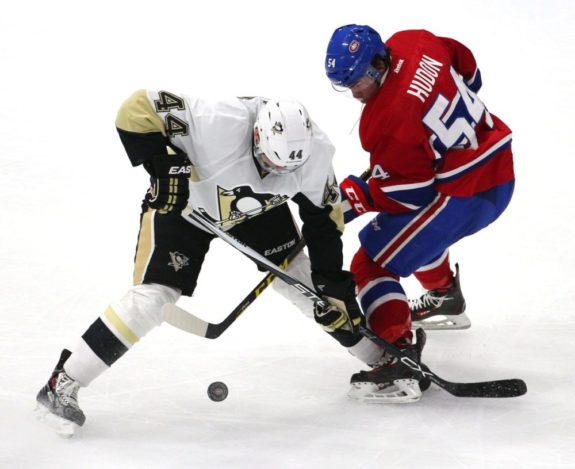 Standing at 5-foot-10, the knock on Hudon has always been his size. He has great speed and hands, however, and has shown he can produce at the NHL level, having notched four assists in six games with the big club. He also had a hard time cracking the Canadiens because of former head coach Michel Therrien's near-stubborn loyalty to veterans.
With Claude Julien behind the bench and a fresh two-year, one-way contract, 2017-18 could be the year Hudon finally gets his shot in the NHL.
Noah Juulsen
Now that Sergachev has been traded, Juulsen is Montreal's top defensive prospect. Chosen 25th overall in 2015, Juulsen has been the top defenseman for the Everett Silvertips in the WHL for the last three seasons. He also served as team captain this past season.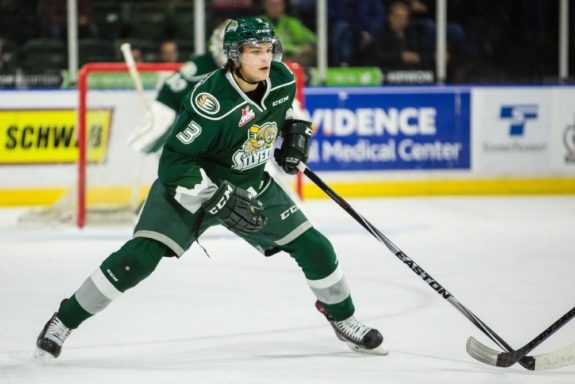 A solid two-way defender, Juulsen makes himself tough to play against in his own zone and can make a good first pass. He may not be the most offensively gifted defenseman out there, but 114 points in 180 games is decent for a young rearguard.
Juulsen will make his pro debut with the Laval Rocket this season, and it is unlikely that he sees NHL action. If, however, he has a strong start to the season and the Habs run into injury trouble, he could earn himself a call-up.
Michael McNiven
Eligible for the 2015 NHL draft, McNiven went undrafted through seven rounds. Instead of giving up, he grabbed hold of the number-one goaltender position for the Owen Sound Attack and ran with it. In his first season as the starter, he had a 2.94 goals-against average (GAA) and a .902 save percentage, numbers which are rather pedestrian yet still solid for an 18-year old goalie.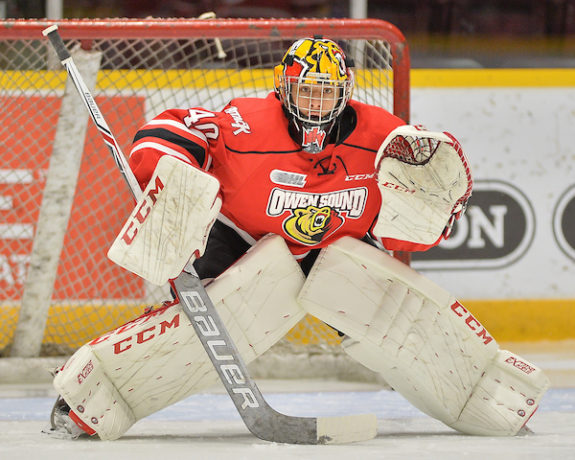 This past year, McNiven found a whole new gear and led his team to a second-place finish in their division. The Attack would end up losing in the semifinals to the eventual champions, the Erie Otters. McNiven's .930 save percentage was a league-best and earned him the OHL's Goaltender of the Year award.
Like Juulsen, McNiven should challenge for a spot with the Rocket. He will have to outplay 2013 second-round pick Zach Fucale for the backup position behind Charlie Lindgren.
With Carey Price locked in with the Canadiens for the foreseeable future, McNiven is more likely to be trade bait, but he should have a bright future ahead of him.
Nikita Scherbak
After Scherbak 28 goals and 78 points in 65 games with the Saskatoon Blades, the Canadiens selected the flashy Russian with the 26th pick in 2014. He followed that up with a 27-goal, 82-point campaign with the Silvertips and future teammate Juulsen.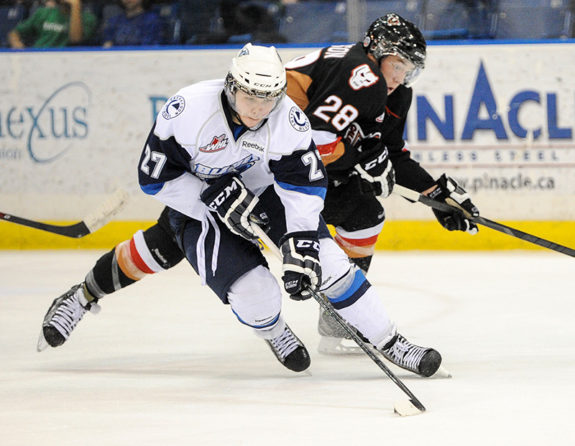 Scherbak would finish his junior career with 1.23 points per game, seemingly providing the Canadiens with a late first-round steal. He would turn pro the following season, however, and had a disappointing injury-shortened endeavor where he only scored seven goals and 23 points in 48 games.
Despite struggling in his first pro season, Scherbak seemed to turn things around in 2016-17, notching 13 goals and 41 points in 66 games. The Canadiens would surely like to see him shoot the puck more, but he looks to have rediscovered the playmaking abilities that convinced the Habs to draft him.
Like Hudon and Juulsen, if the Canadiens hit serious injury trouble or are having a lot of difficulty putting pucks in the net, Scherbak could see some NHL action this season.
Honorable Mentions
Charlie Lindgren
Lindgren was another undrafted goalie that the Canadiens signed out of university. After playing 40 games and posting a 2.13 GAA and .925 save percentage, Montreal signed him and subsequently waived Ben Scrivens to make room for him.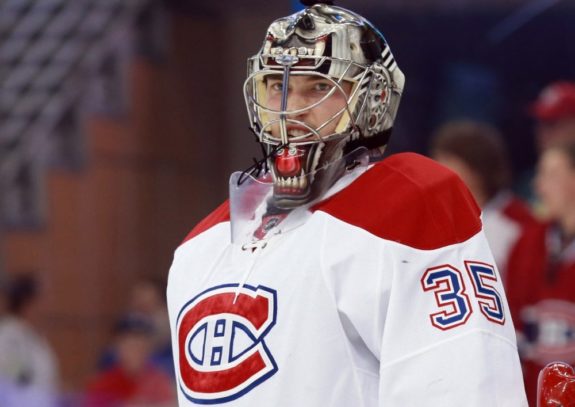 He would start one game in 2015-16 for the Canadiens after signing, stopping 26 of 28 shots against the Carolina Hurricanes. In his first full pro season with St. John's, Lindgren would go 24-18-6 with a respectable 2.56 GAA and .914 save percentage.
Last season, he made two starts for the Canadiens, earning wins in both games against the Florida Panthers and Detroit Red Wings. He would stop 56 of 59 shots over those 2 games, good for a 1.48 GAA and .943 save percentage. Lindgren appears to be the heir to the backup throne when Al Montoya eventually moves on from Montreal.
Brett Lernout
Lernout made his Habs debut at the end of last season when multiple veterans opted to rest up for the playoffs and impressed GM Marc Bergevin enough to earn a call-out at his Jonathan Drouin press conference.
#Habs Bergevin mentioned Brett Lernout & Noah Juulsen when asked about organizational depth on D.

— John Lu (@JohnLuTSNMtl) June 15, 2017
Lernout was a third-round pick in 2014 and is a big-bodied, stay-at-home defenseman. Standing at 6-foot-4 and 213 pounds, Lernout is an intimidating man who plays hard in the corners and makes life difficult for opposing forecheckers.
The Canadiens may not have the deepest prospect pool in the NHL, but they certainly have players who should eventually make an impact with the big club, whether it be this year or in the near future.