With four teams recently announcing a new direction in on-ice leadership, there's no denying that the league's crop of captains make up a diverse group of players. But what goes into choosing a captain at the highest level in hockey? Is it skill? Is it experience? Or is it a culmination of traits that hinge on a team's assets?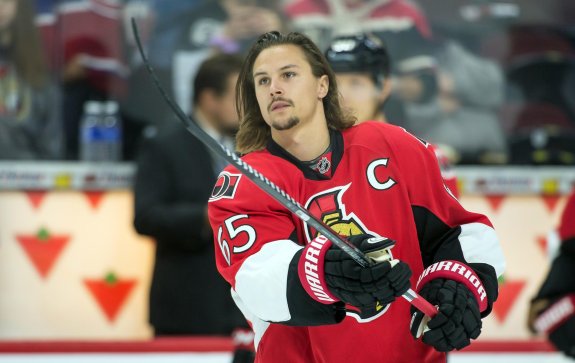 What's the Point?
While three teams are currently without a captain, the role of the player who wears the "C" for his club is not only distinguishable, but necessary for gaining access with on-ice officials as well. So how, and why, can the Columbus Blue Jackets, Montreal Canadiens, and San Jose Sharks legally go without a singular figurehead?
The rules specifically give the exclusive rights in discussing rules and interpretations with officials to the captain, while penalizing a team for any protests or disputes with that captain on the ice.
One Captain shall be appointed by each team, and he alone shall have the privilege of discussing with the Referee any questions relating to interpretation of rules which may arise during the progress of a game. He shall wear the letter "C," approximately three inches (3") in height and in contrasting color, in a conspicuous position on the front of his sweater. No co-Captains are permitted. Either one Captain and no more than two Alternate Captains, or no Captain an no more than three Alternate Captains are permitted (see 6.2).
Only the Captain, when invited to do so by the Referee, shall have the privilege of discussing any point relating to the interpretation of rules. Any Captain, Alternate Captain or any player who comes off the bench and makes any protest or intervention with the officials for any purpose shall be assessed a minor penalty for unsportsmanlike conduct under Rule 40 – Abuse of Officials. Should this protest continue, he may be assessed a misconduct penalty, and if it further continues, a game misconduct penalty shall be warranted.
A complaint about a penalty is NOT a matter "relating to the interpretation of the rules" and a minor penalty shall be imposed against any Captain, Alternate Captain or any other player making such a complaint.
The Referee and Official Scorer shall be advised, prior to the start of each game, the name of the Captain and the Alternate Captains of both teams.
No playing Coach or playing Manager or goalkeeper shall be permitted to act as Captain or Alternate Captain.
The proceeding rule, however, gives the teams without a captain a loophole to march forward with up to three alternate captains. And although this approach appears to give a more "team-friendly" feel, it still leaves other responsibilities that an official captain would handle to a crapshoot of a committee. Nonetheless, Rule 6.2 allows for it.
If the permanent Captain is not on the ice, Alternate Captains (not more than two) shall be accorded the privileges of the Captain. Alternate Captains shall wear the letter "A" approximately three inches (3") in height and in contrasting color, in a conspicuous position on the front of their sweaters.
Only when the Captain is not in uniform, the Coach shall have the right to designate three Alternate Captains. This must be done prior to the start of the game.
The departure of Montreal's former captain, Brian Gionta, not only led to his new role as captain of the Buffalo Sabres, but left the Habs with the decision on who his replacement should be. That decision has since been determined that they will utilize the three alternate captain rule, with Andrei Markov and Tomas Plekanec serving as full time assistants, and P.K. Subban and Max Pacioretty rotating with the role for the third "A."
#Habs 4 alternate captains – Markov, Plekanec, Pacioretty, Subban – have played every one of their combined 2,251 NHL games for Canadiens

— Dave Stubbs (@Dave_Stubbs) September 15, 2014
This, of course, is nothing new for the Blue Jackets, who have been without a captain since Rick Nash was traded in 2012.
"It's not an issue," said Blue Jackets president of hockey operations John Davidson. "I appreciate the passion of fans who want to see who might (be captain), but I feel very comfortable with where we are right now.
"There is no handbook that tells you what you're supposed to have and when you're supposed to have it. We have a very good group of leaders who enjoy being part of the process. This is a team that seems to be the sum of its parts in a lot of ways. If our team is worrying about that issue, then they're wasting energy."
While teams like the Jackets, and even last season's New York Rangers in the post-Ryan Callahan era, experienced success without a captain, they still rely on the leadership qualities of more experienced players. Columbus rode Brandon Dubinsky's energy to the doorstep of last season's Eastern Conference semi-final round, while Brad Richards yanked the leadership role with the Rangers as they advanced to the Stanley Cup Final.
"It's definitely a different feeling and it's hard to explain, but when it's a new situation, you recognize what's needed and you make sure you take care of what's needed now," said Richards prior to last season's Stanley Cup Final. "Dan (Girardi) and Marc (Staal) have done a great job, too. They're obviously younger and that's just the natural reason why I did a little more on my part. That's kind of my job to do that."
So there you have it. Whether a team has an official captain, or one by "committee," every team possesses the need for the qualities a captain maintains. In other words, every team has a captain, whether it's official or not – which makes the point of a captain anything but pointless.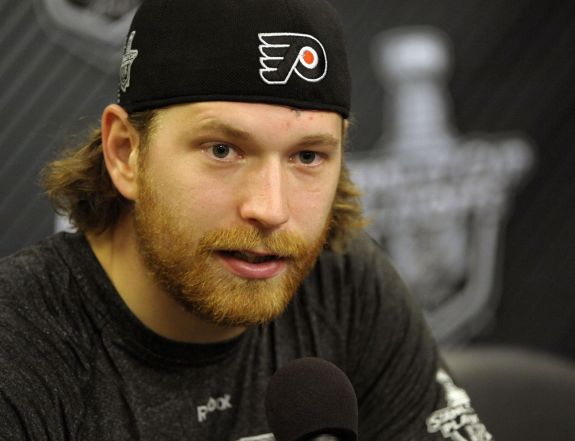 Choosing a Captain
The current variety among NHL captains makes choosing a captain an ambiguous explanation. Gabriel Landeskog, Sidney Crosby, and Jonathan Toews were named the first, second, and third youngest captains respectively. On the flip side, Willie Mitchell (37) now joins Boston's Zdeno Chara, and Arizona's Shane Doan, as the second oldest captains in the league. These three are just a year shy of the league's oldest captain, New Jersey's Bryce Salvador.
"I think it helps create winning," said Florida Panthers newcomer, Shawn Thornton, on a team's leadership and chemistry. "I don't think it happens right away just like winning teams don't happen right away. I think it's a process and it's probably different everywhere you go on how quick that process happens.
"Every team that I've been on has been very close and wanted to play for each other, not just with each other. I think that's one of the keys of having success. I'm not 100-percent sure what it was like here in the past, but we would definitely like to start trying to create that here. We've got a great bunch of guys here."
Although Mitchell appears to be a fine choice for Florida, he's a peculiar choice, nevertheless. One school of thought, implemented with Crosby in 2007, and Toews a year later, displays a definitive direction in an organization. And although handing the reigns over to a kid who isn't even old enough to drink in an American bar is a gamble, it's one that's commonly paid dividends.
While Crosby and Toews would go onto win a Stanley Cup two years after their captaincies were announced, other young captains have tasted success as well. Steve Yzerman counted three Stanley Cup championships after taking over as Detroit's captain at the age of 21, while Vinny Lecavalier won one of his own with Tampa Bay after assuming the "C" in Tampa Bay at 19-years of age.
The Panthers could have followed suit, tapping either Jonathan Huberdeau, or Aleksander Barkov, as Ed Jovanovski's understudy. Instead, the Cats opted to go with the two-time Stanley Cup winner with 884 NHL games to his name. The 37-year-old Port McNeill native gives the Panthers another element that's crucial to being a successful captain: handling off-the-ice responsibilities.
"On the ice, the captain rules supreme. He is entrusted with dealing with the on-ice officials and he becomes the conduit between referee and head coach in most cases. Off the ice, he is often the team's primary spokesman to the media; and a good captain is always the team's conscience." — Shawn P. Roarke, Impact
Perhaps the "new school" vision led to the Ottawa Senators recently naming Erik Karlsson, who turned 24 in May, their new captain. Despite holding five seasons under his belt, along with a Norris Trophy, Karlsson fills the vacancy in Ottawa with much criticism aimed at his defense. An important phase of the game for a defenseman.
"Though his defensive game can be suspect, Karlsson has the ability to take things over offensively. His best defense is helping his team control the puck. Karlsson can control the pace of the game all on his own sometimes and remains one of the game's most highly-skilled and exciting players.
"Karlsson, 24, has not worn a letter on his jersey in the past, so he leapfrogged more recent alternates Chris Neil and Chris Phillips. There's no question that he is the franchise player though and will be the face of the Senators going forward." — Chris Peters, CBS Sports
Much like the Panthers, though, other organizations prefer to choose experience over projected stardom. The Buffalo Sabres chose this route, naming former Canadiens captain Brian Gionta the team's newest captain. Gionta is one of five Sabres who are 30-years-old or older, which makes his previous background in leading a team invaluable to a team as young as Buffalo.
"Ted Nolan's decision to go with the 35-year old makes a lot of sense. Gionta, who is renowned for his leadership qualities, held the position of team captain in four of his five seasons with the Montreal Canadiens.
"The Rochester native signed a three-year deal worth $4.25 million per season in the summer, giving him the chance to play with his hometown team. If the Sabres are to improve on last season's poor showing, Gionta will play a key role, looking to inspire the team with his tenacious play on the ice." — Paul Taylor, Tip of the Tower
Statistically speaking, however, Gionta isn't Buffalo's best player. And with the hometown sentiment aside, he isn't even the team's biggest free agent prize. That being said, shouldn't Matt Moulson be the captain instead? That brings us to the next point.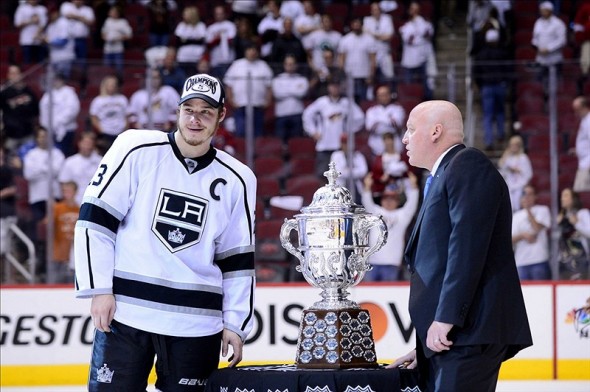 The Best Player on the Team?
While nearly half the league deploys their "best player" onto the ice wearing the "C," the other half does not. And despite the ongoing debate that Jonathan Toews is not only the best player on his team, but in the league as well, his offensive numbers correlate with recent Stanley Cup-winning captains.
Since Joe Sakic notched 118 points for the 2000-01 Colorado Avalanche , no other captain who hoisted the Cup led their team in points the year the Cup was won. And while the mark of a player isn't judged on primarily scoring, it's a stunning fact, nevertheless.
There isn't a better example of a team's captain leading a successful tenure than Los Angeles' Dustin Brown. Despite a career-year in the 2007-08 campaign, scoring 33 goals with 27 assists, Brown's offensive production consistently plunged since. The 29-year-old forward's value was displayed via other avenues en route to the team's second Stanley Cup in three years – all while producing a career-low 27 points in 79 games last season.
"He's matured a lot," said teammate Jarret Stoll. "He's not a rah-rah guy, but we all saw what he did in the playoffs. Two years ago, he basically won a couple of series for us almost by himself. It shows a lot how much he cares for the team.
"He's not rah-rah like some of us are. But he's definitely more comfortable that way."
https://www.youtube.com/watch?v=bPxkee2ftbw
Where would the Kings be without Dustin Brown? It's hard to forecast that the results of the past three years would remain the same – even with Anze Kopitar, who's viewed by many as the best player in the game.
In other cases, however, judging the best player on the team may not be as clean cut. A short time ago, the New York Rangers made Ryan McDonagh their 27th captain in franchise history. And while the news of McDonagh's promotion came as no surprise, he was still outscored by not only four of his teammates last season, but Philadelphia's Mark Streit, as well.
"McDonagh is the fourth-youngest captain in Rangers history, and the first Blueshirts defenseman to wear the "C" since Brian Leetch. The Rangers also are now the second franchise in NHL history, along with the Dallas Stars, to have had three consecutive American-born captains (previously Ryan Callahan and Chris Drury)." — Pat Leonard, New York Daily News
While it's safe to error in favor of McDonagh being New York's best non-goalie, it's merely more ammunition to obliterate the point production argument for NHL captains. For the Rangers, naming anyone but Brian Leetch (ok, Mark Messier too) captain would've resulted in complete and utter disappointment in the Big Apple. If McDonagh isn't the best player on his team, he's definitely the best player to wear the captain's "C" among them.
Ryan McDonagh. Captain. When it's only positive reaction, you know you picked the right player. #NYR #CforMcD

— Pete Jensen 🏒 (@NHLJensen) October 7, 2014
It's almost enough to suggest the Habs and Jackets are onto something. But if history speaks to you, it's unlikely they are. The 1969-70 and 1971-72 Boston Bruins were the only two teams without a captain to win the Stanley Cup.
Yes, the role of an NHL captain is substantial. Choose wisely.