Recent discussions on what makes players most valuable to their team got me thinking, when it comes to forwards, who is the most valuable for each NHL team? After all, being valuable isn't just about scoring goals, it's much more than that. Making teammates better, face-offs, defensive zone positioning are all a part of it. For starters, let's take a look at the Western Conference (aka the better conference).
Anaheim Ducks- Ryan Getzlaf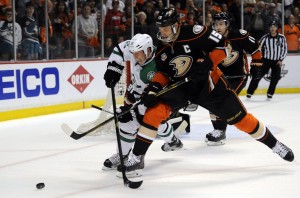 Corey Perry has had the mumps and has recently been out of the lineup with an injury. Yet the Ducks still have a seven point lead on second place San Jose heading into Monday's head-to-head showdown. How is that possible? Well, Ryan Getzlaf has proven he can produce even without his star linemate. He is currently sixth in the league with 37 points and his 52.7 face-off percentage is markedly improved this season over his career 48.1 percent mark.
Arizona Coyotes- Shane Doan
Shane Doan must really be attached to his original franchise because over the years the Phoenix (now Arizona) Coyotes simply haven't been very good. A few playoff runs here and there but mostly mediocrity and not making it to the dance. Doan may not lead his team in points this year, but he leads all Coyotes forwards in shots and is the emotional leader of the group. As a long time fan of his style of play, I wish he would move on to a better team and win the Stanley Cup at the end of his career. He is 38-years-old, he'd be a terrific fit for a team like San Jose that needs a scoring right wing for a run at the cup. I mean who wouldn't love to see Shane Doan skate off into the sunset like Ray Bourque did? It ain't happening in Arizona.
Calgary Flames- Jiri Hudler
Colleague Ryan Pike, who is much more familiar with the Flames than I am, would have selected Johnny Hockey Gaudreau for most valuable forward. Personally, Hudler has seven more points and leads the team in Corsi-for percentage. Gaudreau may be well on his way to becoming the most valuable but for right now, I'll take the veteran.
Chicago Blackhawks- Jonathan Toews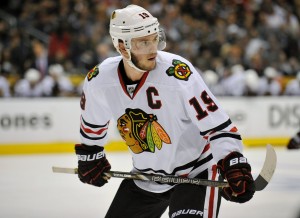 Arguably the best player in the conference, Toews does it all. He wins face-offs, he scores goals, he sets people up, he is without a doubt the face off the franchise. Patrick Kane is a phenomenal talent as well, but Toews is the heart and soul of this team, who doesn't ever back down from a physical confrontation. His work along the boards, despite not being particularly big, is still second to none. His shorthanded tying goal in Game 7 against Vancouver is one of the best goals of all time.
Colorado Avalanche- Matt Duchene
Duchene gave Team Canada a dynamic speed threat that could play both center and wing. Those were the considerations of why a team deep in pure centers took on guys like Duchene and the Sharks' Patrick Marleau. A dynamite scorer, Duchene is a threat whenever he is on the ice to do something fancy to score a goal or set up his teammates. In Duchene's case speed definitely kills, it kills opposing defensemen.
Dallas Stars- Jamie Benn
Covering the Sharks, yours truly has seen a lot of Jamie Benn and the Dallas Stars over the years. The Sharks and Stars of course were Pacific division rivals for quite some time before the recent realignment. While some may be surprised that Tyler Seguin isn't the choice here, to me it really isn't a debate. Benn creates time and space for his star linemate, he is better in the face-off circle, is a better play-maker and stronger along the boards. Seguin is currently riding an unsustainable shooting percentage of 19%, whereas Benn is still a point per game player shooting at 10% and has more assists than his linemate.
Edmonton Oilers- Taylor Hall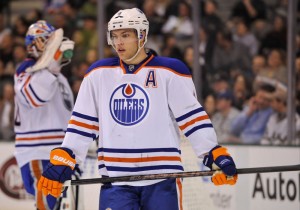 The trade rumors surrounding Taylor Hall don't make a lot of sense to me. Then again, the trade rumors this offseason regarding the Sharks and Joe Thornton didn't make a lot of sense to me. Trading away your team's best forward is rarely, if ever a good idea. Hall is an electrifying scorer with speed and a terrific release, if he isn't setting the right tone in the dressing room, that shouldn't be a knock him. That is management's fault for putting together a terrible team around him and constantly firing coaches, letting the young players off the hook.
Los Angeles Kings- Anze Kopitar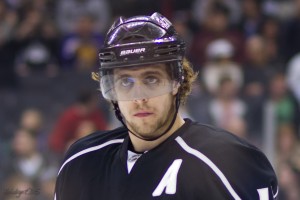 Even while not producing to his usual standards, Anze Kopitar is still the most valuable of Kings forwards. He tops the Kings forwards that have played 300 or more even strength minutes in Fenwick-for percentage and is 51% in the face-off circle. He has eight points in his last two games, seven of those being assists. He makes those around him better players. One of the best in the game.
Minnesota Wild- Zach Parise
Like Koptiar, Zach Parise leads his club's forwards in Fewnick-for percentage and is one of the toughest wingers to play against. He hacks and whacks and rarely gets called for it, a frustrating player not to retaliate against. Of all the elite top wingers in hockey, he brings that nastiness that few others do. A point per game player, 13 goals, 13 assists in 26 games, incredibly difficult to read and defend, one of the top wingers in the league.
Nashville Predators- Filip Forsberg
While Forsberg is riding an extremely high PDO that is bound to come down over time, it is hard to say any other forward is truly more valuable. The Predators haven't had many dynamite forwards in their history. Forsberg is averaging over three shots per game and leads the team with 31 points in 31 games. His offensive production is bound to come down a bit but the young forward is a phenomenal talent.
San Jose Sharks- Joe Thornton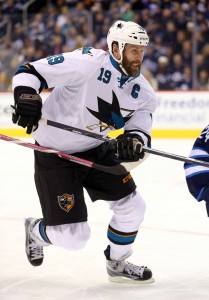 Leading the entire National Hockey League in Corsi-for percentage, leading the Sharks in points, top-10 in the league in face-off percentage, what more could you ask for? He faces the toughest competition of any Sharks forward and crushes his opponents in terms of possession. Even at 35, one of the dominant centers in the league.
St. Louis Blues- Vladimir Tarasenko
The young Blues winger already has 20 goals and 37 points in 33 games, leading the team in both categories, with well over an average of three shots per game. One of the more creative stick handlers in the league, incredibly difficult to read where he is going to go with the puck. A budding super star for St. Louis.
Vancouver Canucks- Henrik Sedin
Arguably the hardest decision in terms of picking the most valuable forward. The twins are just so damn close over the years in terms of production. Growing up playing the center ice position, my bias is to lean towards Henrik, as he is primarily responsible for initiating puck possession from the circle.
Winnipeg Jets- Blake Wheeler
The veteran winger led the team in points last year, is tied for the team lead this year and leads the club in both Corsi-for and Fenwick-for. Winnipeg is one of those teams without a dominant No. 1 center. If they could find a true top line center, this team could jump from playoff bubble to a real contender.
That's all she wrote for the Western Conference, have any beef with the selections? Feel free to chime in with your thoughts in the comments section!