With Movember now upon us bringing awareness to men's health issues, I wanted to take a look back into recent memory and list the top ten best mustaches in NHL history.
This risqué piece of facial hair has come in and out of popularity over the years.  In the 1980s when I started playing and watching hockey, the mustache was a stereotypical link to the rugged hockey player who you didn't want to mess with.   Not much has changed in today's NHL except that this one-time fashion statement is much more of a scarcity.
Putting a top ten list together meant that I had to leave out some all time great mustaches.  I will give honourable mentions to the likes of John Tonelli, Clark Gillies, Harry Snepts, Mike Brown, Rick Middleton, Rob Ramage, Jamie Macoun, Joel Quenneville, Pat Burns and many more who made the mustache famous.
10. George Parros – Florida Panthers
Certainly in the list of top five tough guys in the league today, George Parros is synonymous with mustache in today's NHL.  A graduate of Princeton of the Ivy League, Parros is no dummy, but at six-foot-five, 232 pounds, he's also no slouch.  Although he is not known for his scoring touch, Parros now patrols the ice in Florida for everyone to know that if you mess with a Panthers star, you'll have to mess with him.
9.   Mel Bridgman – Philadelphia Flyers
http://www.youtube.com/watch?v=SNfe-9dZVY0
Mr. Bridgman lived up to his big bushy mustache.
A member of the Broad Street Bullies in the 1970s, Bridgman compiled 1625 penalty minutes over his 15-year NHL career.  This former first overall pick by then-Stanley Cup champion Philadelphia Flyers also played with the Calgary Flames, New Jersey Devils, Detroit Red Wings and Vancouver Canucks.
While he was a tough forward to play against, Bridgman could also put points on the board managing 701 in career games.
8.  Bob Nystrom – New York Islanders
Nystrom and his million dollar mustache scored one of the biggest goals in New York Islander history to help them win their first ever Stanley Cup.  The Islanders dynasty would go on to win three more Stanley Cups and while Nystrom would go to score 39 playoff goals, but none would be as big as this one.
7. Dirk Graham – Minnesota North Stars
This 13-year veteran of the Norris division spent time with both the Minnesota North Stars and the Chicago Blackhawks. Could he ever grow a mustache.
Graham ended up with 489 points in 772 games. He spent time as Chicago's captain and also took home the Frank J Selke trophy in 1991 for outstanding defensive play by a forward.
http://www.youtube.com/watch?v=gvh_9I35W7o
6. Wendel Clark – Toronto Maple Leafs
Through fifteen seasons in the NHL, most of which were with the Toronto Maple Leafs, captain Wendel Clark was one of the most feared men in the game.  Most won't admit it but you have to think that his kickin' stache had something to do with it.  Or maybe it was that he had a lethal wrist shot and a devastating right hand.
http://www.youtube.com/watch?v=3f-HRbIGnCs
5. Denis Savard – Chicago Blackhawks
Denis Savard had 1,338 total points in his career and is currently ranked 29th all-time in NHL history and third among among Chicago Blackhawks.  He is definitely the most prolific member of this list.
He is also most known for the Savardian Spinorama which allowed him to dangle past opposing teams' defenders.  Although his mustache wasn't the bushiest, resembling more of a rat than anything, you can't seem to remember Savard without one.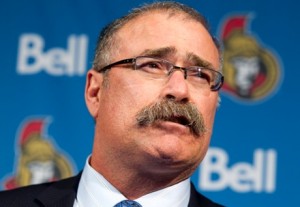 4. Paul Maclean – Winnipeg Jets
Now coach of the Ottawa Senators, Paul Maclean is not only one of the best coaches in the NHL, he is also one of the best at growing a mustache.  This native of Grostenquin, France spent 11 season in the NHL totalling 324 goals and 673 points in 719 games; almost a point a game player.
Maclean scored 30 goals in all but two of his seasons and reached 40 goals on three occasions.  His best year came in 1984-85 when he scored 40 goals and 101 points in 79 games.
This mustached man may go down as one of the best seventh round selections ever to play in the NHL.  Fans of the Senators want nothing more than to see him win his first Stanley Cup as a member of their coaching staff.
3. Rod Langway – Washington Capitals
Mr. Langway was probably more known for not wearing a helmet than he was for having a great mustache, but he did have a good one.  Langway spent most of his career patrolling the blue line in Washington after having been traded from the Montreal Canadiens early in his career.  He was a Stanley Cup winner with the Habs in 1979 and he went to six all-star games while taking home the Norris Trophy on two occasions as the leagues best blue-liner.  He was definitely one of the best.
2. Eddie Shack – Toronto Maple Leafs
Clear the track, here come's shack.  One of the best and brightest in Toronto Maple Leafs history.
Although he did spend time with the Rangers, Bruins, Sabres, Kings and Penguins, Shack was absolutely adored by fans of the Maple Leafs.  Shack was part of the 1960s Maple Leafs dynasty that won Stanley Cups in 1962, 63, 64 and 67 and he epitomized hard work.
Shack can often be seen at Maple Leafs games to this day in the alumni box enjoying his favourite team in his favourite city.  He was also a trouble maker and made life difficult for many opponents.
You didn't have to look very far and you would see that infamous mustache headed for you.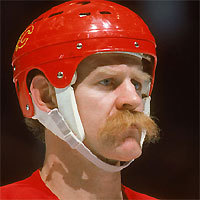 1. Lanny McDonald – Calgary Flames
History certainly does save it's best for last.
Lanny McDonald finished his NHL career with 500 goals and 506 assists in 1111 games, but more importantly than that, he finished it with a Stanley Cup celebration in Calgary with the Flames.  When you think about the word mustache in hockey history, you think about Lanny and his famous bright red mustache.
Lanny also spent seven years with the Toronto Maple Leafs and is remembered with great fondness for his time in Toronto.
In addition to the Stanley Cup, McDonald also won a Bill Masterton Trophy in 1983 and a King Clancy Memorial Trophy in 1988.
His Mustache is by far the top in NHL history.
http://www.youtube.com/watch?v=DdCSvJFgNzg
Twitter: @StonemanStephen | Email: stoneford@yahoo.com | Stephen's archive
For every Maple Leafs article on THW, follow @THW_MapleLeafs  on Twitter