Joe Thornton is a great hockey player. Perhaps the top criticism tossed in Thornton's direction is his tendency to look for the pass and avoid taking the shot. This, however, is not a "shoot the puck Joe" piece. Others have criticized him for his postseason performance. This is not a "Joe needs to show up for the playoffs" piece. Neither of these criticisms rings particularly true to me. There is one that does. It is something more.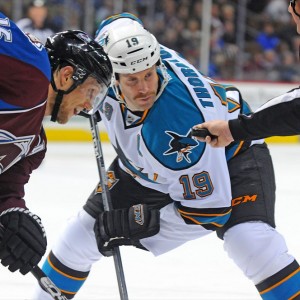 Joe Thornton is one of few NHL players that does not wear a visor as part of his headgear. It is something that nags at me from time to time. While I have not been thrilled with his choice against wearing a visor, it is the sort of thing that I don't consider much until there is a trigger. There are triggers that make this issue more real and less theoretical. Manny Malhotra's puck to the eye in 2010 was one example. It provided evidence proof that a visor can make a big difference.
Three Moments
Three moments from this past weekend's action provided a trigger.
Marc-Edouard Vlasic took a Shea Weber slapshot off his visor. Vlasic dropped immediately to the ice and fear of serious injury came almost instantly. Shea Weber's slapshot has broken bones more than once. The announcers were delicate about what might have happened without Vlasic's visor there to absorb the impact energy, but they recognized it could have been terrible.
Earlier in the day, a shot from the Stars Jason Spezza caught Blues goalie Brian Elliot in the front of his mask. Elliott, like Vlasic, went down instantly. It took a few minutes, but Elliott was also able to continue.
A third incident took place on Saturday, with Brooks Orpik elbowing Olli Maatta. Orpik drew a three game suspension. It might seem unrelated, but for me, there is a connection. In my recent piece on Dan Boyle, I quoted him talking about the respect one player needs to have for the health and safety of others. That respect needs to be paramount in order for hockey to be the best game it can. Each player needs to respect his own safety. Respect has to be internal and external.
I can't draw a direct line between Thornton's choice not to wear a visor and the dirty hit Orpik put on Maatta. But there is a common thread: both are about respect for player safety.
Respect in Different Forms
The concern I have for Thornton is one part of the equation, but not the entire equation.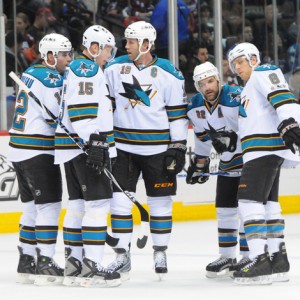 NHL players need to respect their own safety. They need to respect the safety of others. Unfortunately, the league has done a miserable job helping players on these fronts. The top players should lead this charge, even if the league is less than helpful. Actions need to clear and unambiguous; they must demonstrate respect for safety.
If Joe Thornton does not sufficiently respect his own safety, then others might believe player safety is not all that important. But it is that important. The culture of the sport needs to reflect this importance and embed safety measures where it can. Hockey's best players need to own that responsibility, for themselves and for each other. Wearing a visor is part of a culture that respects the safety of the player.
Thornton is one of the highest profile players in hockey and no doubt there are many players who take cues from him.
Had it been Thornton in the way of Weber's slap shot, it could have been career ending (or worse). Because Vlasic wore a visor, it was a gasp and a half-minute of major concern (it felt longer). It was not a life altering moment.
There is another form of respect that comes from wearing a visor. It may not be as important as safety, but it matters. It is the respect you are showing to your teammates and their pursuit of a Stanley Cup. Health plays a major role in the NHL, particularly in a Cup run. Had Vlasic not been wearing a visor, it is likely he would be out for the rest of the playoffs. What would the Sharks chances be without Vlasic? Any Sharks fan can tell you. Vlasic may be the most indispensable player on the team. He draws the toughest defensive assignments, yet he led all Sharks defensemen in plus-minus for the season. He leads all Sharks in plus-minus this postseason. Most importantly, Vlasic's visor saved him from serious injury. It also preserved the opportunity for every member of the Sharks to take their best shot a winning a Stanley Cup.
A Puck to the Head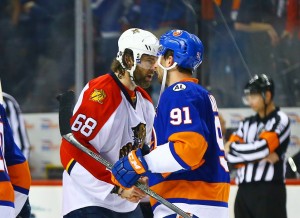 It was nearly four decades ago. I learned about the harm that a puck to the head can cause. At a college hockey game, I was sitting right behind the goal, perhaps 15 rows up. I saw a puck deflect into the stands and hit a person in the head. He was seated 20 feet from me; a little to my left, a row or two closer to the ice. He got up and walked out of the venue with a couple people escorting him out to make sure he was OK. He appeared OK. Those of us nearby figured he'd have a nasty headache for a day or two. A day or two later, we were reading his obituary. Nets went up behind the goal very soon after. This was roughly 25 years before an NHL fan died from a puck that flew over the glass. A hockey puck to the head is a big deal. Even moreso if it comes fast off the stick of an NHL player.
When I see Marc-Edouard Vlasic dropped by a screaming Shea Weber slapshot to the visor instead of directly to the head, I don't just see a player dropped to the ice. I see the history. The difference made by the visor is clear and unambiguous.
For players to respect safety, they need to see the best players in the game respecting their own safety. Younger players who look at Thornton and see a role model can get a lot of good messages. But they are getting the wrong message from him on safety.
Joe, wear a visor.
Zeke's Notes
Roman Polak is the only other current Sharks player not to wear a visor. If it had been Polak in the spot where Vlasic was (what the announcers initially believed) it would have been horrific.
ZEKE is a native of the DC area where he witnessed the birth of the Capitals franchise. After graduating from Cornell University, which had seen hockey glory before he arrived, he moved west to San Jose. There he witnessed the birth of the Sharks franchise. His wait to witness a Championship from any of these teams finally ended in 2018.