New York Rangers defenseman Dan Boyle has always fought the odds. Boyle, who will turn 40 in the offseason, epitomized the phrase: "its not the size of the dog in the fight, but the size of the fight in the dog".
In an uncomfortable and likely final twist, a healthy Boyle watched the probable end of his career in street clothes, even as the Rangers dressed seven defensemen. After playing the first four games of the series against the Penguins, he was scratched for the series-ending fifth-game.
His body of work will justify Hall of Fame consideration, though he seems a longshot for that honor. Should this be it, Boyle finishes his career in the NHL top 40 all-time among defenseman for regular season and postseason in all the following categories: goals, game winning goals, points and power play points. Among active players, he leads all defensemen in both regular season points and playoff points.
An Underdog Triumphs
Boyle, with a wiry body and standing a shade under six feet tall, was hardly the prototype of an NHL defenseman. He played his college hockey at Miami University. He went undrafted.
Boyle's NHL career began in Florida during the 1998-99 season (he describes his 'welcome' moment here), but he began to turn the corner in 2000-2001 when he put up 13 power play points. The next season, in what would not be considered a sign of respect, he was traded to Tampa Bay for a meager fifth round pick. It was grand larceny. Boyle became a key part of the Stanley Cup winning Lightning squad in 2004.
In a half-dozen seasons in Tampa, Boyle set several team records for defensemen, including most points. Many of his records still hold, though Victor Hedman will likely erase most of them in his next few seasons.
http://gty.im/96379490
Following an injury-riddled season in 2007-08 in Tampa, Boyle (along with his large contract), was traded to San Jose. Once again, the team acquiring Boyle won the trade by a bunch.
After five strong seasons in San Jose, Boyle began his sixth season in teal at age 37. Early in the season, he suffered a career-changing hit against St. Louis. The offender was suspended (for not nearly long enough). Boyle spent months, perhaps more, struggling with concussion issues. It is not clear if Boyle ever fully recovered. He spoke openly about the effects of the hit, some obvious effects lingered for months. Perhaps his most important comment about the hit was this observation which cuts to the heart of culture in sports: "At the end of the day, to me it's just respect. If you don't respect somebody, you don't care and you'll do something that can hurt him." With this thought, he captured the essence of sports and sportsmanship. It is about respect, both for yourself and for others.
Boyle holds numerous Sharks records for defenseman, including points, though Brent Burns will likely erase many of those marks in his next few seasons.
The Sharks told Boyle they would not offer him a competitive contract after the 2013-14 season, which led to Boyle's departure for a final two-season stint with the Rangers.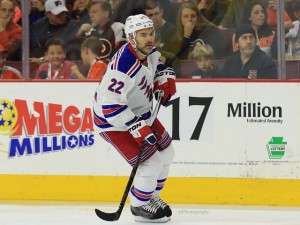 Boyle's stop with the Rangers met with mixed reviews. He did surpass some career milestones as a Ranger, including his 150th carer goal, his 600th point and his 1.00oth game. Boyle added 44 points to his career totals over two seasons; a point total he exceeded seven times in a single season over the course of his career. In his first season as Ranger, he was a notable contributor to their trip to the Eastern Conference Finals, fifth on the team in goals, points and ice time.
A dozen seasons, half in Tampa and half in San Jose, formed the core of Boyle's career. In both stints, he was a workhorse in a top-pair defenseman role. For 11 consecutive seasons, he averaged over 22 minutes of ice time. Five seasons, he averaged over 25 minutes. And though Boyle never made a playoff appearance until age 26, his teams made a dozen postseason appearances after that, with Boyle playing in 130 postseason games. In addition to his Cup winning season in Tampa, he played in conference finals with the Rangers once and with San Jose twice. He racked up a dozen handshake lines as a player on the winning side of a playoff series.
Boyle was a classic puck-moving defenseman. Below is a strong candidate for his prettiest NHL goal.
Boyle never shed his underdog mentality. In many ways, it propelled him. He was the guy who never had anything handed to him. He was undrafted and unsigned by any NHL team until he was 22. Twice teams deemed him replaceable and traded him. It worked great for the teams that acquired Boyle, not for the teams which deemed him replaceable.
In January 2015, Boyle's return to the Shark Tank was greeted with a video honoring his play and a lengthy standing ovation from respectful, appreciative fans. Why did fans respect Boyle? For his skill, his determination and for standing up to players like Corey Perry, despite a major size disadvantage. In a game where you need heart, Boyle brought it in major way.
In addition to his Stanley Cup triumph, Boyle collected an Olympic gold medal, earned in Vancouver with Sharks teammates Patrick Marleau, Joe Thornton and Dany Heatley. In New York, he played with another Olympic teammate, Rick Nash.
A first round exit for the Rangers will raise plenty of questions about the team's future. While the Rangers turn their attention to the offseason, Dan Boyle will almost certainly turn the page. Boyle's most likely reason for attempting another season would be pursuit of another Stanley Cup. It is not likely the top contenders will turn to the 40-year-old version of Dan Boyle for help in that quest. It is time for him to bow out.
In so many ways, Boyle defined what it meant to be a competitor. Dan Boyle earned every drop of respect he gained over the course of his career. In career with both Olympic gold and a Stanley Cup, the respect Boyle merits is his highest honor.
ZEKE is a native of the DC area where he witnessed the birth of the Capitals franchise. After graduating from Cornell University, which had seen hockey glory before he arrived, he moved west to San Jose. There he witnessed the birth of the Sharks franchise. His wait to witness a Championship from any of these teams finally ended in 2018.